It was as though he had been asked to solve the Enigma Code inside thirty seconds, with the look of bemusement on Gareth Southgate's face betraying an acceptance, and concern, over the question of how England can rediscover the art of scoring goals.
On a night when San Marino scored their first World Cup qualification goal since 2001 – they still lost 4-1 against Norway – England's failure to find the back of the net against Slovenia in Ljubljana, while earning the point which keeps them top of Group F ahead of next month's Wembley qualifier against Scotland, needs to be put in some perspective.
But as Southgate's players trudged of the Stadion Stozice pitch at the end of a frustrating 0-0 draw, they had just extended their miserable run in front of goal to four goals in five games, or seven in seven since the start of Euro 2016.
Four goals in five games, against the might of Slovakia (twice), Iceland, Malta and Slovenia, is a worrying statistic and Southgate, 180 minutes into his role as interim-manager, admits he has yet to find an answer as to why.
The chances are certainly being created – England have carved out almost 100 in those five games – but the efforts are hitting bodies, posts and being kept out by in-form goalkeepers.
"All of those matches have looked different," Southgate said. "Some have been a struggle to break down a packed defence, a low block.
"Against Slovenia, it was a bit different in terms of the way they defended and in terms of the conditions.
"I don't know if I can generalise – I haven't studied properly all those other games. I've studied a couple in the period of time we've had but to put my finger on it now is a bit early."
Southgate needs to find an answer quickly, however. Forget the talk about developing elite players at St George's Park, of breeding a new generation of English coaches – football in its purest sense boils down to one team winning against the other because they are able to score more goals over 90 minutes.
It is a simple objective but, as Manchester United discovered under Louis van Gaal last season, over-complication can stifle players and lead to a diminished goal threat.
England player ratings vs Slovenia
England player ratings vs Slovenia
1/11 Joe Hart – 9 out of 10

England's man of the match on the night. The Torino 'keeper made a number of fantastic saves included a world-class stop just after half time.

Getty

2/11 Kyle Walker – 5 out of 10

Couldn't get forward as much as he would have liked and didn't stand out defensively either.

3/11 John Stones – 5 out of 10

Unusually sloppy in possession and never looked completely comfortable when defending Slovenian attacks.

4/11 Gary Cahill – 5 out of 10

In Rooney's absence was supposed to be one of the leaders in the team but his partnership with Stones is still lacking understanding.

5/11 Danny Rose – 5 out of 10

A couple of attacking forays but also left exposed defensively once or twice.

6/11 Eric Dier – 4 out of 10

Another guilty of losing possession too easily and nearly gifted the hosts an opening goal.

7/11 Jordan Henderson – 5 out of 10

Not the all-action performance we saw against Malta but not for the lack of trying. Unclear whether he is England's long-term leader.

8/11 Dele Alli – 6 out of 10

Tried to create and was England's best attacking outlet but was missing that final ball on a couple of occasions.

9/11 Jesse Lingard – 5 out of 10

Didn't see much of the ball but never stopped running. Moved more centrally when Alli went off and had more of an influence.

10/11 Theo Walcott – 3 out of 10

Another below-par display before he was replaced by Townsend. Will have to keep up his Arsenal form if he is going to be picked for the next squad.

11/11 Daniel Sturridge – 5 out of 10

Had a couple of half chances but was mainly restricted to long-range efforts and his decision making was poor at times.
England's problem is not over-complicated tactics, more a case of square pegs in round holes leading to confusion.
The experiment with Wayne Rooney in a deep-lying midfield role, which began in the final Euro 2016 warm-up game against Portugal at Wembley, has coincided with England's goal drought.
Is it a factor in poor goal output? For one, England have sacrificed their all-time leading scorer by dropping him into midfield, but they have also allowed a player to perform in an unfamiliar role and slow the team down as a result.
Since defeating Slovenia 3-2 in Ljubljana in June 2015, England have scored 25 goals in 17 games – not including six scored against perennial whipping boys San Marino – and only Jamie Vardy has scored as many as Rooney's four goals in that time.
But without Rooney up-front, England have seen Harry Kane struggle through Euro 2016 without scoring, while Daniel Sturridge has displayed too often now an inability to effect games by scoring at international level.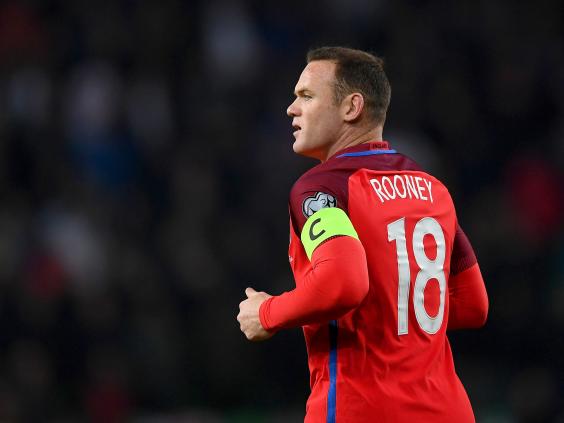 Slovenia was another example, with the Liverpool forward doing little to justify his selection. Sturridge has now scored seven goals in 24 internationals – hardly a strike-rate worthy of a top-class England striker.
Jamie Vardy has perhaps been under used and mis-used by England, but at 29, cannot be regarded as the future when Rooney, just a year older, has admitted that Russia 2018 will be his last major tournament.
Rooney may well prove to be England's best option up-front. Perhaps a combination of a lack of confidence, caused by playing in Van Gaal's safety-first tactics, and a lack of fitness has led him to think he is now best deployed away from the front line, but good service and a goal or two for United could turn the key in the England captain's head which makes him realise he can still perform up-front.
Service is key, however, and that is another area of concern for Southgate.
The chances are certainly being created – England have carved out almost 100 in those five games – but the efforts are hitting bodies, posts and being kept out by in-form goalkeepers.
Raheem Sterling, as impressive as he has been for Manchester City this season, still needs to work on his final ball, while Theo Walcott, after ten years of trying, showed once again in Slovenia that he is not of international standard and is neither scorer or creator.
Walcott has led a charmed life for club and country, but Andros Townsend and Marcus Rashford now offer better options down the right.
A return to form and fitness for Jack Wilshere may also prove crucial in the medium term, with the Arsenal midfielder, currently on the road back on loan at Bournemouth, offering the forward-looking vision in midfield which England have lacked.
For Southgate, however, the problem is one of many – all of which need time to eradicate.
"It's about having that period of time to work with the players," he said. "But I see huge potential in them as a group, a real willingness to work, a real desire to play for their country, real pride in playing for their country.
"They are not going to get everything right at the moment but their heads are down in the dressing room because they know the expectation to win.
"I don't want to take that away, we want to aim for excellence.
"So there are things to improve on, but I have to temper that with what must have been a difficult situation for them as well."
Goals change games and they can also change the mindset, so for Southgate, he simply needs to point his players in the direction of the white thing with nets at the other end of the pitch.
Reuse content