Sitting down with Jamie Vardy is always an experience with an edge: you, watching him, watching you. His was the last vacant chair in a circle when he arrived to talk at St George's Park on Monday and the comment he passed on that seating arrangement made it clear that he felt an inquisition awaited.
Spiky is the way he likes it to be, though. The casual way Vardy mentioned the death threats he says he has suffered since Claudio Ranieiri's sacking – "Did you just say 'death threats?" someone in the circle asked – made it abundantly clear that he considers the slings and arrows to be all a part of the turf. The notion of his children being in the back of the car when motorists cut up his wife, Rebekah, is shocking, if true, though he was phlegmatic about that.
Even when Vardy stepped up to receive the Football Writers' Association Player of the Year award in London last May, you sensed it was as much as he could to withhold his feelings about the reporting of his colourful life off the field. On Monday, the lack of artifice – no tan, a rather tight-fitting training kit and certainly no script being adhered to – was striking, amid the more bronzed, better media-trained English stars who appeared to discuss the merits of playing for Gareth Southgate.
England vs Germany: The key numbers
England vs Germany: The key numbers
1/8 The numbers you need to know

England renew hostilities with old rivals Germany in Dortmund on Wednesday. Here are the key numbers from one of international football's most eagerly-anticipated fixtures.

AFP/Getty

2/8 30

Previous meetings between the sides. Germany lead by 14 wins to 13, with three draws.

Getty

3/8 2

Germany's win tally includes two in penalty shoot-outs, at the 1990 World Cup and Euro 96.

Bongarts/Getty

4/8 30

Years since the last home win in the fixture, 3-1 to the then West Germany team in Dusseldorf in 1987. Of the 12 meetings since, four have come in major tournaments in neutral countries and the other eight, including at Euro 96 on English soil, have been won by the visitors.

AFP/Getty Images

5/8 23

Goals in the last six meetings, with each featuring at least three goals apart from Germany's 1-0 win at Wembley in 2013.

Getty Images

6/8 9

The most goals scored in a match between the two teams, all the way back in 1938 when England won 6-3 in Berlin.

Getty Images

7/8 4

The biggest winning margin in the fixture, in England's memorable 5-1 success in Munich in 2001.

8/8 3

The top scorers in the fixture have three goals apiece, in each case after scoring hat-tricks - England's Michael Owen in that 2001 game and Sir Geoff Hurst in the 1966 World Cup final, and Richard Hofmann for Germany in the first ever meeting in 1930.
Yet the maverick, off-the-cuff tendency makes Vardy more popular across the English nation than he actually suspects. Last summer's strains of 'Jamie Vardy's having a party' - echoing through the streets of whichever French town England happened to wash up in - said most about what he represents to many: a player lacking the usual plastic Premier League pomp and ceremony, who played non-league football and landed late in the big time. When we encountered him leaving the stadium after England's game against Wales in Lens last summer, someone asked when he last lifted a weight in the gym. "Probably that can of Red Bull the other day," Vardy replied.
It is hard to avoid the sense that this Vardy spirit is what the national team need most, as we embark on yet another 'new beginning' under Southgate's permanent management.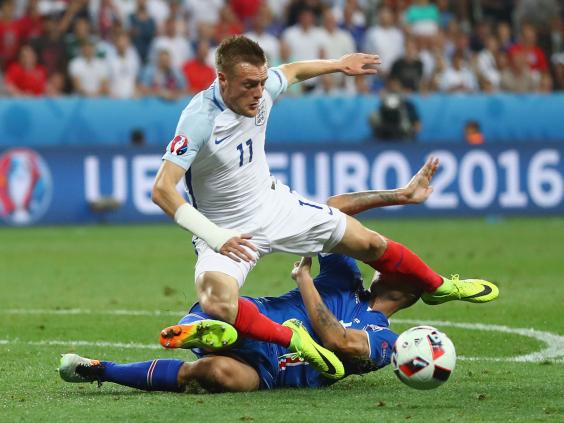 The player's claim on a starting place in Dortmund is enhanced, of course, by the substantial contribution he played in the 3-2 against Germany in Berlin last year, with his backheel from Nathaniel Clyne's cross. But Vardy also knows more than anyone else in the England ranks how to win against all expectation and he put his finger on a very significant commodity on Monday when assessing Leicester's title-winning season.
"We were just enjoying ourselves," he said. "But I think when you come with England, from a media point of view, the spotlight's put on you 100 times to what it would be at club level." Enjoyment is precisely what Wales experienced in France last summer. If Southgate could choose one commodity to break England's joyless spiral of tournament failure then it should be this.
Vardy is the Everyman who would probably cherished above all others if England can excel in Russia next summer, though you suspect he'd exude the same prickliness, even then. Had that Hollywood film actually been made about him yet, he was asked as he left the room. "You tell me," he said. "I've not got the slightest idea."
Reuse content