England women's manager Mark Sampson is pressing the Football Association to arrange more friendlies against elite opposition after Monday's night's 8-0 win in Estonia underlined the developmental limitations of the European Championship qualifying programme.
England are expected to cruise to the 2017 finals with only Belgium of their group opponents likely to provide anything more than cursory opposition. However, when they reach the finals they will face much stronger opponents and must be battle-hardened.
The FA have already arranged for England to play Germany, the European champions, in Duisburg on 26 November, but do not have a fixture scheduled before then. Sampson, who only fielded four of his World Cup players in Tallinn, as he embarks on a rebuilding programme, is keen to play matches next month.
"The challenge for the FA is to give us the best chance of competing in the European Championships," said Sampson. "It is not rocket science to say we need to play against the best teams. Those matches against Germany, at Wembley, and the US, at Milton Keynes, [before the World Cup] were defining moments. Without those tests we would not have had the experience we needed going into the World Cup, so we need to keep having those tests.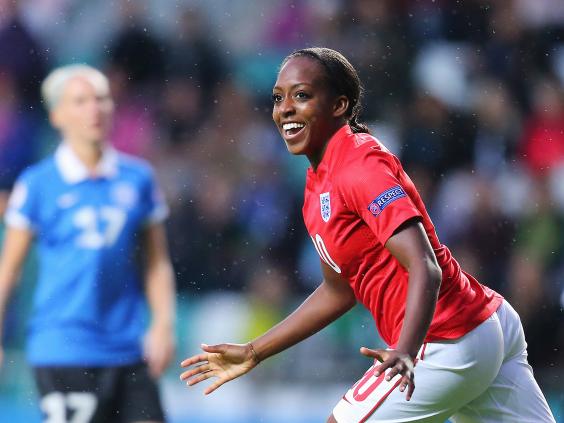 "I am really confident we will get some fixtures in October, that will give us the momentum to keep building. We get a lot from the qualifying matches, but we also need those competitive games against major opposition." It is thought the FA are close to announcing a trip involving several fixtures.
Debutants provided four of England's eight goals, Danielle Carter scoring a hat-trick and Isobel Christiansen the most spectacular goal of the rout. Arsenal's Carter struck her first inside 90 seconds and Sampson said: "It is always nice for someone on her debut to score so early on in a game, it relaxes them and settles them and we saw Dan Carter grow in confidence throughout the game. Dan's been around our programmes for a long time now, she is a really well educated girl, on and off the field, a real professional. Her movement was good, her ball security was good, and she was accurate in the penalty area which in international football is what makes the difference."
"I'd have been happy with one goal, even just getting my first cap," said Carter, still clutching the match ball, "but to get three goals and for the team to get such a good win was perfect. I'm over the moon." The 22-year-old added: "I watched the World Cup finals on TV at home and wanted that to be me playing out there. So hopefully, if I can keep my place in the squad and carry on scoring goals, I'll have a part to play at the Euro finals."
Sampson, who was without 12 of the World Cup squad due to various injuries, added: "It is great we have shown the depth. I hope players back home are sat on the edge of their seat thinking: 'Phew, I will have to maintain my performance standards to retain my place'."
England's next qualifying match is at home to Bosnia & Herzegovina at Ashton Gate, Bristol, on 29 November.
Reuse content