Roy Hodgson's England team were unceremoniously dumped out of the World Cup after two performances that had some positives but also plenty of negatvies.
The England boss has been given the backing of the Football Association to carry on in charge of the Three Lions.
England only have to wait until September for the Euro 2016 qualifying campaign to start, facing Switzerland in Basel.
Hodgson picked a young squad for this tournament, but did he pick the right one?
It's time for the manager to decide on the futures of some of England's stars; who should stay and who should go?
Uruguay 2 England 1 player ratings
Uruguay 2 England 1 player ratings
1/22 Fernando Muslera

Saved well from Rooney in the second half, but rarely tested. 6/10

Getty Images

2/22 Martin Caceras

Kept Welbeck quiet for long periods and was solid in the tackle. 6

Getty Images

3/22 Jose Gimenez

Youngster showed no nerves in his first World Cup start. 7

Getty Images

4/22 Diego Godin

Extremely fortunate to stay on the field following a first half foul on Sturridge, having already been booked. 5

Getty Images

5/22 Alvaro Pereira

Battled well at left-back and showed great heart to continue having been knocked out by Sterling's knee. 7

Getty Images

6/22 Alvaro Gonzalez

Offered plenty of support to his Caceres in keeping Sterling and Welbeck under wraps. 6

Getty Images

7/22 Egidio Rios

Veteran showed his experience in battling well in midfield. 6

8/22 Nicolas Lodeiro

Fitted in well in midfield, and started the move that brought Uruguay their first goal. 7

Getty Images

9/22 Cristian Rodriguez

Went close to scoring a first half screamer, but faded as the game went on. 6

Getty Images

10/22 Edinson Cavani

Has been poor in front of goal this World Cup, but set up the opener with a delightful cross for his strike-partner. 7

Getty Images

11/22 Luis Suarez

Clearly not fully fit, but that didn't hamper his finishing. The Liverpool striker has two chances in front of goal and buried them both with deadly efficiency. 8

Getty Images

12/22 Joe Hart

Blameless for Suarez's goal and generally impressive against Uruguay's early pressure. Reacted sharply to two difficult Suarez corners to his near post. 6

Getty Images

13/22 Glen Johnson

England needed quality from their experienced right-back and Johnson, who struggled at first, delivered it with the cross for Rooney's goal. 5

Getty Images

14/22 Gary Cahill

Not as responsible as Jagielka for the goal and generally kept his head above water until the second goal, when he was caught off-guard by Suarez. 5

Getty Images

15/22 Phil Jagielka

Has struggled to contain Luis Suarez in the past and last night was no different, as he lost the Liverpool striker who peeled away from him to score. 4

Getty Images

16/22 Leighton Baines

Worked hard up and down the left-flank but, as in the Italy game, his final-third quality was not quite as good as it needs to be. 5

Getty Images

17/22 Steven Gerrard

England needed leadership and control in the middle but Gerrard was poor again, failing to keep the ball and losing the ball for both of Suarez's goals. 4

Getty Images

18/22 Jordan Henderson

Ran hard without the ball but failed to make much of a contribution going forward as England lacked ideas in the middle of the pitch. 5

Getty Images

19/22 Raheem Sterling

Not as impressive as he was against Italy, Sterling did try to run at opponents, with not much success. The first to be taken off. 5

Getty Images

20/22 Danny Welbeck

Tried to stretch Uruguay, running in behind, but England could not get him the ball quickly enough and he failed to use well it when they did. 5

Getty Images

21/22 Wayne Rooney

Restored to his preferred No 10 role, Rooney looked eager and although nothing came off at first, he persevered for the late tap-in. 6

Getty Images

22/22 Daniel Sturridge

Far less impressive than against Italy, less incisive with his movement, less responsible with his hold-up play and less dangerous in the penalty area. 4

Getty Images
Joe Hart (age: 27, caps: 43)
Clearly England's No 1, performed reasonably well in both games without having to make the kind of world class saves he is capable of making. Should be England's first choice stopper for a number of years. Verdict: Stays
Ben Foster (age 31, caps 7)
Had to be convinced by Roy Hodgson to rejoin the international set up - Foster felt he wasn't getting enough chances for England. With Hart the clear No 1 and Fraser Forster emerging, he may not get many more meaningful games, but he's a handy second or third choice. Verdict: Stays
Fraser Forster (age 26, caps 2)
Has been pulling up trees in Scotland and impressed in the Champions League against Barcelona. English fans would like to see a bit more of him, but he has the talent to challenge Joe Hart for the No 1 shirt. Verdict: Stays
Glen Johnson (age 29, caps 54)
Johnson is the best of a very bad bunch at right full back. Good going forward but still a liability in defence despite a mountain of caps, he will be 31 by the time France 2016 comes around. Verdict: Goes
Leighton Baines (age 29, caps 26)
Was probably England's worst player against Italy - though he wasn't given any protection - and has never been the best defender, even for Everton. His biggest strength is his attacking and delivery from set-plays, but they were frankly poor in the two games. Like Johnson he is fast approaching 30. The reigns should be handed over to Luke Shaw. Verdict: Goes
Gary Cahill (age 28, caps 26)
Comfortably the best central defender available to Roy Hodgson. That's a worry in itself as Cahill is still playing second fiddle to John Terry at Chelsea (not that Terry should be coming back). Verdict: Stays
Phil Jagielka (age 31, caps 28)
Defended poorly for three of the four goals England conceded, and while a good defender at club level he doesn't quite make the grade on the biggest stage. Will be past his best in two years as well. Verdict: Goes
Chris Smalling (age 24, caps 12)
Roy Hodgson will be praying for either of Chris Smalling or Phil Jones to really kick on for Manchester United in the next couple of years. Both are supreme athletes and gifted defenders, but lack that bit of finesse and brains that is needed to succeed on the world stage. Let's hope they start learning soon. Verdict: Stays
Phil Jones (age 22, caps 10)
See above. Verdict: Stays
Luke Shaw (age 18, caps 2)
Ashley Cole is still a better defender than either Baines or Shaw, but Hodgson now needs to trust the wonderfully talented youngster. His time should be now. Verdict: Stays
Steven Gerrard (age 34, caps 113, 21 goals)
Excelled for Liverpool last season in the 'quarterback' position but couldn't replicate that for England without the brilliance of Luis Suarez. Perhaps harshly criticised for Suarez's second (errors from Jagielka and Cahill didn't help) but Gerrard has had more than enough chances to perform for England. Experience counts for a lot but it's time for a change. Verdict: Goes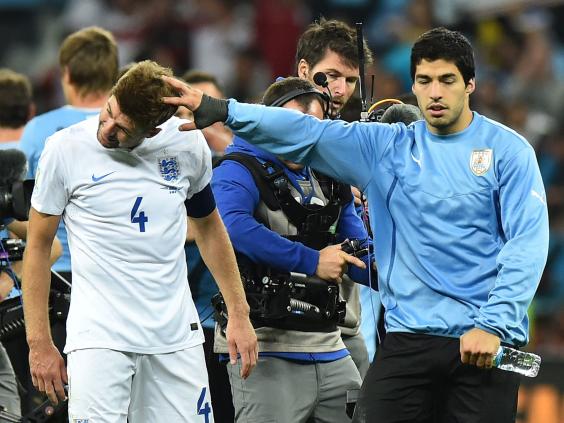 Frank Lampard (age 36, caps 106, 29 goals)
A pretty pointless inclusion in the squad, never likely to get on the field for meaningful minutes with the other players Hodgson selected. Is finished at Chelsea and should be finished with England. Verdict: Goes
Jordan Henderson (age 24, caps 13)
Always a willing runner but found out technically in the tournament, Henderson couldn't get near to the likes of Andrea Pirlo and Daniel De Rossi. Will be a valuable squad player but not good enough to start in the most crucial area of the pitch. Verdict: Stays
Jack Wilshere (age 22, caps 19)
Arsenal and England fans will be hoping he gets over the injuries and finds the sparkle that had everyone so excited when he burst onto the scene. He hasn't progressed since he was a teenager but he is still very young and there is plenty of time. Let's hope he stays injury-free next year. Verdict: Stays
Alex Oxlade-Chamberlain (age 20, caps 15, three goals)
It was a real shame he got injured in the warm-up games. A threat starting centrally or on the right, The Ox is gifted enough to reach 100 caps. Like Wilshere, it would be great to see him to stay injury free and have a real impact at the Emirates next season. Verdict: Stays
James Milner (age 28, caps 47, one goal)
A useful squad player who can play in multiple positions. But can he play in any of them well enough to really warrant a place in the team? Stays just because utility men are always welcome in tournament football. Verdict: Stays
Raheem Sterling (age 19, caps 8)
A brilliant performance against Italy was disappointingly followed by a near anonymous one against Uruguay. Sterling is a vastly talented young winger who will be much needed in qualifying. Verdict: Stays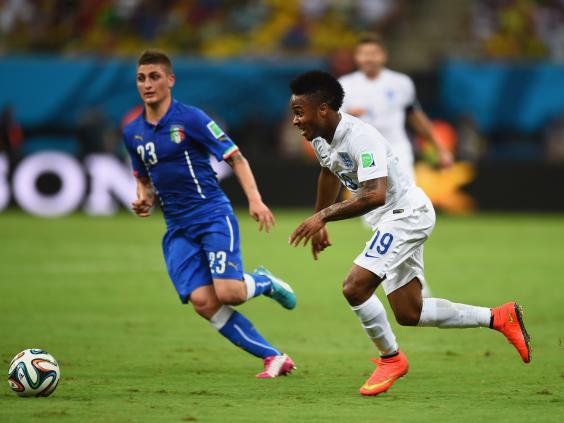 Adam Lallana (age 26, caps 8)
Should have started at least one of the two matches. If we were talking about any other nation he would have done - two-footed, intelligent and graceful on the ball, he looks more suited to international football than he does to the Premier League. Verdict: Stays
Ross Barkley (age 20, caps 8)
So, so talented but Everton fans will tell you he needs to add a little bit more quality and composure to his end product, but that will come with age. He could be a future England captain. Verdict: Stays
Daniel Sturridge (age 24, caps 14, 5 goals)
His pace and directness gives defenders nightmares and he should keep the No 9 shirt for the forseeable future. Needs to get rid of a slightly greedy streak he has, but otherwise can be proud of his performances in Brazil. Verdict: Stays
Wayne Rooney (age 28, caps 94, 40 goals)
The great enigma. Plenty of words have been spent on Rooney but he is still England's best player. He'll never reach the heights we thought he was capable of but that doesn't mean we should dump him. Verdict: Stays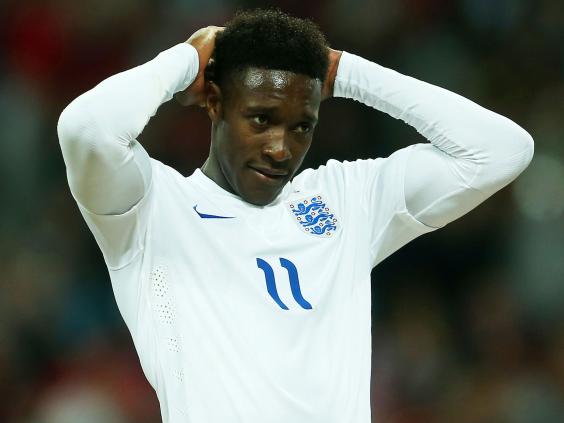 Danny Welbeck (age 23, caps 26, eight goals)
Was praised for his performance against Italy but it speaks volumes about the English mentality when your left winger's main strength is his ability to tackle and mark the opposing defender. Not good enough with the ball. Verdict: Goes
Rickie Lambert (age 32, caps 7, three goals)
A late bloomer that has unfortunately bloomed too late. Verdict: Goes