To turn to the television cameras and draw one's thumb across one's throat with gritted teeth is a maverick exercise in expectation management, but it almost worked.
Uruguay. Italy. Manaus. It could hardly have been a crueler triumvirate (Costa Rica must have been somehow involved too, it now seems apparent) and the FA chairman Greg Dyke's instantaneous assessment of England's likely fate as the balls dropped so unfortunately at the World Cup draw in December set a tone that would almost, almost last.
This was the tournament not to get excited about. Even the obligatory photograph of the players lined up on the steps of the plane seemed to do little to arouse the footballing ardour of the nation.
Only five of England's World Cup squad of twenty three had ever boarded such a plane before, bound for the World Cup, and if they too had allowed the thunder of their own excitement to be dulled by a mood of general resignation back home, it was obliterated within hours of touch down, via Miami, at Rio de Janeiro.
There could have been no more vivid statement that here was a truly once in a lifetime thing - a World Cup in Brazil - than England's training base at Urca, where the players first arrived a fortnight ago tomorrow. It doesn't feel very long ago. It isn't very long ago. Yet between then and now, England's World Cup has begun and ended.
For most of the squad, that first sight of Urca, a military training base suddenly covered in Three Lions and towering images of themselves, will probably prove to be the highlight of a campaign that has now ended before the tournament has truly begun, leaving behind a few slim reasons for optimism, but nothing whatsoever to cheer about.
At the bottom of the Pao de Azucar, Rio's famous Sugarloaf Mountain, England's training pitch was a green jewel set in the silver sea, a place sublime enough to contrive a reason for James Bond to kill a man in the skies above it, in a fist fight on the roof of the tourist cable car.
"It's an empty feeling," said Joe Hart yesterday, back in their still magnificent home, the sea breeze still blowing across it, but where the air was suddenly more stifling even than it had been in the amazon. "We played better than we have in previous tournaments where we've gone through.
"It's fine margins. We've played well. We haven't given away many chances. My goal hasn't been rained down upon. But we haven't got the results."
Uruguay 2 England 1 player ratings
Uruguay 2 England 1 player ratings
1/22 Fernando Muslera

Saved well from Rooney in the second half, but rarely tested. 6/10

Getty Images

2/22 Martin Caceras

Kept Welbeck quiet for long periods and was solid in the tackle. 6

Getty Images

3/22 Jose Gimenez

Youngster showed no nerves in his first World Cup start. 7

Getty Images

4/22 Diego Godin

Extremely fortunate to stay on the field following a first half foul on Sturridge, having already been booked. 5

Getty Images

5/22 Alvaro Pereira

Battled well at left-back and showed great heart to continue having been knocked out by Sterling's knee. 7

Getty Images

6/22 Alvaro Gonzalez

Offered plenty of support to his Caceres in keeping Sterling and Welbeck under wraps. 6

Getty Images

7/22 Egidio Rios

Veteran showed his experience in battling well in midfield. 6

8/22 Nicolas Lodeiro

Fitted in well in midfield, and started the move that brought Uruguay their first goal. 7

Getty Images

9/22 Cristian Rodriguez

Went close to scoring a first half screamer, but faded as the game went on. 6

Getty Images

10/22 Edinson Cavani

Has been poor in front of goal this World Cup, but set up the opener with a delightful cross for his strike-partner. 7

Getty Images

11/22 Luis Suarez

Clearly not fully fit, but that didn't hamper his finishing. The Liverpool striker has two chances in front of goal and buried them both with deadly efficiency. 8

Getty Images

12/22 Joe Hart

Blameless for Suarez's goal and generally impressive against Uruguay's early pressure. Reacted sharply to two difficult Suarez corners to his near post. 6

Getty Images

13/22 Glen Johnson

England needed quality from their experienced right-back and Johnson, who struggled at first, delivered it with the cross for Rooney's goal. 5

Getty Images

14/22 Gary Cahill

Not as responsible as Jagielka for the goal and generally kept his head above water until the second goal, when he was caught off-guard by Suarez. 5

Getty Images

15/22 Phil Jagielka

Has struggled to contain Luis Suarez in the past and last night was no different, as he lost the Liverpool striker who peeled away from him to score. 4

Getty Images

16/22 Leighton Baines

Worked hard up and down the left-flank but, as in the Italy game, his final-third quality was not quite as good as it needs to be. 5

Getty Images

17/22 Steven Gerrard

England needed leadership and control in the middle but Gerrard was poor again, failing to keep the ball and losing the ball for both of Suarez's goals. 4

Getty Images

18/22 Jordan Henderson

Ran hard without the ball but failed to make much of a contribution going forward as England lacked ideas in the middle of the pitch. 5

Getty Images

19/22 Raheem Sterling

Not as impressive as he was against Italy, Sterling did try to run at opponents, with not much success. The first to be taken off. 5

Getty Images

20/22 Danny Welbeck

Tried to stretch Uruguay, running in behind, but England could not get him the ball quickly enough and he failed to use well it when they did. 5

Getty Images

21/22 Wayne Rooney

Restored to his preferred No 10 role, Rooney looked eager and although nothing came off at first, he persevered for the late tap-in. 6

Getty Images

22/22 Daniel Sturridge

Far less impressive than against Italy, less incisive with his movement, less responsible with his hold-up play and less dangerous in the penalty area. 4

Getty Images
Emptyness is indeed the feeling. As if the game is lost before it's been played, as if the full time whistle has been blown before the end of the first half.
Rio's harbour is one of the seven natural wonders of the world. Among the the others are Mount Everest, the Grand Canyon and the Great Barrier Reef. It is unlikely that Rooney and Baines and Henderson and the rest will ever languidly spray the ball around asthey did in the morning sunshine a fortnight ago at any of those.
As they did so, finally the predictable clamour built back home. "Italy aren't what they were," said Steve McManaman. "They won't like the Manaus heat any more than us."
"I think we'll make it out the group," said Alan Shearer. "I think we can make the quarter finals. And from there, who knows?"
That afternoon, shirtless kids in dusty shorts kicked around a beaten up football on a busy favela street shouting 'Inglaterra! Inglaterra!', waiting for England's superstars to arrive on a planned visit to Rocinha, the city's largest favela, where thousands of makeshift homes rise up the mountainside. Daniel Sturridge and Danny Welbeck did capoeira kicks over the heads of crouching teenagers at the local sports complex. It was all rather fun.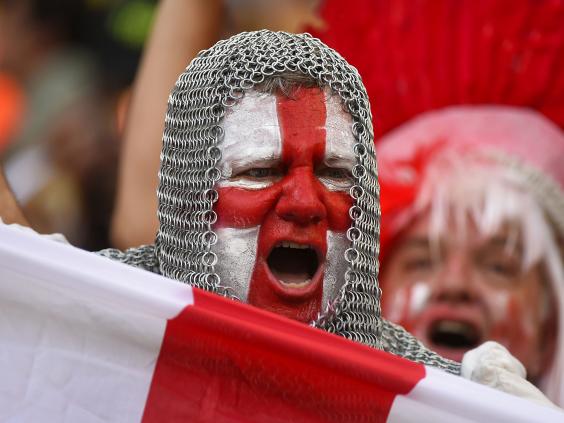 Not many England fans came to Rio. For them the tournament began in Manaus, four hours flight to the north west. What they found was not what they imagined. Not the sweat-soaked, insect-infested, crime-ridden hell in the middle of nowhere they had half been told to expect. Instead they found themselves sunbathing on the beach by the Rio Negro, where the river is so wide it stretches far beyond the horizon like a mighty ocean.
They flew down the zip wire in the fan park and, predictably, they covered the square outside the Amazonas Opera House with St George Crosses.
Manaus itself was not the only welcome surprise that came there. England fans downed lagers on the beach side in Ponta Negra as the big screens showed a creaking Uruguayan defence torn apart by a fast Costa Rican attack, and a team desperate for goals still unable to bring on the evidently far from fit Luis Suarez.
Then, with Raheem Sterling starting behind Daniel Sturridge, Roy Hodgson had picked the team the fans wanted. And they attacked with fluidity and verve.
The night was cooler in the end than had been feared, and England played with a certain degree of fearlessness too. But in the wet furnace of the amazon nature is at its most unforgiving, and on the burnt but true playing surface of the Arena da Amazonia, this was also to be the case. Where England fans had swam in the morning is the home of the candiru, the fabled fish that has been known to swim up a man's urethra and establish his home at the other end. Likewise on the pitch, England seemed unaware of the ease with which they had been taken over by an altogether more canny beast. Andrea Pirlo, all 35 years and dark thick beard of him, controlled all around him in the hot, heavy air.
2,000 miles away, in the beach side kiosks of Copacabana, as Mario Balotelli shook out thought and out muscled Gary Cahill to head in the winner, the tens of thousands of Argentina fans who had gathered for their team's game at the Maracana the next day, celebrated just as wildly as the few and far between Italians.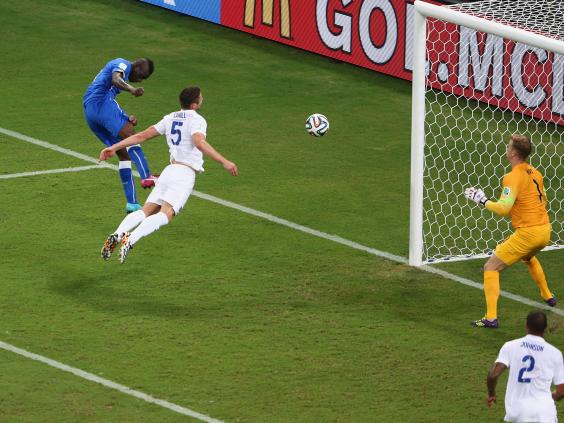 It is tempting to wonder if the philosophical praise and encouragement that nevertheless greeted the loss from almost every corner of the press and the wider public would have been the same had England's first two matches been played the other way around. It remains a defeat, and Argentina in 2002 and France in 1986 remain the only two occasions since 1966 that England have beaten a major football power in a World Cup match. Not good enough.
The England defence, so rarely talked about in the last decade or more, because it has always been packed with world class players and rarely made mistakes, was a pale imitation of its recently former self.
The fans who made the journey from Manaus to Sao Paulo, Brazil's giant cultural and economic heart, stepped off the plane in to a remarkably different world that they frankly hadn't packed for. It was cold. At the Arena Corinthians, as England and Uruguay ran out, fans in shorts shivered in the seats that had been vacated the week before by a 60,000 strong sea of Brazilian yellow at the tournament's opening match. That day that sea had been bathed in golden sun. Not tonight.
At the other end of the ground, England were outnumbered and outsung by Uruguay, understandable given the geography, but a real rarity for England. Waves of light blue bravely pogoed up and down on the banks of temporary seats that were never tested properly before the tournament, chanting: "Y ya lo ve! Y ya lo ve! El que ne salta! Es un ingles!"
"Now you see! Now you see! He who doesn't jump is an Englishman!" It's a chant they'd borrowed for the occasion from their Argentine neighbours, who sing it at almost every sporting occasion, whether the English are there or not.
Uruguay had lost two of their back four from the first game that they'd lost 3 - 1, one through injury, one through suspension. A 19 year old, Jose Maria Gimenez, came out for only his eighth cap. Only weeks after being pictured in a wheelchair, Luis Suarez was back.
England were worse than they had been against in Italy. But it's not overly generous to them to say the game turned on fine margins again. As an English keeper and back four from Manchester City, Liverpool, Chelsea and Everton know very well, fine margins are all that Luis Suarez requires. For the first thirty minutes, he was idle. Perhps he might never come to life at all. But by the end of the 90, he had had two clear chances and taken them both, one with the cruel assistance of his Anfield friend and captain Steven Gerrard.
For the first, it was Phil Jagielka who allowed Suarez to get away from him - but name a Premier League defender all season who hasn't - and loop a header over Joe Hart.
"Whatever I say is going to make me look daft," he said afterwards. "But there wasn't a whole lot that he, Cavani and the others did. I was speaking to Joe Hart about it. He's had about five saves to make in the whole tournament and four of those have been goals. It sounds like a bunch of excuses, but it's just a frustrated defender trying to give an honest opinion."
There is a sense of frustration from fans that England were undone by Suarez and Pirlo, the two most eminently foreseeable threats, but to identify a threat is far from the same as nullifying it.
"I've watched both sets of 90 minutes and I don't think it's as simple as: 'We could have done more against those two players.'", said Hodgson, after the Uruguay match. "We were undone in particular by a very bad second goal. I personally am not prepared to make great extrapolations on the basis of that goal."
It was a new experience, more humiliating but less agonising, for England's fate to be ultimately sealed while they weren't even on the pitch. The England fans that watched in their Sao Paulo hotel bars the following lunchtime as a risible Italy went down to an again determined Costa Rica, just shrugged their shoulders and talked of the great time they'd had, particularly of their jungle adventures in Manaus.
Rooney and Hart were quick to apologise to the fans, who've travelled at great expense and difficulty to a far away tournament spread over a vast country.
"Thanks for supporting us," said Hart. "It's hard enough for us to make it to the games, so I don't know what sacrifices other people have made. People have moved their schedules, let their kids stay up past their bedtimes.
"We can only apologise. We've left nothing out there. We've just not quite been up to it when required."
On Twitter, many of England's travelling fans claimed they didn't need or deserve an apology. It was a difficult group, they knew what they were getting themselves in for when they parted with the time and money.
Costa Rica's remarkable double victory means at least England are spared the feared cruel symmetry on Tuesday of exiting the tournament in Belo Horizonte, as they did in 1950, in the most shaming moment in England's football history, when they were the best team in the world, but Tom Finney and Stan Mortensen and the rest lost 1-0 to part timers from the United States. Players were rarely rested in those days. It wasn't part of the culture, and there were no substitutes, but England still told Stanley Matthews not to bother.
On Tuesday night, Costa Rica will likely rest players, preserving their energy for the tournament's knock out stages, in which England will not be taking part. Which is the greater ignominy? It is a difficult choice.
A sense of optimism still pervades around England's bright young things: Sterling, Barkley, Wilshere, Sturridge, Henderson. But Gerrard and Lampard only linger on, after a decade which conclusively proved they could not play together, because no ready replacements have been found.
World Cup 2014: The best goal celebrations of the tournament so far
World Cup 2014: The best goal celebrations of the tournament so far
1/19 Neymar

Brazil 3 Croatia 1 Bringing Brazil level and coming good on the promise that he would be a star at this tournament, Neymar needed simply to raise a finger to the air to claim he was the one. When he put the hosts ahead from the penalty spot the emotion was clear to see, with the Barcelona player falling to his knees and pointing to the sky in what is sure to be one of the iconic shots of the tournament.

Getty images

2/19 Robin van Persie

Spain 1 Netherlands 5 Robin van Persie had just scored one of the great World Cup goals with his flying header, but his celebration was less of a success. Rushing over to his soon-to-be club manager at Manchester United, Louis van Gaal, the pair went to 'high-five', only to barely make contact with each other's hand.

Getty images

3/19 Jorge Valdivia

Chile 3 Australia 1 After putting a curler into the top corner to make the score 2-0 to Chile, Jorge Valdivia wheeled away rotating his fingers towards his head in a gesture that seemed to suggest he was going crazy.

Getty images

4/19 Pablo Armero

Colombia 3 Greece 0 The whole Colombia team, including those on the subs bench, got involved when Pablo Armero gave them a scrappy early lead. The defender led his team-mates over to the sideline where they performed a jubilant dance, waving their hands in the air and jigging side to side. they had a little dance after their next goal too, but it couldn't match the first for surpirse and entertainment value.

Getty images

5/19 Joel Campbell

Uruguay 1 Costa Rica 3 When Arsenal forward Joel Campbell brought the scores level, he momentarily forgot his traditional celebration. But within a couple of seconds, he had frantically gestured for the ball and then stuck it up his jersey. As he pretended to be pregnant, he also sucked his thumb for good measure.

Getty images

6/19 Daniel Sturridge

England 1 Italy 2 Despite revealing afterwards that he wasn't planning to if he scored, when Daniel Sturridge found the back of the net against Italy he couldn't resist a few rigid dance moves. Had England gone on to win, it probably would have turned into a craze sweeping the nation. The rest of the England players were so jubilant at the equaliser they managed to dislocate the ankle of physio Gary Lewin amid celebrations by the dug-out.

Getty images

7/19 Gervinho

Ivory Coast 2 Japan 1 Sliding on the knees is nothing knew, but doing it in tandem with Didier Droga whilst wearing the vibrant orange kit of the Ivory Coast made for a great image. Gervinho had just scored the winning goal.

Getty images

8/19 Haris Seferovic

Switzerland 2 Ecuador 1 Haris Seferovic had just scored an injury time winner and didn't we just know it from his celebration. Reminicent of Marco Tardelli, the Switzerland player looked like he couldn't contain himself as he thrust his arms forward and back and charged up the touchline.

Getty images

9/19 John Brooks

Ghana 1 USA 2 Never has a player looked in quite such disbelief at scoring than John Brooks after he scored the winning goal for the United States against Ghana. Putting his hands to his head and looking to the sky, the German born player opted to head to the corner, collapse on his knees and then lie flat on his front with his face in the turf. He'll probably make a better job of it if he scores again.

Getty images

10/19 Tim Cahill

Australia 2 Netherlands 3 Everton fans and watchers of the Premier League will have seen it all before, but Tim Cahill was able to perform his trademark celebration on the world stage after scoring a stumping first-time volley. After a goal that will be among the contenders for best of the tournament, the Aussie headed for the corner flag for a bit of boxing practice.

Getty images

11/19 James Rodriguez

Colombia 2 Ivory Coast 1 Colombia were at it again after James Rodriguez opened the scoring against Ivory Coast. After first heading to the corner for a dance, they opted to head up the touchline to have a dance with the substitutes as well. With the players kicking their legs in sync, it was clear they had been practising.

Getty images

12/19 Wayne Rooney

Uruguay 2 England 1 The forward wheeled away in celebration after scoring his first-ever World Cup goal. The joy did not last long, however, six minutes later Luis Suarez scored the winner for Uruguay.

Getty Images

13/19 Clint Dempsey

USA 2 Portugal 2 Dempsey has become a national hero for the Americans during the the tournament, and this passionate celebration against Portugal showed just how much the World Cup means to the former Fulham and Tottenham man too.

14/19 Miroslav Klose

Germany 2 Ghana 2 So how do you celebrate drawing level with Ronaldo as the World Cup's highest ever scorer? A forward flip that nearly breaks your neck of course. At the age of 36 perhaps Miroslav Klose shouldn't be going for the theatrical celebrations, but luckily he made it just far enough round that he didn't do himself any damage.

Getty Images

15/19 Miguel Herrera

Croatia 1 Mexico 3 He might not have scored himself, but the celebrations of Miguel Herrera are more than worthy of inclusion. As his team beat Croatia 3-1 to book their place in the knock-out phase the Mexico manager couldn't contain himself. Jumping up and down, grabbing anyone in sight and simply looking like the happiest man alive made Herrera an internet sensation.

Getty Images

16/19 Georgios Samaras

Greece 2 Ivory Coast 1 After winning his side a penalty in injury time, Georgios Samaras picked himself up to take it. A goal would mean Greece were going through to the knock-out phase, so when the ball hit the back of the net the Celtic player was suitably jubilant. Racing to the corner, the striker slid on his knees towards the camera before finding himself at the bottom of the biggest bundle of World Cup so far.

GETTY IMAGES

17/19 Julio Cesar

Brazil 1 Chile 1 (aet: Brazil win 3-2 on penalties) After a thrilling, end-to-end game went to penalties, Brazil goalkeeper Julio Cesar emerged as the hero for the hosts, saving two penalties from Alexis Sanchez and Mauricio Pinilla. The relief when Gonzalo Jara hit a crucial penalty was clear for all to see as the Selecao players rushed to embrace the goalkeeper.

Getty Images

18/19 Klaas Jan Huntelaar

Netherlands 2 Mexico 1 Arjen Robben may have caused controversy for the manner in which he won the penalty, but Klaas-Jan Huntelaar, on as a substitute for Robin van Persie, did not feel any pressure with the 94th minute penalty. The Schalke striker's goal sparked wild Oranje celebrations - we're not quite sure who his karate kick was in honour of.

Getty Images

19/19 David Luiz

Brazil 2 Colombia 1 In one of the best quarter-finals ever, the match between the two South American nations was delicately poised heading into the final 20 minutes. James Rodriguez, perhaps harshly, conceded a foul about 35 yards from goal and David Luiz stepped up. What he did next was spectacular, rocketing a shot into the top corner - the celebration wasn't bad either as Luiz, eyes and veins bulging sprinted off down the touchline screaming before 'doing a Huntelaar' to the corner flag.

Getty Images
And England's back four are 29, 28, 31 and 29. In two years time, they will all be in their thirties. They are already not good enough, and Luke Shaw at left back aside, who is around to replace them?
England's young attackers acquitted themselves well, but Mr Dyke's spontaneous assessment was more damningly accurate than even he probably imagined.
The FA's new chairman is often quoted as having said England will win the 2022 World Cup. What he actually said was there's no way we could possibly win one before then.
On Wednesday morning, when England fly home, it will be someone's job to start painting over all the Three Lions logos, turning Urca back into a military base again, their party over long before the likes of Costa Rica, Colombia, Chile, probably Bosnia and Ecuador, and quite possibly the USA, who in Germany and Portugal, faced more daunting foes than England.
2022 is a long way away. There are players who may yet play in that tournament who are currently in primary school. But nevertheless, there's little reason to imagine actual footballing glory is any closer for England than it has been in decades.