England's World Cup team arrived in Manchester on Wednesday with their tails tucked firmly between their legs following their early World Cup elimination.
While the fallout from Luis Suarez's alleged bite on Italy's Giorgio Chiellini dominated the headlines, England made a low-key exit from Brazil. Their flight touched down at Manchester Airport on Wednesday afternoon, just 25 days are departing for the pre-World Cup training base in Miami.
Consecutive 2-1 defeats to Italy and Uruguay put paid to England's hopes of an unlikely World Cup victory, and when they rounded out their dismal campaign with a whimper in the form of a goalless draw against Costa Rica on Tuesday, the players knew their time in Brazil was up.
The squad, who flew out to South America with little expectation yet still managed to disappoint, have the unwanted tag of being the first England side to finish bottom of their group in World Cup history, although they did manage to avoid becoming the first side to fail to score a single point thanks to the 0-0 draw on Tuesday.
England return after failed World Cup campaign
England return after failed World Cup campaign
1/8 Touch down

England's team plane touches down in Manchester, meaning the Three Lions' World Cup campaign lasted all of 25 days between leaving the UK and arriving back upon these shores

Getty Images

2/8 Baggage handling

Goalkeeper Joe Hart walks off the plane having let in four goals in the two games against Italy and Uruguay

Getty Images

3/8 Captain-not-so-fantastic

Steven Gerrard led England on their ill-fated World Cup campaign, but how long will the Liverpool great remain skipper of the Three Lions?

Getty Images

4/8 Mind the drop, Wayne

A member of the flight crew keeps a close eye on Wayne Rooney as he makes his way down the stairs.

Getty Images

5/8 Silver lining

The striker finally ended his World Cup goal drought against Uruguay, but that wasn't enough to save them

Getty Images

6/8 Walk of shame

Arriving in Manchester, Rooney could walk home if he wished, but he won't have expected to be home from Brazil so soon

Getty Images

7/8 Did you remember your washing?

Raheem Sterling holds up a bag that looks like he's brought his dirty laundry back from Brazil

Getty Images

8/8 Feeling Small

Defender Chris Smalling only got a single run-out against Costa Rica in Brazil, although that represented a third of England's entire playing time at the World Cup

Getty Images
Dropping off the squad's northern-based contingent, the dreaded flight home continued on to Luton Airport to drop of the remaining squad members. Captain Steven Gerrard, Wayne Rooney, Joe Hart and Raheem Sterling all disembarked in Manchester, with the United and City players close enough that they could walk home if they wanted to - not that there'd be any celebration in the streets waiting for them.
Coach Gary Neville, who has been tipped as the eventual replacement for Roy Hodgson when he calls it a day with the national side, led the players off the plane at their first drop-off point, where the players were whisked away in chauffeur-driven cars waiting for them – avoiding all the hassle of customs and the prying eyes of a very disappointed public.
With photographers ready to snap away, one primary school class couldn't believe their luck when a visit to see the planes was briefly interrupted by the national team's return.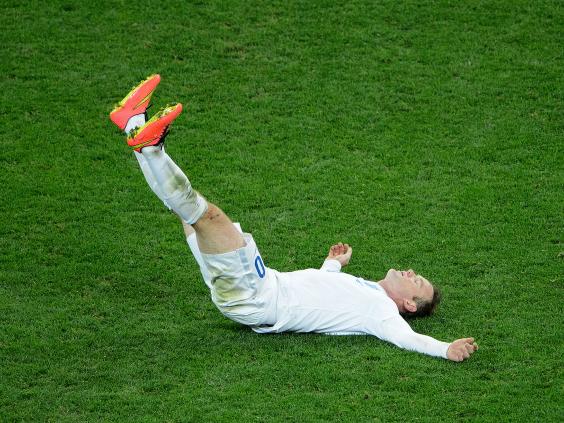 However, their early elimination was felt most by the television broadcasters, who saw less than half of those who tuned in for the must-win tie against Uruguay (England lost) watch the final game of the campaign.
Instead, many will have been watching Gerrard's team-mate Suarez land himself in hot water once again after he appeared to try and take a chunk out of Chiellini's left shoulder. The England side won't have seen Suarez's latest controversial act, but they will have had plenty of time to watch it as well as dissect what went wrong in Brazil on the near-12 hour flight home.
Reuse content