England manager Roy Hodgson maintains there are no issues with Liverpool manager Brendan Rodgers over whether Daniel Sturridge would have been fit enough for international duty.
The Reds striker has become an important part of the senior squad, but has been hampered by injuries this season, the latest being a calf problem.
He has not played since he strained a thigh muscle just before England's clash with Switzerland in September.
Hodgson left a message for Rodgers about Sturridge's fitness ahead of naming his squad for the upcoming Euro 2016 qualifier against Slovenia and friendly in Scotland.
Estonia 0 England 1 player ratings
Estonia 0 England 1 player ratings
1/12 Joe Hart

Another quiet night for England's No 1. A spectator for the most part in Tallinn, though his distribution was wayward at times when required. 6/10

2/12 Calum Chambers

Often sloppy on the ball but matches like this will stand him in good stead for the future, especially when being played out of position. 5

3/12 Gary Cahill

Fast becoming Mr Dependable in England's backline. Always in the best position, and gave Estonia's forwards no chance during rare attacks. 8

4/12 Phil Jagielka

A slightly subdued performance but made up for that with a couple of well-timed challenges. Not over-worked but solid alongside Cahill. 5

5/12 Leighton Baines

Plenty of time and space to attack, with his passing as slick as his hairstyle. Rooney should have put away left-back's cross in the first half. 7

6/12 Jack Wilshere

Despite his starting position as the deep-lying midfielder, he constantly looked to set England on the attack. A couple of delightful through-balls. 9

7/12 Jordan Henderson

Steady from the Liverpool midfielder, with some great movement but the 24-year-old lacked incision with his final ball. Can do better. 6

8/12 Fabian Delph

Often found himself reverting to left-back as cover for the adventurous Baines who was always looking to get forward. Replaced after 61 minutes. 5

9/12 Adam Lallana

The attacking tip of Hodgson's diamond. Linked up well with Rooney, Henderson and Wilshere and made promising runs into dangerous areas. 6

10/12 Wayne Rooney

His celebration was one of pure relief after his missed chances began stacking up. Stepped up with fine free-kick when it mattered. 7

11/12 Danny Welbeck

Sluggish. The Arsenal man just could not get going at all in Tallinn. Heavy in the touch. Had to drop back to get any involvement in the game. 4

12/12 Best of the bench: Alex Oxlade-Chamberlain

His pace posed some problems as the clock wound down, and he came close to setting up Rooney for a late second which the captain couldn't finish. 6
The England manager was not concerned there had been no direct reply from the Reds boss, whose side tackle Barclays Premier League leaders Chelsea on Saturday lunchtime.
Asking about the prospect of calling up Sturridge, Hodgson said on Thursday: "That was never a realistic possibility. He is still recovering from the calf injury he picked up.
"It is unfortunate. We were hoping, of course, to get him back, but it hasn't worked out.
"Our medical staff have had contact.
"I have left a message for Brendan. The message was that it is pretty obvious that Daniel is not fit, and Brendan's not rung back to counter that he actually is."
Hodgson stressed nothing untoward should be read into the lines of communication between national team manager and club boss.
"I left a message for him only last night. Basically it was to tell him that I understood Daniel Sturridge was not fit and there was no need to call me back," Hodgson added.
"It was just to let him know I understood Daniel Sturridge was not fit for these games, so in any questions I was going to get today then the answers I was going to give he would understand them and be happy with, hopefully."
Liverpool winger Raheem Sterling is included in the squad, having been left out of England's starting line-up for last month's Euro 2016 qualifier in Estonia.
Hodgson revealed Sterling had told him he was tired, which led to accusations the 19-year-old had said he did not want to play.
Those claims have been refuted by Hodgson, who stressed again on Thursday Sterling has been "unfairly treated".
Asked if he has spoken to Sterling about the media fall-out, Hodgson said: "I speak to Raheem all of the time.
"As far as I am concerned, I had a chat with him, which was an unfortunate one, it is over and I have nothing to say or to add to all of the things which have been said so far.
"My personal view was he has been unfairly treated, I am disappointed for him and he knows that, but our relationship's a very, very good one.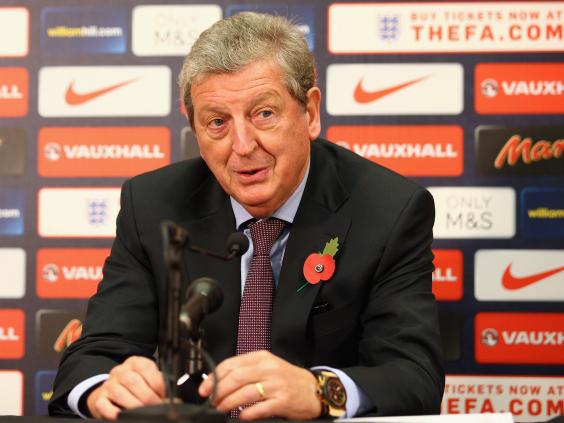 "If you say there is things to learn, we will probably both learn from them, although I don't really understand how it is a clear mistake to tell the truth when you are asked questions about why you have not chosen a player.
"He did nothing wrong and I have got to be honest I don't think I did anything wrong either.
"Other people might have other opinions."
Hodgson added: "I have basically said already more than I wanted to say.
"It is a chapter which as far as I am concerned is a month old, it lasted a week, a lot was done in that week, but I am really interested in the present and the future.
"All I can say is I have great respect for Raheem Sterling.
"I agree with Steven Gerrard - I think he is going to do wonderful things for England in the future, and I am very happy that our relationship has been extremely good and will continue to be extremely good going forwards."
PA
Reuse content