As prestigious as a Wembley friendly is meant to be, for Nicklas Bendter and Daniel Agger this is a brief break from the pressing matter of a  Premier League title race.
Few international captains would diminish the  importance of a game, and Agger bristled at the suggestion on Monday that Wednesday's match would be more relaxed than his title run-in for Liverpool. "There is always pressure," said Agger, "there has to be pressure, or there is no point. We have come here to win and we want to win."
Arsenal's Bendtner was rather more sanguine. "It is a friendly," he pointed out, "there is not a lot at stake."
With Denmark having failed to qualify for this summer's World Cup, there can be little doubt that Agger's and Bendtner's year will be defined by the next few weeks of the domestic season. Denmark do not play a competitive match for another six months, when they host Armenia in Copenhagen on 7 September, their first Euro 2016 qualifier.
Liverpool do not have another game until Sunday week, when they travel to Manchester United, but Arsenal are back in competition this Saturday lunchtime, against Everton in the quarter-finals of the FA Cup.
Bendtner acknowledged that with Arsenal four points behind Chelsea, winning the league will not be easy. "It will be difficult," said Bendtner. "There are a lot of good teams, but I am sure we will be fighting to the end to win."
Bendtner has made just one start and one substitute appearance since his crucial late goal against Cardiff City on New Year's Day, slipping behind Yaya Sanogo in the pecking order, and admitted some frustration with his  situation.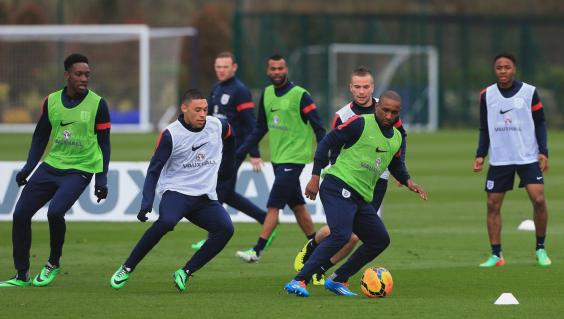 "If you can find a footballer who says he is happy to sit and watch and not play, then I think he needs to find a different job," Bendtner said. "I want to play. I am fit and ready, am training well. That I am not selected is up to the manager, it is not up to me. All I can do is train well, which is what I am doing. If he chooses different, then that is up to him."
Tonight, though, will be an opportunity for Bendtner and Agger to line up against the players they see in training every day. There are five Liverpool and two Arsenal players in the England squad, making for an enjoyable reunion on the pitch.
"It is going to be good fun," said Bendtner of competing with Jack Wilshere and Alex Oxlade-Chamberlain. "We will see who can joke around in the Arsenal dressing room afterwards, and maybe have a laugh about it. Ox has come back really strong, he did really well before his knee injury and has scored a lot of important goals for us."
Agger has a more direct battle ahead of him, with team-mates Raheem Sterling and Daniel Sturridge. He would not be drawn on the dynamics of those contests – "I am looking forward to playing against England" – but he is certainly thrilled by Sterling's progress. He is confident that the  19-year-old is worth taking to the World Cup.
"He can handle the pressure," said Agger, "or else he would not play for us, for Liverpool. It is a great opportunity for him."
Sterling came off the bench at St Mary's on Saturday and scored with his first touch in Liverpool's 3-0 league win, and Agger is confident in his ability to play on the biggest stage in the game. "If he continues what he is doing right now I cannot see why not," Agger said. "He is a great, great talent – he has some qualities they can use."
Sterling will still have to earn his place in the 23-man World Cup squad, but Steven Gerrard is surely already there. Agger, who has played under Gerrard's captaincy for eight years now, admitted how keen he was for England to succeed in Brazil, for the sake of their captain.
"He has played a lot of games this season," Agger said of Gerrard. "I really hope  England do well this year, because he deserves it."
Reuse content