Two years on from Andrea Pirlo's tenacious 'panenka' penalty, England face Italy again on Saturday, with lingering memories of that night in Kiev, which saw them bow out of Euro 2012 at the quarter-final stage. However, the Azzurri have evolved as a team in the interim, and Roy Hodgson will find it difficult to predict exactly how the Italians will line up for their Group D opener of the 2014 World Cup.
Italy coach Cesare Prandelli has kept his cards close to his chest by experimenting significantly with his tactics in the three friendlies his side have played in preparation for kick-off in Brazil. The tactician has gradually drifted away from the celebrated 3-5-2 formation he employed to great effect in Poland and Ukraine and the 4-3-2-1 used in qualifying in favour of a back four with varied midfield and attacking options. He takes pride in the fact his team can seamlessly transition between different systems during matches, but the policy has also meant they lacked balance and width at times in their build-up games.
The personnel have remained largely consistent throughout qualifying with Giuseppe Rossi the only notable exclusion from the final 23-man squad, with debate still raging as to whether he had fully recuperated from a knee injury. The backbone of the team still centres on a Juventus core of Gianluigi Buffon, Giorgio Chiellini and Pirlo. Mario Balotelli remains the main man up front and has continued to perform for La Nazionale even though his club form dipped. Prandelli has made a crucial injection of youth though, with the likes of Ciro Immobile, Lorenzo Insigne and Marco Verratti all selected.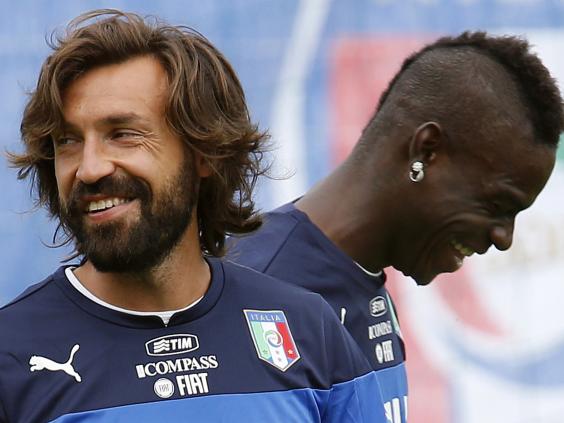 Verratti is the most fascinating of the trio that all broke onto the scene together during Pescara's Serie B title charge two years ago. The 20-year-old playmaker has emerged as pretender to Pirlo's playmaking throne at Paris Saint-Germain this season. He was initially a doubt to make the final squad but Riccardo Montolivo suffering a broken leg against Ireland and his man of the match displays in friendlies have put him firmly in the running for a starting berth. The final game on home soil against lowly Luxembourg was a 1-1 draw, but a crucial opportunity to test Pirlo and Verratti out together for the first time.
"We have been trying out a double playmaker system," conceded Pirlo at a press conference on Wednesday. "We like this option, Verratti and I are compatible and it allows us to rotate and keep our opponents guessing." Italian newspaper La Stampa claim England are "obsessed" with Pirlo and will attempt to limit the 35-year-old's influence by man-marking him. Verratti is Italy's secret weapon in this sense as he can relieve the creative pressure from Pirlo and allow Italy to continue to dictate the play.
The system Prandelli is leaning towards starting with in Manaus is a dynamic, if slightly constricted down the wings, 4-1-3-1-1 formation. Daniele De Rossi will cover the defence, the two registas allowed licence to roam with Claudio Marchisio and Antonio Candreva behind Balotelli. The former Fiorentina boss brought on Alessio Cerci and Insigne in the Luxembourg game to add pace down the flanks, and should he be able to tweak the setup to facilitate their presence it should be his first choice.
World Cup 2014: The best animal mystics in Brazil
World Cup 2014: The best animal mystics in Brazil
1/8 Nelly the elephant

Paul may have got all the headlines glory but Nelly the Elephant has a much better record. Nelly has been making predictions since 2006 and has a stellar record across the Women's World Cup, 2010 World Cup and Euro 2012, making 30 of 33 correct predictions. Nelly also predicted that Bayern Munich would beat Borussia Dortmund in the 2012 Champions League and has a famous backer in World Cup winner Sepp Maier, who said: "I share Nelly's predictions, that we will draw against Portugal and win against the USA and Ghana. So we'll stay in the tournament."

Getty Images

2/8 Alf gentoo penguin

The National Sea Life Centre Birmingham's newest residents put their necks above the parapet for the group stages. Not content with just predicting one team or the other, the Gentoo penguins have also been predicting draws. By standing on one of three rocks Alf, the colony's leader, has predicted a win for Brazil and a draw for England against Italy. But Pablo, who has been challenging Alf for his leadership, predicted a win for Italy against England (he was right).

SeaLife Centre

3/8 Chinese pandas

These young pretenders have been selected by a panda conservation centre in the Sichuan province of China. With the national team having not made it to the tournament, the pandas could find the spotlight difficult. They haven't even decided on a method yet, though it could involve eating foods in containers marked with a national flag, or climbing a tree with a flag.

Getty Images

4/8 Big Head the Turtle

Unsurprisingly, this Brazilian loggerhead turtle has picked the nation of his birth to be victorious in the tournament's opener - the 25-year-old was given a choice to eat fish hung from either a Brazil flag or a Croatia flag.

AP

5/8 Shaheen the camel

The Dromedary Camel is yet to make his first prediction but will do ahead of the World Cup opener on Thursday. Deep in the desert of Dubai Shaheen makes his prediction by kicking the ball into nets marked with a team's flags.

Gulf News

6/8 Predictaroo

The eastern grey kangaroo formerly known as Flopsy is being looked after at Australia Zoo by Bindi Iriwn, son of wildlife expert Steve. Predictaroo also picks teams from identical bowls of food emblazoned with the flags of the two teams.

Australia Zoo

7/8 Citta the Elephant

Citta the Elephant didn't perform in her home nation of Poland, much like the hosts in 2012. She predicted the three opening group games wrong and although made up for it in the group stages by predicting every result right, she failed at the last hurdle by predicting Italy to beat Spain in the final. Like Nelly, Citta predicted the results by kicking a ball.

8/8 Paul the Octopus

The cephalopod who started it all, Paul became a worldwide storm after a run of correct predictions in Euro 2008. He was wrong in the final, but returned well at the World Cup 2010, correctly predicting that Spain would be the winners. Paul died in his Oberhausen tank in October 2010, aged two-and-a-half.

GETTY IMAGES
Nevertheless, Prandelli has stated on several occasions that all 23 of his players should be prepared to play starting roles in Brazil. Both Insigne and Immobile impressed in a 5-3 victory over Fluminense in Italy's last practice match and he could cause a shock by starting them. Prandelli is carrying no passengers and his two-days of intensive physical tests in April, which saw him call up 42 potential candidates to make the trip to Brazil proves just that. The 56-year-old learnt from his experience at the Confederations Cup and acknowledges that more then technically gifted players he needs athletes.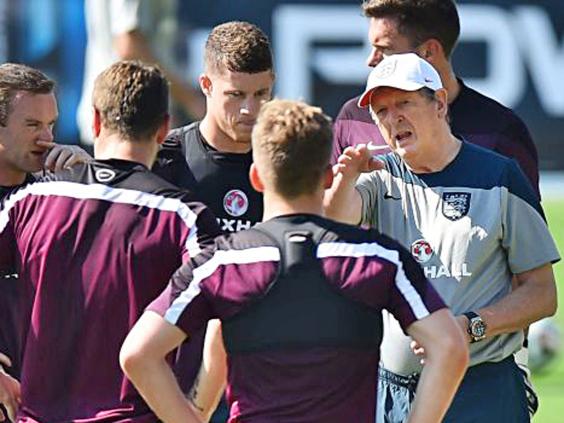 The conditions in Manaus are set to be extremely humid, coupled with the fact there have been conflicting reports about the state of the pitch at the Arena da Amazônia. "Everyone has been scared of this Manaus so we are curious to see what it's like to play there," admitted Chiellini. The Italians have prepared by training in saunas and wearing masks that regulate airflow during warm-ups.
However, no training can truly prepare for the real occasion on Saturday. Italy are traditionally slow starters in tournaments, but may not afford that luxury in a tough group that also contains Uruguay and Costa Rica. "We have a mature team which knows its own limitations and, because of this, we are a dependable side who win the matches we are expected to win," stated Buffon. The Azzurri are dark horses, and will expect to at least make the quarters, but will need a positive result against England. The difficulties facing Hodgson and his men will be anticipating how they will play and how to counter it.    
Reuse content