England know all about the master but they will also have to stop his apprentice in Manaus tonight. Andrea Pirlo, playing his last World Cup, will line up in midfield alongside Marco Verratti, featuring in his first.
There is almost a national obsession now with Pirlo, the man who dragged England around like a puppeteer in Kiev in the European Championship two years ago before scorning them with a delightful chipped penalty over Joe Hart in the shoot-out. The performance was yet another masterpiece from Pirlo's remarkable canon.
Verratti, though, is less known. He has never played in a senior international tournament, although he did unpick an England team including Jordan Henderson in a European Under-21 Championship game in Tel Aviv last year. Italy won 1-0. The only time Verratti has faced English club opposition was in the Champions League quarter-final for Paris Saint-Germain against Chelsea earlier this year.
Italy: Group D team profile
Italy: Group D team profile
1/5 How they qualified

Italy were solid for most of their qualifying campaign, finishing six points clear at the top of Group B after six wins, four draws and no losses. Striker Mario Balotelli led the scoring charts with five of Italy's 19 goals while the usually solid Azzurri defence conceded nine. Their decline in form towards the end – two draws against Denmark and Bulgaria – has continued into their six friendlies since, from which they have only picked up one win.

2/5 Manager: Cesare Prandelli

Cesare Prandelli took over as Italy manager after the disastrous 2010 World Cup – two years later, he had taken them to the final of the European Championships, only to lose out to the all-conquering Spain. Prandelli has gone against the traditional Italian counter-attacking style and instead prefers his team to take the game to their opponents. In the run up to this World Cup, the 56-year-old has chopped and changed his starting 11 – both in terms of formation and personnel – possibly to conceal his tactical plan for the tournament. Equally plausible is that he's still not sure of his strongest side. Either way, Prandelli is confident and has said he is aiming for the final.

3/5 Star Player: Andrea Pirlo

You need only hear Andrea Pirlo's nicknames in Italy – l'architetto ("the architect"), il metronomo ("the metronome") il professore ("the professor") – to understand what type of player he is. The 35-year-old moves the ball around with pinpoint precision, keeps his team ticking over without ever missing a beat himself and does it all with a genius seen rarely on the pitch. Pirlo dictated the game when England and Italy met at the European Championships two years ago and could easily do so again unless Roy Hodgson devises a plan to stop him.

4/5 Emerging talent: Ciro Immobile

Ciro Immobile top-scored in Serie A for Torino last season, a feat which earned the 24-year-old a £16 million move to Borussia Dortmund in early June. The striker scored a hat-trick against Fluminense in Italy's final World Cup warm-up match, leading to calls for him to start against England. If Prandelli opts for two up-front, Immobile is in with an excellent chance; should he go for one, however, then it will come as a shock to see him start ahead of Mario Balotelli.

5/5 How they line up (4-1-3-1-1)

Buffon; De Sciglio, Chiellini, Bonucci, Abate; De Rossi; Verratti, Pirlo, Marchisio; Candreva; Balotelli
But England cannot afford to misjudge the man whose precocious game could be just as dangerous to them as anyone else's in the tropical heat. Verratti, 21, plays with his own unique mix of youthful fearlessness and the cool-headed instincts of one far older.
From his first emergence as a local teenager in the Pescara side, Verratti has been compared with Pirlo and his Spanish counterpart Xavi. Like Pirlo, he can sit in front of the back four, orchestrating play with his chess-board vision, his delicate touch and his passing range.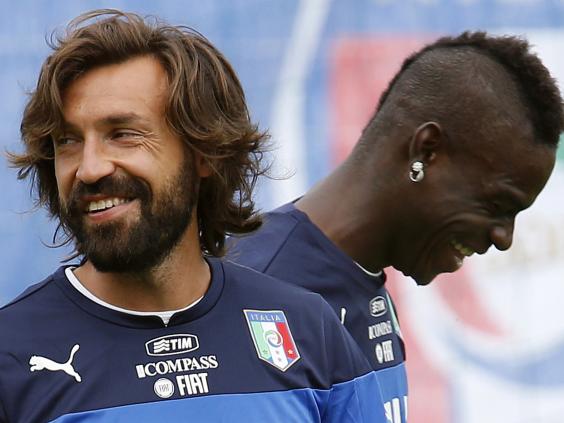 What really stands out about Verratti's game, more than anything else, is his bravery. Like all of the best midfielders, he always wants the ball and will demand it from his team-mates at all times. His great strength is taking the ball in a difficult position facing his own goal, with two opponents on his back, somehow wriggling his way out of trouble then moving it forward to a team-mate in space.
It means there is always an element of danger with Verratti – he is a high-wire act in the middle of the pitch – and when he loses the ball his team are always under pressure. Laurent Blanc, his coach at PSG, even told him to play safer earlier in the year. "He has sometimes taken on a bit too much for my taste," Blanc said. "He should continue to take risks, but in opposition territory. He needs to play more simply and efficiently."
If Henderson, Steven Gerrard and Wayne Rooney can hunt Verratti down and win the ball off him, they will be in business. The problem, though, is if they all chase after him and Verratti evades them, Italy will have an advantage elsewhere, probably meaning more time on the ball for Pirlo, Verratti's hero, the man he is hoping to emulate and ultimately replace.
Marcello Lippi, who led an Italy team built around Pirlo and Gianluigi Buffon to the World Cup in 2006, recognises the similarities between the two players. "Verratti is young and talented," said the veteran coach. "In Germany [2006] I focused on [Daniele] De Rossi, who was 20 years old and talented. With the strong ones you do not have to map it out."
Carlo Ancelotti coached Pirlo at Milan and Verratti in his first year in Paris, after his €12m (£9.5m) move from Pescara in summer 2012. Ancelotti would now like to take Verratti to Real Madrid, saying that he "sees the game before the others, like Pirlo".
Verratti, of course, would not willingly speak of himself in the same breath as Pirlo, the man with five Italian titles, two European Cups, a World Cup and the rest. "To get to that level takes time," Verratti said. "Compared to Pirlo, I can't even throw a ball. I like to learn from him about what to do ahead of time."
The two will line up together, along with De Rossi in a formation likely to resemble 4-3-2-1 tonight. This could provide Italy with the perfect midfield basis, as the two maestros, the 35-year-old and the 21-year-old,  work together to create something special.
Reuse content