Asked as a final shot by the interviewer from ITV whether this was the moment that England had to reach for the stars, Roy Hodgson replied as only Roy Hodgson can. "Per Ardua Ad Astra [through adversity to the stars], that's the Royal Air Force motto, isn't it?"
England have never had a manager given to quoting Latin, and Fabio Capello was Italian. But Hodgson's mind is given to spark in these moments, an eloquent man who never troubled England's great seats of learning but can be found with his nose in a book at every spare moment. As with his literary interest, so too his management career. Both paths have been unorthodox. He is self-educated, a Jude the Obscure for 21st-century English football.
Through adversity to the stars. It is a beguiling image for this England team on a journey that starts in the heat of the Amazon in a city which the RAF would surely appreciate – there are no roads in, you have to fly. Twenty years ago, Hodgson was the anomaly at the 1994 World Cup finals, an Englishman in the tournament while the nation's best players languished at home (he took Switzerland to the last 16). Even to this day, no one is quite certain what a Hodgson World Cup England team will look like.
The regulation Fifa press conference with Hodgson and his captain, Steven Gerrard, at the Arena Amazonia took place at 10.15pm UK time last night, much too late for the early editions of the British newspapers. Instead, his interviews with the BBC and ITV were made available and from them we can deduce a man who, unlike many 66-year-olds, cherishing retirement and grandchildren, is approaching the fiercest challenge of his life.
The modern England manager must be an impact coach, capable of getting the best from a disparate group of players in a short period of time. He must be a diplomat with the clubs and a glad-hander with the sponsors. He must put on a performance for the media. He must manage an extensive staff. He must accept that the big logistical calls rest with him. Like his predecessors throughout time he has to deal with the Football Association, and its complex network of allegiances and enmities. Then he has to go to the World Cup and win matches.
World Cup 2014: The best animal mystics in Brazil
World Cup 2014: The best animal mystics in Brazil
1/8 Nelly the elephant

Paul may have got all the headlines glory but Nelly the Elephant has a much better record. Nelly has been making predictions since 2006 and has a stellar record across the Women's World Cup, 2010 World Cup and Euro 2012, making 30 of 33 correct predictions. Nelly also predicted that Bayern Munich would beat Borussia Dortmund in the 2012 Champions League and has a famous backer in World Cup winner Sepp Maier, who said: "I share Nelly's predictions, that we will draw against Portugal and win against the USA and Ghana. So we'll stay in the tournament."

Getty Images

2/8 Alf gentoo penguin

The National Sea Life Centre Birmingham's newest residents put their necks above the parapet for the group stages. Not content with just predicting one team or the other, the Gentoo penguins have also been predicting draws. By standing on one of three rocks Alf, the colony's leader, has predicted a win for Brazil and a draw for England against Italy. But Pablo, who has been challenging Alf for his leadership, predicted a win for Italy against England (he was right).

SeaLife Centre

3/8 Chinese pandas

These young pretenders have been selected by a panda conservation centre in the Sichuan province of China. With the national team having not made it to the tournament, the pandas could find the spotlight difficult. They haven't even decided on a method yet, though it could involve eating foods in containers marked with a national flag, or climbing a tree with a flag.

Getty Images

4/8 Big Head the Turtle

Unsurprisingly, this Brazilian loggerhead turtle has picked the nation of his birth to be victorious in the tournament's opener - the 25-year-old was given a choice to eat fish hung from either a Brazil flag or a Croatia flag.

AP

5/8 Shaheen the camel

The Dromedary Camel is yet to make his first prediction but will do ahead of the World Cup opener on Thursday. Deep in the desert of Dubai Shaheen makes his prediction by kicking the ball into nets marked with a team's flags.

Gulf News

6/8 Predictaroo

The eastern grey kangaroo formerly known as Flopsy is being looked after at Australia Zoo by Bindi Iriwn, son of wildlife expert Steve. Predictaroo also picks teams from identical bowls of food emblazoned with the flags of the two teams.

Australia Zoo

7/8 Citta the Elephant

Citta the Elephant didn't perform in her home nation of Poland, much like the hosts in 2012. She predicted the three opening group games wrong and although made up for it in the group stages by predicting every result right, she failed at the last hurdle by predicting Italy to beat Spain in the final. Like Nelly, Citta predicted the results by kicking a ball.

8/8 Paul the Octopus

The cephalopod who started it all, Paul became a worldwide storm after a run of correct predictions in Euro 2008. He was wrong in the final, but returned well at the World Cup 2010, correctly predicting that Spain would be the winners. Paul died in his Oberhausen tank in October 2010, aged two-and-a-half.

GETTY IMAGES
What would that young coach who took over at Halmstads in Sweden in 1976, and led them to a remarkable league championship a year later, make of the Hodgson of today? "I think he'd be quite proud," Hodgson said. "He'd certainly be happy that things have gone so well. But I understand where you are coming from. It's humble beginnings, that's for sure, but it's nice to know that it is possible from humble beginnings to reach good positions. Hopefully, positions you are justified in having."
What of the team he will select against Italy? Hodgson said Danny Welbeck's right thigh injury was "a niggle", nothing more than a "slight groin strain" that would not prevent him from playing tonight. As for whether Raheem Sterling or Ross Barkley could feature from the start, he expressed caution. They are "exciting talents with fantastic potential but you have to be careful that we don't throw them into the lions' den too early," he said.
"We have to be aware that the World Cup is a little bit special. There is no doubt that experience does play a part. Quite a few of the teams that are really fancied to do well at this World Cup are quite old in terms of age and the number of caps. So I hope that I'll be able to keep the balance going roughly as I've had it at."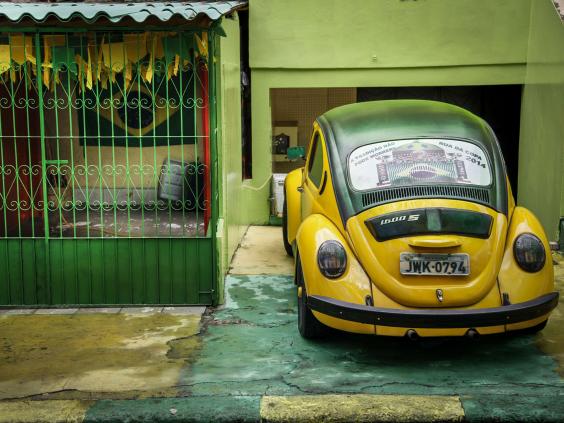 What makes the modern game different, certainly the modern World Cup finals played in tropical heat, is that this is a 14-man game. Hodgson's substitutions will be only slightly less a crucial part of his match plan than his first XI. He will be judged on the whole ensemble. He is not afraid of picking the youngsters – he could have selected a much older squad – and he made the point that a lack of World Cup experience need not be an impediment. "Pele went into 1958 World Cup as a total unknown – a 17-year-old who was unknown in Brazil, let alone Europe. At the end of that World Cup he became one of the most famous 17-year-olds the world has ever known.
"Maradona was very young when he first started playing for Argentina. Johan Cryuff was another one when he was dominating European football for Holland. And Beckenbauer was a young man when England won in 1966. I'm not afraid to give youth a chance, but youth will have to prove to me that it's better than experience. If someone wants to take Gerrard's position on the field, that's fine by me just as long as someone proves to me he's better than Gerrard."
In his ill-fated time at Liverpool, Hodgson was often accused of underselling the history and ambition of the club, of talking in terms that failed to fire the imagination. As an England manager, he has proved the most outspoken in the modern era.
There is a conflict in Hodgson between the old and the new. He admits he looks at the GPS data from training sessions but in the end his judgements are based "on the old-fashioned days of seeing lots of games, having lots of reports, lots of discussions and then trying to back judgement on what you have seen". He has a team that "does not give the ball away willy-nilly" but he is more interested in strong defending and goalscoring chances than possession stats.
Hodgson is convinced that this is a different England team from the one that drew with Italy at Euro 2012 and went out on penalties. He says there is more "energy, pace and mobility" in this squad than the group he picked up on the hop at the end of the season two years ago.
"I've got every confidence in the team and really do believe we will play well. There are always those moments you just can't control: the refereeing decisions, the unlucky bounce of the ball, the ball hits the crossbar and goes in and comes out. They are really the only things I'm nervous about."
Reuse content