Italy goalkeeper Gianluigi Buffon will miss their opening World Cup match against England tonight after suffering a knock to his ankle in training.
The Italian captain twisted an ankle ahead of the match, and the 36-year-old missed his scheduled pre-match press conference at the Arena Amazonia in Manaus.
The Italian FA have now confirmed that he will miss tonight's match, tweeting: "Italy goalkeeper and captain #Buffon has been officially ruled out of #ENGITA due to an ankle injury".
Paris St-Germain goalkeeper Salvatore Sirigu will deputise in a blow that manager Cesare Prandelli could have done without. Speaking ahead of the match, Prandelli admitted that Buffon had taken a knock, but that it was twisted "very lightly" and was nothing to worry about.
"He twisted his ankle very lightly," said Prandelli when quizzed on Buffon's injury. "It was a very, very light ankle twist.
"He is receiving therapy at the moment, but it is nothing serious."
Italy are already without full-back Mattia de Sciglio, who was ruled out with injury earlier this week, and the absence of Juventus legend Buffon will be a massive blow to the 2006 World Cup winners.
Italy: Group D team profile
Italy: Group D team profile
1/5 How they qualified

Italy were solid for most of their qualifying campaign, finishing six points clear at the top of Group B after six wins, four draws and no losses. Striker Mario Balotelli led the scoring charts with five of Italy's 19 goals while the usually solid Azzurri defence conceded nine. Their decline in form towards the end – two draws against Denmark and Bulgaria – has continued into their six friendlies since, from which they have only picked up one win.

2/5 Manager: Cesare Prandelli

Cesare Prandelli took over as Italy manager after the disastrous 2010 World Cup – two years later, he had taken them to the final of the European Championships, only to lose out to the all-conquering Spain. Prandelli has gone against the traditional Italian counter-attacking style and instead prefers his team to take the game to their opponents. In the run up to this World Cup, the 56-year-old has chopped and changed his starting 11 – both in terms of formation and personnel – possibly to conceal his tactical plan for the tournament. Equally plausible is that he's still not sure of his strongest side. Either way, Prandelli is confident and has said he is aiming for the final.

3/5 Star Player: Andrea Pirlo

You need only hear Andrea Pirlo's nicknames in Italy – l'architetto ("the architect"), il metronomo ("the metronome") il professore ("the professor") – to understand what type of player he is. The 35-year-old moves the ball around with pinpoint precision, keeps his team ticking over without ever missing a beat himself and does it all with a genius seen rarely on the pitch. Pirlo dictated the game when England and Italy met at the European Championships two years ago and could easily do so again unless Roy Hodgson devises a plan to stop him.

4/5 Emerging talent: Ciro Immobile

Ciro Immobile top-scored in Serie A for Torino last season, a feat which earned the 24-year-old a £16 million move to Borussia Dortmund in early June. The striker scored a hat-trick against Fluminense in Italy's final World Cup warm-up match, leading to calls for him to start against England. If Prandelli opts for two up-front, Immobile is in with an excellent chance; should he go for one, however, then it will come as a shock to see him start ahead of Mario Balotelli.

5/5 How they line up (4-1-3-1-1)

Buffon; De Sciglio, Chiellini, Bonucci, Abate; De Rossi; Verratti, Pirlo, Marchisio; Candreva; Balotelli
Prandelli was also quick to acknowledge England's threat on the counter attack.
"The attackers have technical skills and are able to use the space available to them in the best way, so we will have to be very careful and we will have to try to control the midfield. That is going to be the key," he said.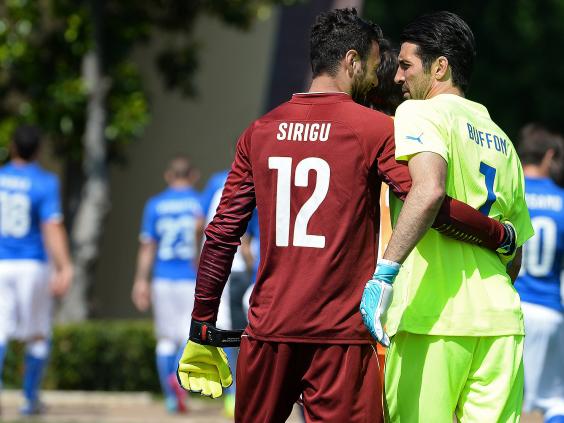 Prandelli, like England counterpart Roy Hodgson earlier on Friday evening, downplayed issues surrounding the pitch in Manaus.
Images emerged in the days leading up to Saturday's encounter that showed the surface to be in a shocking state, with over-fertilisation making the grass dry and led to brown patches.
Some of those areas appeared to be spray painted over on Thursday but, having trained on the Arena Amazonia surface for more than an hour, Prandelli had no concerns.
"The turf that had been described to me was in a very bad condition, but it is actually in very good condition," he said.
"It is not exceptional, but it is certainly good. As regards to the system of play I am going to use, it is always good to have a few lingering doubts on the night before because up until they very last minute the players must feel that they are still competing for a place on the squad.
"We don't want to give any competitive advantage to anybody."
Reuse content