Wayne Rooney, the new England captain, who will lead his side out at a half-full Wembley on Wednesday night for a friendly against Norway, said the players had to win the fans back.
He also admitted that Manchester United's signing of the Colombian striker Radamel Falcao this week may mean that he will have to drop back into midfield to prolong his career. Rooney is now competing with Falcao and Robin van Persie to start up front for United and said that that will have an affect on him.
"I'm capable of dropping back into midfield," Rooney said. "I'm sure one day I will. That's down to my two managers now and me speaking to them. I know what you're getting at. That is more a question about United, and that's down to what Louis van Gaal wants. We need to speak to him and see what happens." He believes it is certain long term. "I think on the back end of my career, I'll probably definitely play there," he said. "But in terms of now, I'm not sure. We'll have to wait and see."
Rooney revealed that Gary Neville, David Beckham and his predecessor Steven Gerrard were the three captains whom he would try to emulate.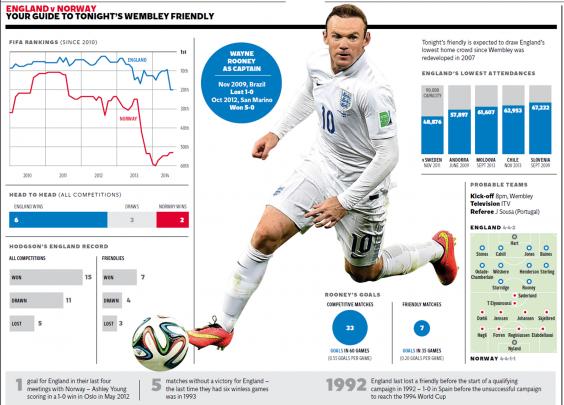 Click HERE to view full-size version of graphic
"I've worked with some fantastic captains in the past, watching them and how they've adapted to the role," Rooney said. "I'll try and take things from them and add my own ingredients on to that. I will have my own style.
"Gary knows the game very well. Becks was a great ambassador for English football, and Steven – who I was close with and probably watched closer than any of them – had a lot of qualities. He's the one who demanded the most on the pitch, which is what I feel is my strongest quality. Obviously, the stuff off the pitch, I'll learn. I demand a lot from myself, and I'll demand a lot from my team-mates."
Rooney revealed that he had been taking guidance from his close friend Gerrard about the responsibilities of captaining England. "I've spoken to Steven, we speak quite regularly. He has given me a lot of advice. I was in that little group which Steven put together for the last two years, and we had regular meetings with the manager and that eases you into the position of being captain. Steven has helped me a lot."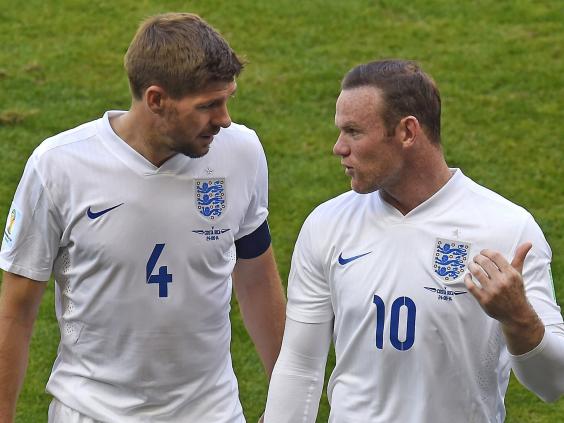 Rooney will partner Daniel Sturridge up front, with Hodgson hoping the duo will also help out in midfield. Alex Oxlade-Chamberlain, Jordan Henderson, Jack Wilshere and Raheem Sterling will play in midfield with Leighton Baines, Gary Cahill, Phil Jones and John Stones comprising the back four, with Joe Hart in goal. Arsenal's new £16m signing Danny Welbeck rolled his ankle in training, and although it is not thought to be serious, he is unlikely to be risked.
Roy Hodgson hopes his team will put on a good show for the meagre crowd at Wembley, expected to be 40,000. "We will have the crowd we have," the England manager said. "We're going to work hard for the ones which are there and the ones who aren't."
Reuse content