Roy Hodgson has declared that the England dressing room is free of the kind of bullying culture that Kevin Pietersen has alleged was rife among the England cricket team during his final unhappy Ashes tour of Australia.
Hodgson and his staff have worked hard to instigate an independent-minded spirit among the squad, with meetings between players in different "units" of the pitch away from coaching staff, and are hopeful that they have eliminated the club-based cliques prevalent in the past.
Asked about the Pietersen allegations, Hodgson said that he had encountered difficult dressing-room dynamics in his long managerial career, most notably during his second stint at Internazionale in 1999, but that it was not an issue for his current players. He said: "I've been very lucky in the two years or so that I've had the privilege of leading the team. I must say I haven't noticed any problems like that.
"I'm not particularly patting myself on the back or anyone on the back, because dressing rooms can be very difficult places. I know when I went back to Inter the second time it was a different atmosphere.
"We haven't had that problem, we work very hard not to have that problem and we are working very hard at the moment to make sure that we carry on all singing off the same hymn sheet, that we are taking ownership of what we're trying to do."
The England manager said he would not be making "wholesale" changes for Thursday's European Championship qualifier against San Marino from the team that beat Switzerland 2-0 last month. It is expected Calum Chambers will come in for John Stones, currently injured, at right-back. Phil Jagielka will replace the injured Phil Jones. Adam Lallana is a contender to start ahead of Fabian Delph in midfield.
Hodgson challenged his players to go through qualification without losing a game, not such a daunting prospect when one considers the level of opposition in Group E. England have not lost a qualifying game since the defeat to Ukraine in 2009, by which time they had won their group to reach the 2010 World Cup. Not since the 3-2 defeat to Croatia at Wembley in November 2007 under Steve McClaren have they lost a qualifying game which was germane to their tournament fate.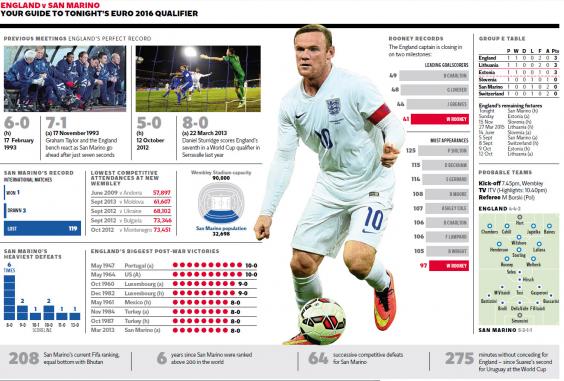 Click HERE to view full-size version of graphic
Hodgson said: "It's such an exciting team to work with. The players I have now have the ability in training and matches to play some very exciting football, and there's still a big group missing who are not available to us. You get the qualifying group you get, the opponents you're given. It's foolish, as a team and coach and player, to differentiate.
"We have 10 qualifying matches. The last 10 [for the 2014 World Cup] we won six and drew four. It would be nice to go through this qualifying campaign unbeaten. If we get two good results [against San Marino and Estonia], we'll set ourselves the target of winning all the games.
"The thing about Switzerland was it came after the disappointment of the summer. It was going to be another big test, but we showed ourselves ready to pass that test. It doesn't reduce it for us. I know we've been spoilt in the past with massive crowds, even against San Marino.
"We had 85,000 then even. But it's incredible we'll have 50,000 and 20,000 at Wolverhampton on Friday [for the first leg of the Under-21s qualifier against Croatia]. I don't think there'll be many crowds in qualifying games with that many, and very few when you have a low-rank team like San Marino."
There was a question as to whether England should have taken this game elsewhere in the country, and played in front of a full-house somewhere other than Wembley. However, the team are contracted to play their home games at Wembley as part of the stadium's season-ticket package, which runs until 2017.
Hodgson said: "It's a political question, really. It never comes up. We don't have that choice. England's matches are played at Wembley whether there are 85,000 or 2,000. That is what we're contracted to do. I don't even entertain what may or may not be best. I'm happy we have Wembley. I love taking the team out there. Sometimes I have to accept it's not always that wonderful atmosphere."
Reuse content