When Wayne Rooney leads England out at Wembley on Thursday, there will be a lingering sense that he does so not for his own powers of leadership but through a lack of credible alternatives.
It will be the first time Rooney has led England into a competitive game as their full-time captain, and it will come just 10 days after he was sent off for Manchester United after connecting with a cynical kick on West Ham's Stewart Downing.
Despite that black mark, Hodgson believes Rooney has many of the right qualities necessary in an England captain.
He said: "Everyone knows Wayne is not the sort of person with his Liverpool accent who is going to be able to stand up in front of a lecture room of people. But he doesn't need to.
"Oratory is a much over-exaggerated quality. People have ways of getting messages across. There are some people I think are very eloquent who don't get messages across well and others who I don't think you would regard as orators who do.
"The thing with Wayne, as it was with Steven Gerrard, is the passion that they have for football, for their country, and for their clubs. Both were basically one-club men, if you consider Rooney leaving Everton at a young age. They transmit that passion to a lot of the younger players. They get their points across. They won't do it maybe quite as eloquently as someone like myself could, but it doesn't matter. He will get the message across, and the message will be more powerful coming from him. We really want to tap into that."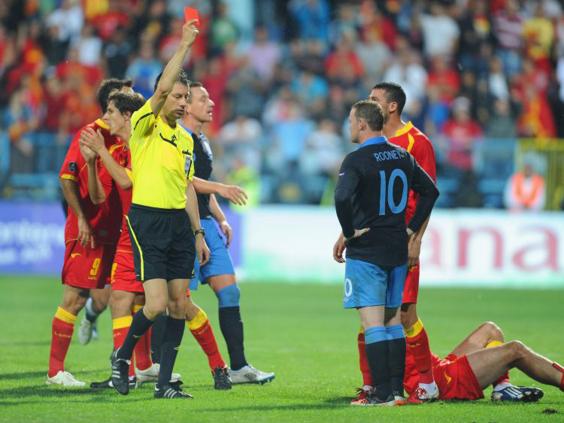 At Manchester United, only Louis van Gaal knows how much he deliberated before choosing Rooney as captain, ahead of Robin van Persie, whom he chose as captain for the Dutch national side. Hodgson insisted last weekend's red card does not point to a problem with Rooney's temperament.
Indeed, Hodgson made Rooney captain the last time San Marino came to Wembley, almost exactly two years ago, when both Steven Gerrard and Frank Lampard were unavailable for selection.
 Hodgson said: "People say, 'You are the captain of England, you shouldn't have done it." It's a difficult situation.
"All Wayne tried to do is commit a professional foul, and did it very badly. It wasn't malicious. I knew it. Van Gaal knew it. A lot of other people knew it.
"But if someone wants to write that 'Rooney hasn't got the temperament', I can't stop them doing it. All I can tell you is: they are wrong."
England will be expected to put many goals past San Marino, and Rooney will also be expected to edge a little closer to Bobby Charlton's goal-scoring record. It will be another step on the road to recovery from the misery of their performance at the World Cup, although Hodgson is keen that those memories do not fade too quickly.
He said: "I don't want the players to forget it that quickly.
"I want them to remember the bitter disappointment that they felt. But for very small margins, relatively minor details, we could have gone further, and I want them to remember that. I think that's going to take a much longer time [to get over it].
"But there's no point dwelling on it. I do try as much as possible to inject as much optimism and belief in the future, but no, I certainly couldn't say, 'The hangover's over. It's all behind us'.
"It won't be behind us. And it shouldn't be yet. We must use those memories to help us."
Reuse content