Steven Gerrard said he had no fears over Wayne Rooney's state of mind ahead of tomorrow night's England friendly against Scotland, adding that the Manchester United striker's first game of the season – in front of a crowd – would be a "release" for the player.
With his future still unresolved and United refusing to accommodate his wish to join Chelsea, Rooney is expected to start against Scotland. He trained today and is preparing to start only his second match of the pre-season other than a behind-closed-doors game against Real Betis at his club's training ground this month.
Gerrard said he believed Rooney would benefit from tonight's game, with no guarantees that he will be in the starting XI for United's first Premier League game of the season against Swansea City on Saturday. "I think this game is great for Wayne," Gerrard said. "There is a lot of media attention on him at the moment because of his club situation but he has got the chance to get some much-needed minutes under his belt and to play for England, which will be a release for him if you like.
"I've got no doubts that Wayne Rooney can play well and be a key factor in this game and that's all I'm interested in really," Gerrard added. "The best thing for a player when there is a pressure on you and you are in the squad is to be out on the pitch because it all gets parked up and it is a welcome release. I've been in a situation where I've had issues going on off the pitch and you just want to play.
"When the game starts it is fine. You are not thinking about what is going on in your personal life or any other pressures in life. Once that whistle goes you are just thinking about the opposition and the game and doing as well as you can."
Gerrard said he had assessed Rooney's mood and believed that the player was ready in spite of his stand-off with United and their unwillingness to let him leave. "We've chatted as mates and stuff," Gerrard said. "For me I just try and gauge where he is when I meet up with him and what his mood is, and he is certainly looking forward to this game.
"He has trained well and has been scoring regularly in training and is looking forward to getting some minutes under his belt. I think he has been frustrated with injuries throughout the summer. The situation with his club is basically none of my business so it's not for me to comment on.
"I think he is just itching to get out there and play a game. I think he has been frustrated to miss big chunks of pre-season and he is desperate for these minutes under his belt because he wants to get match fit as soon as possible."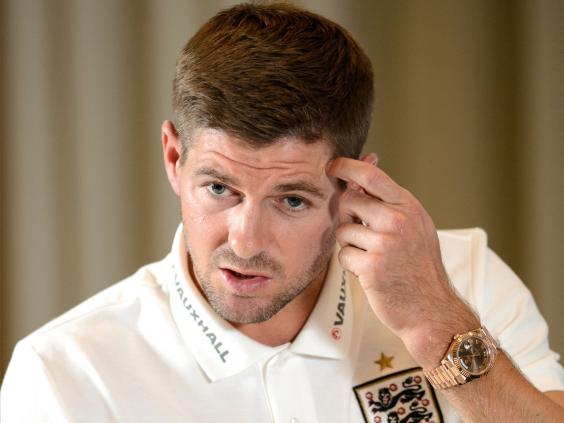 As England approach the four critical World Cup qualifiers against Moldova, Ukraine (away), Montenegro and Poland, Gerrard conceded that this could be his last 10 months as an international footballer. "I've got to assume it's my last year. I can't assume I'm going to be here in two or three years' time. I've got to make the most of every single game, certainly this year because it's such an important year. For all I know, I might be out of the picture in a year's time. I want to make the most of it, of course."
Wembley was still not sold out as of this evening, although 20,000 Scotland fans are expected to attend. The game is being played in aid of the Teenage Cancer Trust and it is only the fourth time that England have played Scotland since 1989, the other matches being the 1999 double-header play-off for Euro 2000 and their meeting at Euro 96. Before the fixture was abandoned because of problems with supporter violence, the two countries played each other every year from 1947 to 1989 – and twice in 1973.
Gerrard said it remained an important game for England. "I know it is classed as a friendly but we want to beat Scotland very much," he admitted. "It hurt when Don Hutchison scored that only goal [in November 1999 at Wembley, when Scotland won 1-0] and of course we are all patriotic Englishmen and we want to beat our local rivals, that's for sure."
Asked whether he agreed with Rio Ferdinand's assessment that England lacked an "identity", Gerrard was dismissive. "To be honest with you, I am not really interested in what Rio Ferdinand has got to say about this group of players. When you play for England there is always a lot of opinions outside the group, especially in a World Cup year.
"There is going to be more people voicing their opinions but when we're inside nobody takes much notice of what is being said on the outside."
The England captain also advocated the early closing of the transfer window, given the uncertainty over the future of his Liverpool team-mate Luis Suarez and Rooney. "It's a scenario we will have to wait and see what happens. I think the transfer window should be shut earlier. We will have to see what happens with Luis and Wayne."