This is the way the World Cup ends for England, not with a bang but a whimper. They arrive home today with a solitary point placing them one rung above total humiliation.
At the end of the game, the England fans applauded Roy Hodgson's players and in time their manager joined his squad, jogging across the pitch with his hands still in his pockets. In the past England have been booed at Wembley for much less than exiting a World Cup bottom of their group, winless and out of contention after the second game. The mood of forgiveness has been truly remarkable. 
Thus far only Australia and Cameroon have fewer points although that is the category to which England belong. Hodgson made nine changes to his team, as promised, but by the end he was throwing on the big guns to try to get a victory. Not even Raheem Sterling, Steven Gerrard and Wayne Rooney could win him the game, though, against a side with players from teams like Columbus Crew in the MLS or Deportivo Saprissa in their own domestic league.
The Premier League boys could not find a way past a lower-ranked international side riding the crest of a wave and cheered on by a sizeable away support — another chastening moment in the life of the English national team.
England had the chances to win it. A good four opportunities fell to Daniel Sturridge who had not been able to muster the composure in front of goal that he has managed for much of the season at Liverpool. The striker should also have been given a first half penalty for a collision and for a moment you were reminded that none of the decisions or the half-chances have gone Hodgson's way.
Yet even he would not expect that to form much of the analysis when the bigger picture is examined. England have a small core of bright young players, and Luke Shaw and Ross Barkley impressed, but they are a long way from turning the corner. The Euro 2016 qualification campaign begins in Basel against Switzerland on 8 September and it cannot come quick enough for Hodgson.
England 0 Costa Rica 0 player ratings
England 0 Costa Rica 0 player ratings
1/22 Keylor Navas

Managed to cope with everything that England could muster. 7

2/22 Christian Gamboa

Did fine at the back for the South Americans. 6

3/22 Junior Diaz

Not quite as influential as against Italy but fine. 6

4/22 Randall Brenes

Removed on the hour mark after being pretty ineffective. 5

5/22 Joel Campbell

Did very little against England unlike first two World Cup games. Taken off after the hour. 5

6/22 Celso Borges

Played ok but not as attacking as before. Taken off for last ten. 5

7/22 Yeltsin Tejeda

Yeltsin Tejeda Played fine but never really a threat. 6

8/22 Bryan Ruiz

A couple of moments of quality skill but not very effect on his worst game of the World Cup so far. 6

9/22 Roy Miller

First start of the World Cup and performed well. 7

10/22 Giancarlo Gonzalez

Was solid at the back and gave England very little. 7

11/22 Oscar Duarte

Constantly good performer for Costa Rica and did well again. 7

12/22 Daniel Sturridge

Daniel Sturridge England's likeliest player to score, with ambitious efforts from the edge of the box in the first half and closer chances after that, but no success. 5

13/22 Adam Lallana

Lallana Some sharp runs round the corner, trying to out-wit the Costa Rican defence, and a few nice touches, but never too influential before he was taken off. 5

14/22 Ross Barkley

Not especially involved in play but he still can produce exciting moments, like when he made himself room to shoot with his left early in the second half. 5

15/22 James Milner

Worked tirelessly down the wings, as he always does, chasing passes but not always creating chances for team-mates when he got on the ball. 6

16/22 Jack Wilshere

The most dangerous of England's new players, he drove forward with the ball, played with his head up and sparked England's best moves. 7

17/22 Frank Lampard

Showed his years of experience with a controlling performance at the base of the midfield, giving a glimpse of the type of player England have missed. 6

18/22 Luke Shaw

As secure as any 18-year-old full-back on World Cup debut has a right to be, storming up and down the line, solid on and off the ball. 6

19/22 Chris Smalling

Solid defensively, although with not much to marshal, Smalling was slightly better with the ball than Phil Jagielka without quite being at the level England need. 6

20/22 Gary Cahill

On his third straight start, Cahil looked assured against opponents who were not as ambitious as they had been in their first two games. 6

21/22 Phil Jones

Never looked especially controlled, either while defending or going forward. Has to work this coming season on establishing a permanent role for England and Manchester United. 5

22/22 Ben Foster

Did not have too much to do but made one brilliant finger-tip save from Celso Borges' top-corner free-kick late in the first half. 7
There were some small aspects that were encouraging, especially in Barkley and Shaw's performances. But there was a tragic-comic element to the reuniting of Frank Lampard and Gerrard in the midfield for the final few minutes of the game; English football playing an old strategy in blind hope.
It was a struggle for Phil Jones at right-back. In fact, the defence is starting to feel like the biggest cause for concern. Costa Rica made only two changes to the team that beat Italy. They are in love with this tournament and rightly so and the late run on England's goal by Marcos Urena, well chased down by Shaw, was typical of their enthusiasm.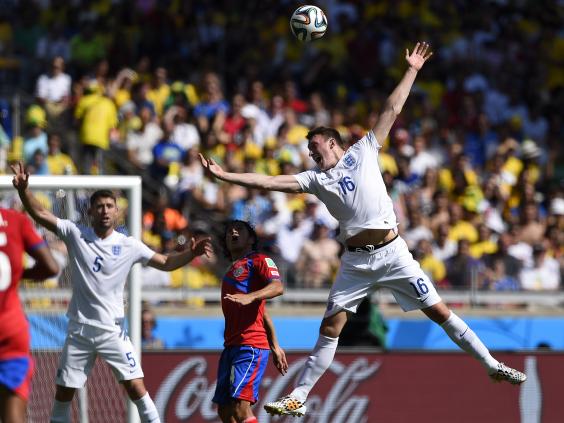 Losing games has a momentum all of its own and it was that problem that Hodgson's team were trying to arrest as best they could. It was left to the B-string and the youngsters to atone for the mistakes of their contemporaries in a surreal atmosphere created by ecstatic Costa Rican support and the gallows humour of the English.
England's travelling support has in the past struggled for the nuances to express the general state of the side they support. They veer between blind loyalty and unequivocal disdain. For a while in Belo Horizonte they sang 'Always look on the bright side of life', which was not a bad antidote to a summer of pain in a beautiful setting.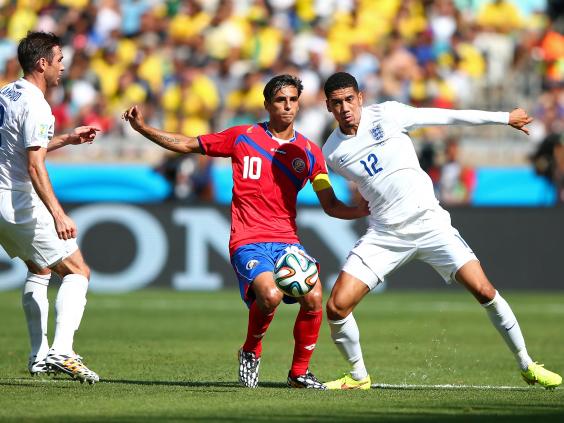 It was an awkward start from Hodgson's side, not helped by the occasional elementary mistake in the early stages that revealed the anxiety in the side. Chris Smalling shanked one clearance out of play. Gary Cahill sliced another. Costa Rica, in contrast, were bouncy and confident and, in the early stages, applied the kind of pressure to England's midfield that Uruguay had five days' earlier.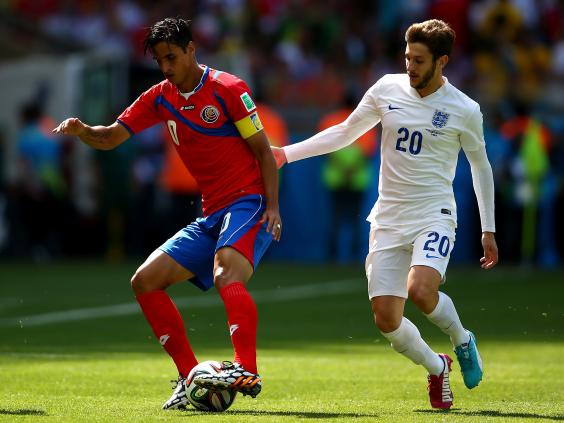 There were some decent touches from midfield from Jack Wilshere, and later in the half Barkley would emerge as the most determined attacking threat. But not before he tried to dribble the ball from the edge of his own area on 24 minutes and gifted possession to an opportunistic Costa Rica attack.
Sturridge, tidy throughout the first half, just was not clinical enough. His first chance was a left foot shot curled just wide of Keylor Navas' post on 12 minutes. Wilshere's pass had made the chance. At the other end, Celso Borges had a good free-kick brushed onto the bar by Ben Foster's right-hand glove. There was not too much in it. Lampard tried the quick ball over the top which opened it up for Adam Lallana who crossed to Wilshere who missed.
The Algerian referee Djamel Haimoudi declined to give Sturridge a penalty on 27 minutes when Oscar Duarte clearly clipped across the thigh him as he went into the area chasing Lallana's knockdown. Hodgson has needed those decisions to go for him, and he was angry on the touchline 
Sturridge missed another header from close range, knocked back to him by Jones from Milner's cross. Barkley, growing in confidence moved from right to left across the face of the box to hit a left footed shot. Just when it looked like England might at last make the break through, Jones slipped when sizing up a long ball and almost let in Randall Brenes on goal.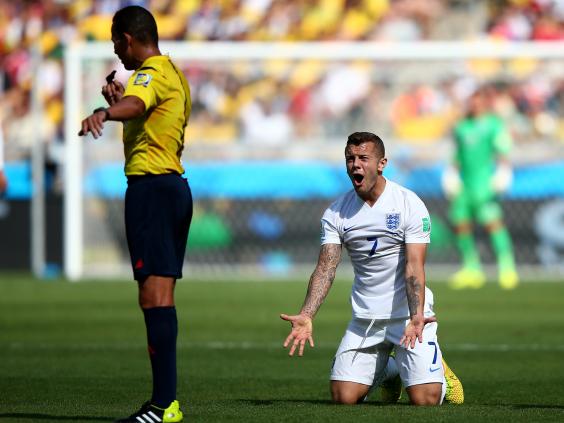 It would not fall for Sturridge at the start of the second half either when a deflected shot dropped to him in the area and he could not kill the spin on it to get a clean strike away. It felt like it would never happen for him when he exchanged passes with Wilshere after the hour and, free in the right channel, placed a left foot shot past Navas and wide of the post.
Sterling came on for Lallana on the left wing just after the hour. Sturridge broke through on goal again on 69 minutes but struggled to sort his feet out in time and Giancarlo Gonzalez nipped in to take the ball.
For one last time, Hodgson sent Gerrard on to play alongside Lampard — that old partnership which was once a byword for incompatibility given what is surely its last run-out. Wilshere made way having struggled in the second half to exert much influence. And finally, Hodgson made his last decision of the tournament, bringing on Rooney for James Milner. None of it gave him the goal he needed. His best result of the afternoon was the reception from his own supporters.