"I think the longer a situation goes where you are not playing with your club, it becomes more difficult," Gareth Southgate had said before the game. Though it was the ubiquitous Wayne Rooney he was talking about, the words were just as relevant to Daniel Sturridge, a footballer who seems to be playing with pain behind his eyes as his struggles to make headway at Liverpool enter a fifth season.
The injuries are behind him and now it is convincing Jürgen Klopp that he is a superior option to Roberto Firmino which is the problem. Sturridge is not one of those who runs the opposition to death and so it has come to pass that he - a player who has scored 55 goals for the club in 99 games - finds himself on the Anfield margins. Jamie Carragher suggested this week that Sturridge should "look at what Firmino is doing".  Though that may involve a fundamental reappraisal of the way he lurks on the edges of games, waiting to pounce, there was evidence in the first goal for Gareth Southgate's England that his quiet watchfulness is valuable. Less is more, sometimes.
The goal was one of those occasions when the lack of movement was needed. Sturridge demonstrated in his ability to stand and wait for Jordan Henderson's hoisted 25 yard lofted ball what a technically fine striker he is. To have reached for the ball and forced pace onto it would have heightened the risk of him missing the target. But Sturridge let the pace of Henderson's delivery work for him, heading through the centre of the ball with all the precision of a slide rule. It was his 100th goal for club and country.
Somewhere mid the new relentlessness of the Premier League that managers such as Klopp, Pep Guardiola and Mauricio Pochettino have made a prerequisite, for still, small moments such as that have become devalued. That's why the road ahead looks such an uncertain place for this player, whose tally of goals already makes him one of Liverpool's greats.
"Fragile" was a word Gary Lineker found for him last night and that was certainly clear when the game's first opportunity arrived: the ball which fell at his feet when Dele Alli had forced a strong save. Sturridge crashed it high into the stand.
Sturridge's goal was not the only part of his contribution. It was he who, from a back-to-goal position  turned and mounted the run at Malta which saw his Liverpool teammate Jordan Henderson collect the ball from the toe of his boot and supply England's second.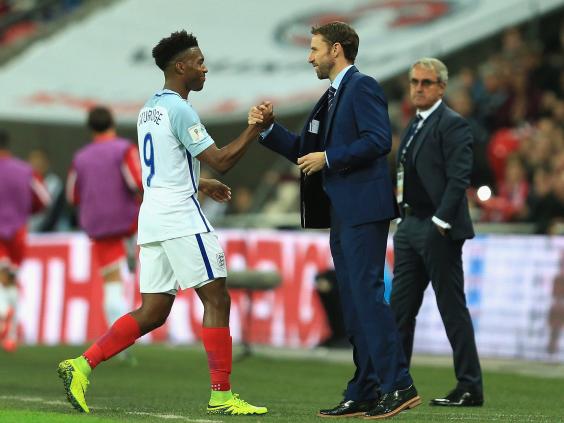 It is Theo Walcott who has consumed the conversation about resurgent England forwards in the past few months, after his early return to training has delivered a new sense of purpose in him at Arsenal. He and Sturridge find themselves at similar junctures in the careers: both 27, both no longer young men offering great hope for the future, both reflecting that they have not found the success they once anticipated. Sturridge was the one of that pair who had most to take away from this night. It was not exactly a performance that drove the Maltese defenders into the dust but offered enough quick, incisive first touches to open up opportunities. The frustration came with his struggle to build on this in the second half. You felt that it was his need to prove his place that saw him drift deep in search of the ball, removing him from the picture as an attacking option. When he signed for Liverpool in 2013 his representatives were lobbying for him to be the centre forward. But here he did not do what strikers do: offer the midfielders a target.
These benign occasions are never easy to judge. When England faced an altogether more serious challenge against the Netherlands at Wembley in March Sturridge faced a real defender – Daley Blind – and didn't get a look-in, leaving stage within an hour, having hardly demanded his right to a place at the centre of the England front line. He encountered Blind about half a dozen times in that game and the Dutchman emerged as the winner on virtually all of them.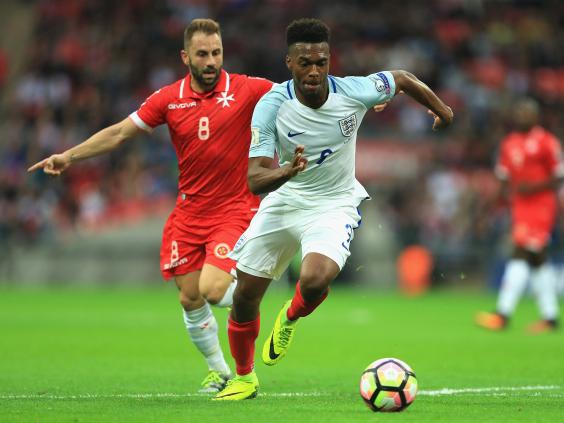 All around him on Saturday night, there was evidence of the makings of a new England. Jesse Lingard's intelligence running from the left added up to a satisfactory debut. Alli is, of course, the coming man, who looks to be the one an enduring Southgate England will be built around – even though he missed several chances. And you could see from the way that Marcus Rashford stared nonchalantly into space from the substitute's bench that he is as that fearless age, with everything lying ahead.
Sturridge was the one who gave the 80,000 supporters spilling out into the London night the singular moment of genius to talk about, though. He looked to the heavens and gave thanks when his header crept inside the right hand post and is not the only one who will need to keep the faith in his own ability. Firmino, the man who commands his club place, only had 15 minutes on the field for Braziil against Bolivia on Friday. It was long enough for him to score.
Reuse content