Henderson out-shines Rooney
If there is one thing that Wayne Rooney is meant to be good at in midfield it is his long passing. But even then Jordan Henderson, playing alongside him, was far more creative and dangerous in that aspect of the game. Henderson was England's best player, and made most of their good first-half chances with his precise delivery. He picked out an early forward run from Jesse Lingard, then put in a perfect cross for Dele Alli, before getting the assist that he deserved, his diagonal finding Daniel Sturridge at the far post. For a player who has traditionally delivered energy, Henderson also brought quality yesterday. 
Alli brings power
Dele Alli has spent much of this season for Tottenham Hotspur back in a deep midfield role, making up for the injury absences of Eric Dier and Mousa Dembele. Here he was further forward, playing just behind Daniel Sturridge, giving England legs and direct power they sometimes lack there. He scored one and should have had a hat-trick. Combined with the occasional bursts of Henderson, playing deeper, England had more midfield dynamism than they have shown recently. Even with a low-confidence Rooney there as well.
Style will take time
Gareth Southgate said on Friday evening that the most important message he wanted to convey to the players was that they should be brave and try to excite the supporters. They may not have succeeded in doing the second, although that is not only their fault. This was not a competitive game of football. There were brief flickers of good play, of the style that Southgate says he always wants his teams to show. But most of the football was ponderous at best. The challenge for Southgate, for his next three games and possibly beyond, is to coax that confidence back into this timid group.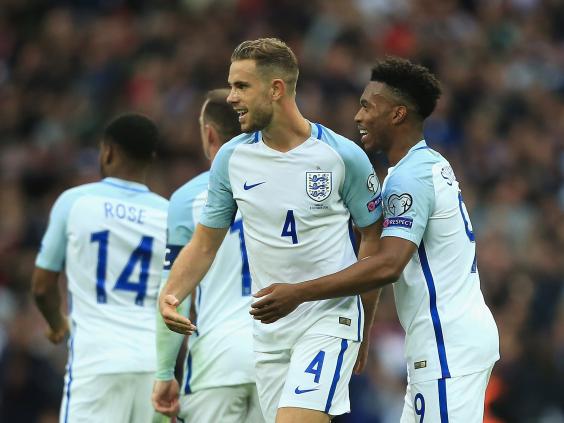 The fans stay loyal
After the European exit to Iceland and the brief tawdry Sam Allardyce era, England fans might be forgiven for feeling disconnected from the team. The evidence here at Wembley was quite the opposite. The atmosphere was not electric, it was never going to be. But it was positive. The fans were only ever behind the team, and the second half substitutes Marcus Rashford and Jamie Vardy were roared on. This is a very different place from the old days of Ashley Cole and Frank Lampard being booed here almost 10 years ago. Even as the team struggles, the fans here are sticking behind the players.
England missed Rashford
If there was one regret about Southgate's debut, it is that he did not play Marcus Rashford from the start. Southgate spoke at length beforehand about the importance of playing without fear, which is why it would have been good to see more of England's most fearless player. Rashford came on with 20 minutes left, playing out on the wing, and even then he managed to create a good chance for Dele Alli. But Rashford has made abundantly clear how much he likes big stages, as he did here at the FA Cup final in May. On a night that was meant to be about a new positive era, it would have been good to see more of England's most exciting player.
Reuse content