To be fair to those players following in the footsteps of those who had operated with such verve in Berlin, the Dutch defence was an entirely different proposition.
Daley Blind marshalled it in a way that none in a German shirt managed last Saturday. It was the Manchester United defender who ensured that Daniel Sturridge had arrived and left the stage within an hour, having hardly demanded his right to a place at the centre of England. Sturridge encountered Blind about half a dozen times in that time and the Dutchman emerged as the winner on virtually all of them.
Yet it was the night which confirmed that this side was nothing more than Roy Hodgson's second string and that the decisions he are faced with ahead of the opening European Championship encounter with Russia in a few months' time do not look so very difficult.
The defence has revealed presented weaknesses across the course of both friendlies which suggest that it is as exploitable now as it was in Brazil, four years ago. But the Berlin central axis of Chris Smalling and Gary Cahill looks by far the preferable. This was Jon Stones' chance to scramble such a notion but his dispossession in the phase of play leading to an equaliser spoke of a player too untested to claim the ascendancy over Cahill – imperfect though the Chelsea man may be. Stones' elegant advances into opposition territory – with an exquisite diagonal ball to send Theo Walcott in – could not disguise a requirement to keep the back door shut as well as open up at the front.
That Walcott chance was blocked by the indefatigable Blind, though the Arsenal man's spin around defender Jetro Willems and advance on goal provided brief visions of the Croatia hat-trick back in the mists of time, seven years ago. On such moments as that are reputations re-forged but Walcott blasted over. Nothing to suggest in this last fortnight that he will be anything but the missing man in France.
Phil Jagielka's own substitute's chance was brief, though he could not halt the advance of Vincent Janssen, illegal though that looked too. Without Eric Dier positioned in front of it, as in Berlin, the defence looked far more vulnerable.
Sturridge did little to contribute to that pre-match talk about stepping up to the plate and create more of the pressure on Wayne Rooney which he says his children are clearly applying, by wearing a Jamie Vardy shirt. Fascination will always exist around an individual such as Sturridge: a game-changing star component whose 'chopping' trick – going left and right  - in the instant before he scored that goal for Liverpool at Southampton in front of Roy Hodgson, a week or so back, added to the mystery. Nothing of the sort, here.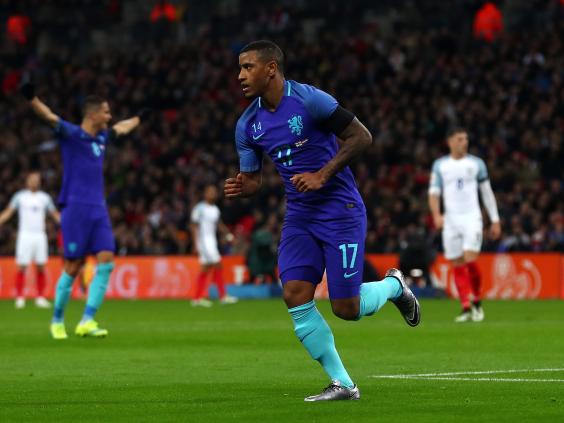 Danny Rose provided flickers of encouragement in the opening period. Having balanced a stout defensive effort in Berlin with an ability to advance with invention and confidence, he was one of the standout players of the first half. He levelled a good cross for Sturridge's best opportunity – a first-time shot which was blocked. But his odd jump at a cross which he waved an arm at in the second half, handing the Dutch their penalty, spoilt the effect and he, too was withdrawn. James Milner was as workmanlike as ever he can be, though without the imagination that can set a campaign on fire. For Ross Barkley, a 20-yard second half was the single-most evidence of a Euros threat: hardly as much as Hodgson had been banking on.
England 1 Netherlands 2 player ratings
England 1 Netherlands 2 player ratings
1/15 Fraser Forster: 6 out of 10

A pair of impressive saves in the second period were enough to suggest that Forster will be more than adequate as a reserve to Joe Hart.

2016 Getty Images

2/15 Kyle Walker: 7 out of 10

Looked no less defensively suspect than Nathaniel Clyne had against superior German opposition though when he got forward England looked a far more dangerous attacking outfit, as typified by his calm assist for Vardy's opener.

Getty

3/15 Chris Smalling: 6 out of 10

Scarcely put a foot wrong throughout, making several useful interceptions and looking solid in the air. It should however be noted that the inexperienced Dutch frontline didn't offer much to test him.

2016 Getty Images

4/15 John Stones: 5 out of 10

His display didn't necessarily tell us much we didn't already know about him. At times Stones ease on the ball allows him to prompt attacking moves from deep, at others it sees him play himself into trouble in the most blasé manner, as when he slipped in the build-up to the Dutch penalty. Perhaps that makes him too much of a liability for the high stakes of tournament football.

2016 Getty Images

5/15 Danny Rose: 7 out of 10

Strengthened his bid for a starting spot against Russia with another impressive display both in attack and defence. Quincy Promes asked questions of him early on but he rose to the test, providing pace and direct running on the counter. However, he was fortunate not to give away a penalty in the first half and was guilty of a hand-ball in the box which led to Netherlands equaliser in the second.

Getty

6/15 James Milner: 6 out of 10

Seems like a hangover from the bad old days of pedestrian football under Fabio Capello. There's no shortage of hard work but an alarming lack of anything worth getting out of your seat. He'll do a job in the squad but can't expect to start.

Getty

7/15 Danny Drinkwater: 6 out of 10

More than anyone else he will wish this game had seen a higher tempo from both sides. The Leicester man had little opportunity to show much beyond a degree of consistency and intelligence on the ball.

2016 Getty Images

8/15 Ross Barkley: 7 out of 10

The start of the game was a tough one for Barkley, who was forced to drop ever deeper to collect possession. But he caught life around the half hour, offering the full range of powerful running, smart passing and a willingness to shoot.

Getty

9/15 Adam Lallana: 8 out of 10

Showed what makes him a unique player in Hodgson's setup on the way to Vardy's goal. The composure to turn down a shot and find the overlapping Walker ensured a half-chance became a certain goal.

Getty

10/15 Daniel Sturridge: 6 out of 10

Flashes of promise throughout, including an impressive reverse pass to James Milner. He looks as confident as ever though, he just didn't get the chances to show off his finishing skills.

2016 Getty Images

11/15 Jamie Vardy: 8 out of 10

Has evidently brought the poacher's instinct he shows at club level to the international stage, finding the perfect position to slot home for England's opener. His pace gave Jeffrey Bruma all sorts of problems throughout the evening in an impressive display.

Getty

12/15 OFF THE BENCH - Theo Walcott: 7 out of 10

Evidently knew he had to impress if he is to have any hopes of making the Euros and looked bright, firing a shot over after a dangerous and direct run.

2016 Getty Images

13/15 OFF THE BENCH - Nathaniel Clyne: 6 out of 10

Made little impression from an unfamiliar berth on the left flank, though Hodgson will be encouraged by his versatility on both sides of the pitch.

Getty

14/15 OFF THE BENCH - Harry Kane: 6 out of 10

In his 17 minutes on the pitch there were plenty of moments where he dragged the Dutch defence out of position but no real chances fell his way.

2016 Getty Images

15/15 OFF THE BENCH - Phil Jagielka: 6 out of 10

Certainly deserved a free-kick after being barged off the ball by Vincent Jannsen for the second but is it unreasonable to ask whether he could have stayed on his feet?

2016 Getty Images
England have cause to give thanks for Chris Smalling, the single in-form defender on whom it looks like they can root a European Championship campaign by marshalling a defence. They have new evidence that Jamie Vardy can win games for them in the blink of an eye, because of his intuition and positioning, more than playing a full part in a game. But the hope for a depth of players who can turn Europe on fire is a forlorn one. Vardy, Harry Kane and Deli Alli – Hodgson's Berlin guard - are the ones we must look to fire and underpin a new England.
Reuse content