Nothing builds momentum like the opening goal
Even in games like this, good fortune and the first goal help and England were certainly settled by their opener, and perhaps fortunate that the Polish referee Marcin Borski did not disallow it. The San Marino goalkeeper Simoncini Aldo Junior charged out to meet James Milner's corner but tripped over a tangle of legs, belonging to Tosi Luca and Gary Cahill. More often than not, a goalkeeper on the ground means that a foul is given but Borski was brave enough to let play continue, and the rest is history. It is worth wondering, though, what might have happened had Cahill been penalised, and the game rolled slowly on to half-time with the scores still level.
Rooney responds well  to responsibility
The problem with playing this sort of game is that it is very difficult to assess England's performance independently of the absolute poverty of the opposition. There was one moment, though, when the opposition were irrelevant: Wayne Rooney's penalty. Given the pressure of captaincy, of expectation, of the goalscoring record, of recent poor performances for club and country, Rooney might not have enjoyed the responsibility from 12 yards.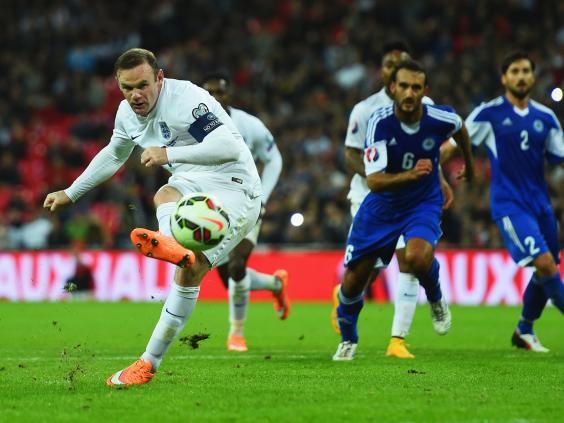 But his penalty was perfectly struck, into the far top corner of the net, beyond the reach of Aldo Junior. A top-flight goalkeeper – Aldo Junior is semi-professional – would not have had much of a chance either. Of course, it was just a penalty, and against San Marino, but it meant more than most of the "open play".
Oxlade-Chamberlain wide worth more than diamonds
If there is a drawback with a diamond midfield it is that it can be restrictively narrow, especially if the two shuttling midfielders are traditionally central players. England did not exactly need more width at the start of the second half but they got some, with Alex Oxlade-Chamberlain replacing Jordan Henderson.
The improvement was quick. With almost his first real involvement, Oxlade-Chamberlain won the ball from left-back Battistini Manuel, pushed to the byline and whipped in a low cross, which Danny Welbeck converted. Of course, it was not a game-changing moment but it did at least show fairly sharply the benefit of having a winger rather than a midfielder in that particular role.
England 5 San Marino 0 player ratings
England 5 San Marino 0 player ratings
1/12 Joe Hart

At least he didn't have to pay to watch the game. Hardly touched the ball for an hour until fielding (a couple of sympathetic) back passes. 6/10

GETTY IMAGES

2/12 Calum Chambers

Allowed to go forward at will on his full debut and had few defensive duties. Rarely went past anybody and was guilty of one embarrassing miskick. 5

GETTY IMAGES

3/12 Gary Cahill

Had to take part in occasional aerial duels with San Marino's one striker, Andy Selva, and won most of them. Never threatened on the ground. 7

GETTY IMAGES

4/12 Phil Jagielka

Earned gratitude for making the breakthrough with a headed goal and, like Cahill, was able to relax at the back for the rest of the evening. 6

GETTY IMAGES

5/12 Kieran Gibbs

On his first start for almost four years, enjoyed the freedom to attack. Plenty of touches but can expect Leighton Baines to return on Sunday. 6

GETTY IMAGES

6/12 James Milner

Not a game to be playing as a holding midfielder when you fancy adding to a record of one goal in 50 internationals. Foolishly booked. 6

GETTY IMAGES

7/12 Jordan Henderson

One dangerous cross and a couple of ambitious Steven Gerrard-like passes that did not come off. Instead he came off, after only 45 minutes. 5

GETTY IMAGES

8/12

Expected to be at the base of the diamond midfield, he was on the left of it instead, but was not alone in ploughing through the middle too often. 6

GETTY IMAGES

9/12 Raheem Sterling

Used behind the front two when the space was out on the flanks, he found it tough and was replaced by Adam Lallana (who roamed a little more freely). 6

GETTY IMAGES

10/12 Danny Welbeck

Found space to score his third goal in two games before being rested. Frustrated earlier on, like Rooney, at being surrounded by so many defenders. 7

GETTY IMAGES

11/12 Wayne Rooney

Good chance to move closer to the England scoring record, but it took a penalty to do so. Jimmy Greaves will be outraged if he claims the own goal too. 7

GETTY IMAGES

12/12 Alex Oxlade-Chamberlain

Set up a goal for Welbeck within four minutes of coming on at half-time and showed clever movement. He was unluckily denied a goal. 7

GETTY IMAGES
Wembley's glass looks better half-full these days
It was not one of the great Wembley nights, nor was it ever going to be, but there were more people here than might have been expected, and a better feel too. The official attendance was 55,990 and, even that did not feel excessively optimistic, the ground was certainly more than half-full. Given that only Arsenal and Manchester United regularly draw more than that, it is nothing to be sniffed at and says something about the loyalty of a public who could have been forgiven for staying away.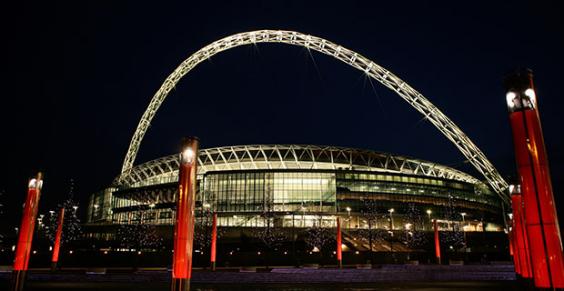 What has been even more surprising in recent months, though, is the lack of obvious anger from the England fans towards the team, far away from the vindictive booing that was a feature when England were better. Low expectations do have an upside.
Hodgson is able to mix and match Milner and Wilshere
The use of Jack Wilshere and James Milner pointed to England's thinking about their place within the diamond. When England won in Switzerland last month, it was with Wilshere playing an unlikely role. Given his pace and occasional recklessness, it was a surprising choice although Wilshere did it fairly well.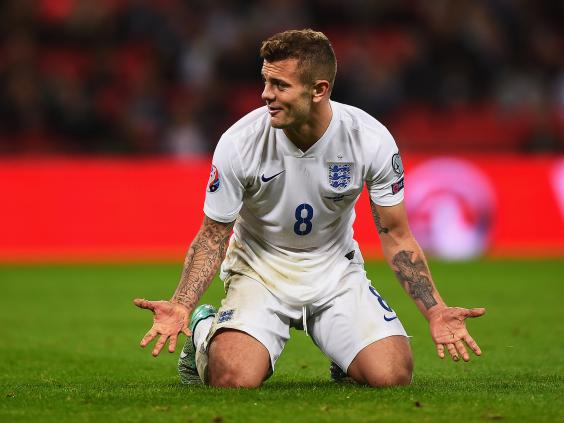 Last night, Roy Hodgson started with James Milner sitting instead, with Wilshere free to shuttle to his left. In the second half, Wilshere returned to the deep role and Milner provided the legs. It did not matter, but it might against Scotland and Slovenia.
Reuse content