It would be ungenerous to point out that James Milner, a player so obviously unsuited to the limelight, found his feet against a team of bit-part plodders, but if there was a step taken against San Marino last night it was arguably in the selection of the great unfashionable one.
Milner has 51 caps. Glenn Hoddle earned 53 roaming the same midfield, a statistic that as much as any makes the heart ache for this England generation. It is not Milner's fault, of course. He is loved again by Manuel Pellegrini at Manchester City and last night was played for the first 45 minutes at least in the role that suits him best for England, screening the back four.
It is a pivotal position in the modern game, if not against this opposition. Indeed Hoddle could have stepped out of the commentary box wearing his suit and slip-ons and not looked out of place against this lot. The incumbent is responsible for breaking up opposition attacks and initiating England's own. It beggars belief that previous coaching regimes at club and country thought Milner a wide raider on the right. Milner is neat and tidy, has a nifty backheel when the mood takes him but mesmeric he is not.
This was not even a training game. At least in practice two sets of equally matched players are joined by a common desire to beat the other. Playing San Marino was like a practice drill for England, attack v defence, and not particularly productive at that.
England 5 San Marino 0 player ratings
England 5 San Marino 0 player ratings
1/12 Joe Hart

At least he didn't have to pay to watch the game. Hardly touched the ball for an hour until fielding (a couple of sympathetic) back passes. 6/10

GETTY IMAGES

2/12 Calum Chambers

Allowed to go forward at will on his full debut and had few defensive duties. Rarely went past anybody and was guilty of one embarrassing miskick. 5

GETTY IMAGES

3/12 Gary Cahill

Had to take part in occasional aerial duels with San Marino's one striker, Andy Selva, and won most of them. Never threatened on the ground. 7

GETTY IMAGES

4/12 Phil Jagielka

Earned gratitude for making the breakthrough with a headed goal and, like Cahill, was able to relax at the back for the rest of the evening. 6

GETTY IMAGES

5/12 Kieran Gibbs

On his first start for almost four years, enjoyed the freedom to attack. Plenty of touches but can expect Leighton Baines to return on Sunday. 6

GETTY IMAGES

6/12 James Milner

Not a game to be playing as a holding midfielder when you fancy adding to a record of one goal in 50 internationals. Foolishly booked. 6

GETTY IMAGES

7/12 Jordan Henderson

One dangerous cross and a couple of ambitious Steven Gerrard-like passes that did not come off. Instead he came off, after only 45 minutes. 5

GETTY IMAGES

8/12

Expected to be at the base of the diamond midfield, he was on the left of it instead, but was not alone in ploughing through the middle too often. 6

GETTY IMAGES

9/12 Raheem Sterling

Used behind the front two when the space was out on the flanks, he found it tough and was replaced by Adam Lallana (who roamed a little more freely). 6

GETTY IMAGES

10/12 Danny Welbeck

Found space to score his third goal in two games before being rested. Frustrated earlier on, like Rooney, at being surrounded by so many defenders. 7

GETTY IMAGES

11/12 Wayne Rooney

Good chance to move closer to the England scoring record, but it took a penalty to do so. Jimmy Greaves will be outraged if he claims the own goal too. 7

GETTY IMAGES

12/12 Alex Oxlade-Chamberlain

Set up a goal for Welbeck within four minutes of coming on at half-time and showed clever movement. He was unluckily denied a goal. 7

GETTY IMAGES
Nevertheless Roy Hodgson sent out his team to act on rehearsed disciplines, to keep a recognisable shape and to build on the momentum gained in victory over the Swiss in Basel. There is, Hodgson would have us believe, a philosophical shift going on in the England dressing room. The players meet independently from the coaching staff. Ideas are exchanged, the way forward is discussed and conclusions fed back to the boss in an enlightened symposium.
The big idea is to fashion a cohesive playing style that best suits this group, to introduce a level of continuity, a vision that all buy into predicated on swift, intelligent movement through the phases. In short, Hodgson is seeking to establish a new identity, an England distanced from the recurring cycle of failure that has claimed the international team for two generations.
This is way-out stuff for a coach frequently dismissed as a conservative thinker. Hodgson's starting point is the belief that his players are good enough, a counter-intuitive move in this period of Premier League preference for the exotic foreigner over yeoman heft.
There is also, with the passing of the "golden generation", a structural upheaval that lends itself to radical revisions. Though the World Cup delivered the standard disappointment, it was not necessarily for standard reasons. The bold selections in Brazil of Raheem Sterling, Danny Welbeck, Daniel Sturridge, Adam Lallana and Jordan Henderson endure to form the core of the new group.
It is not simply about personnel but a way of seeing, of thinking. Hodgson is focused on attitudes as much as technique, believing that outcomes are determined via the mind as well as feet. Again this approach was never tested by San Marino. There was hardly a conclusion to reach, other than to marvel at the industry of a group representing a state that came into being before the Holy Bible.
Flexibility is clearly part of Hodgson's evolving strategy, especially in midfield, where he wants the whole to be formed of interchangeable parts. And so after stationing Milner at the base of the England midfield, Hodgson reverted to the Swiss selection where Jack Wilshere carried out that role.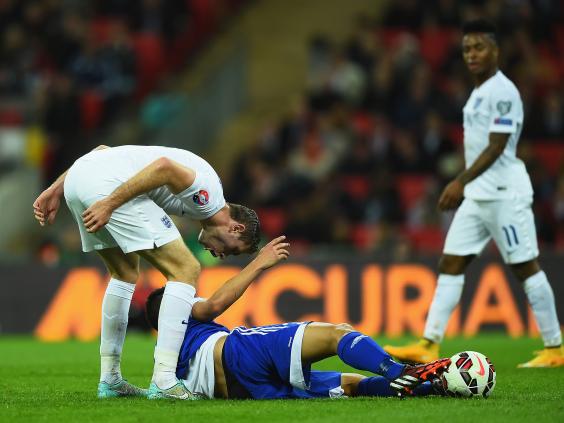 The introduction at half-time of Lallana and Alex Oxlade-Chamberlain for Sterling and Henderson precipitated the switch, yet the feeling persists that if Wilshere is ever to deliver on his potential it will be higher up the pitch attacking the opponent's box not defending his own.
The pre-match narrative of unanswered plunder didn't materialise, neither did the individual goal rush that would have taken Wayne Rooney to the shoulder of Jimmy Greaves. Since this was Rooney's 98th appearance the comparison between the two falls apart. Greaves took only 57 caps to rattle off 44 goals, a ratio none in the history of English football can match.
Rooney's return is more in keeping with Sir Bobby Charlton, whose record haul of 49 was compiled over 106 matches. Given the dumbed-down nature of this qualifying age, Rooney can expect to surpass both thsoe landmarks if he remains clean of nose  and health.
He might have had three in the second half as San Marino tired. With Welbeck removed, Rooney had the point of attack all to himself. He was instrumental in the fifth, his shot deflecting off the chest of Alessandro Della Valle into the net. Before that, the keeper gathered an attempted chip and another shot was blocked.
By then the crowd had lost the will to live. They could not even summon the Mexican wave which kept them busy before the break. There was one outbreak of interest when Jose Adolfo Hirsch broke, but up stepped Phil Jagielka to spoil it all.
San Marino should not have been put in this position in the first place. It serves neither them nor the game to share unmerited a European qualifying pitch with anybody. As a punishment Uefa president Michel Platini should be made to watch it ad nauseam until he submits and introduces a pre-qualifying programme.
Reuse content