Raheem Sterling might have been looking at his future when Wayne Rooney enacted his commemorative piece in receipt of his 100th cap from Sir Bobby Charlton.
Sterling occupies the ground which was once held by Rooney: a precocious youth of whom much is expected.
The great man child of English football is now the old head, a father and leader or men. His career has yielded 100 caps but not yet the international pot we all hoped it might a decade ago.
If anyone was going to change the direction of travel after generations of international failure, then this 19-year-old kid had as good a chance as any, or so we thought. Sterling has suffered this season in a faltering Liverpool side shorn of forward thrust.
England 3 Slovenia 1 - player ratings
England 3 Slovenia 1 - player ratings
1/11 Joe Hart

After being almost redundant for the last home game against San Marino and given another quiet night in Estonia, he would have expected a little more work but was barely tested again, except by Henderson's unstoppable header. Acted as sweeper well whenever he was called into action to do so. 6/10

AP

2/11 Nathaniel Clyne

Happy to get forward as the full-backs need to when England play with a narrow diamond formation, the young Londoner had an acceptable debut with no obvious errors. Less attack-minded after half-time when Sterling went wider. 6

Getty Images

3/11 Phil Jagielka

Less solid than his central defensive partner, losing Novakovic to allow him to head a corner wide in one uncomfortable moment and slipping to let in Kampl for another. As one of the players in the side with England goals to his name, the Evertonian produced one good header for the team's first effort on target. 5

Reuters

4/11 Gary Cahill

The Chelsea man is becoming England's most dependable defender, further improved by his regular Champions League experience. Upset Novakovic with some of his headed challenges and got a kick for his pains. One lax pass led to Jagielka's booking. 7

Getty Images

5/11 Kieran Gibbs

After a first start for four years against San Marino the Arsenal full-back was given another one unexpectedly soon as stand-in for Leighton Baines. He did fine defensively and had a hand in the third goal without offering Baines's attacking brio. Booked for a stab at Birsa's Achilles. 6

Getty Images

6/11 Jordan Henderson

Without a goal in 18 England appearances and would not have wanted to break his duck by scoring at the wrong end. Sitting on the right of the midfield diamond the Liverpool player has been an ever-present in the national side this season without influencing many games. 5

Getty Images

7/11 Jack Wilshere

Unenviably stationed in the centre circle, the worst area of the pitch, for his 25th cap. Got mud on his shirt early on in giving and taking some hefty challenges before playing some neat forward passes. But then he had a quiet second half. 7

Getty Images

8/11 Adam Lallana

Not a natural winger, we know, and almost too eager to drift inside. He delivered ome poor free-kicks and corners which failed to clear the first defender until he put one on Rooney's head in the second half and the Liverpool man did then help to force Welbeck's first goal with his own shot. 5

Getty Images

9/11 Raheem Sterling

Not too tired to play this time, although as he discovered against the defensive San Marino he found the middle congested and took until the second half to move wide much more often, when he looked more dangerous. Set up Welbeck nicely for the third goal. Booked. 6

Getty Images

10/11 Danny Welbeck

Put in a poor performance in Estonia last month and having a mixed season for Arsenal, which was reflected here early on. Brought Rooney or Clyne into the game well enough and he worked hard to be rewarded with his two goals later on. 7

Getty Images

11/11 Wayne Rooney

Having received his golden 100th cap from Sir Bobby Charlton, the captain won the penalty cleverly by wriggling through defenders and then converted it with a thump for his fourth goal in the last five England games. Played almost up alongside Welbeck throughout the match and linked well with him in setting up chances for each other. 8

Getty Images
And then he was too tired to start for England against Estonia, though not too fatigued for night-club duty on his return.
In a desperate first half there were many candidates for the hook, but arguably none more so than Sterling. Yet when he left the pitch after  83 minutes he got a standing ovation.
There was much to admire in the improved second half, not least his pass that released Danny Welbeck for the third goal, but if he is to remain at the centre of the England project, Sterling must learn to dominate a stage that was made for him.
This should have been the cue for Sterling to put his hand up, yet there was nothing during a woeful opening period  in which England perfected the art of possession on the halfway line.
When space is tight against an opponent intent on smothering the game beneath a defensive blanket it requires an instinctive bundle of creativity to make something happen and run at the opposition: the kind of intervention Sterling trademarked last season.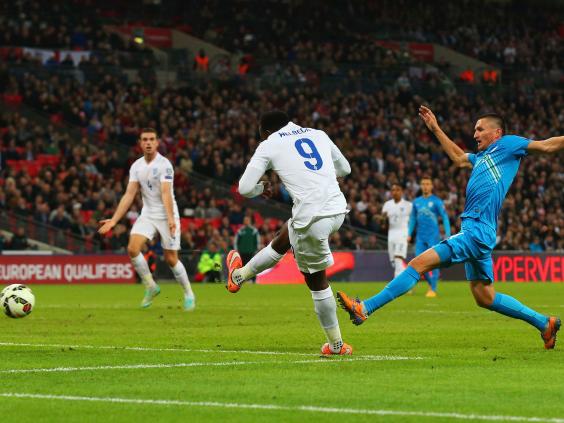 He should have done better with his shot in the 16th minute after a sweet burst from Nathaniel Clyne, whose whipped cross was helped on by Rooney to Sterling's feet. The connection was not great and the ball dribbled tamely wide.
There was one shimmy in the box that came to naught and a break down the right when he sent a deflected cross onto the head of Welbeck. Again the outcome was short of what it might have been.
It is true the pitch wasn't great by modern, billiard-table standards, but even in this state the Wembley surface was better than anything Sir Bobby knew in his World Cup-winning days.
The sight of Alex Oxlade-Chamberlain, Theo Walcott and Ross Barkley warming up at half-time acted like smelling salts on Sterling, who surpassed all his first-half efforts within minutes of the restart, skipping past  two tackles and creating genuine danger.
Stationed more on the right wing he and the team benefited by his defined role, and when he did slip off the leash he made it count, delivering the pass to Welbeck beautifully for England's final thrust. 
This was more like it, but not yet enough to justify the hype that surrounds him.
Sterling is 20 next month – a boy  no more.
Reuse content