Even when England led and promised a special victory, theirs was not always the Spanish method made flesh.
In the depths of this stadium on Friday night, Gareth Southgate had spelt out his frustration with John Stones' indiscriminate playing out from the back and the 22-year-old's hospital pass to Eric Dier as the first half reached its conclusion suggested that the message had not registered one bit. When Dier was dispossessed, an animated Gary Cahill gestured to the spot, 20 yards up-field, where the defender ought to have delivered the ball to safety. The episode confirmed the concern that Stones' game intelligence is taking time to develop, much though his Manchester City manager is indicating privately that that the 22-year-old will move beyond his propensity to be uncomfortably cavalier.
But for all that, we've come some distance since Fabio Capello told the Football Association that there was no point in his England team trying to imitate the style in which Spain had conquered the world. There were moments of such intelligent exchange of the ball that you felt Gareth Southgate's talk of a new England and their possession-based game could be more than another false dawn.
The performances to remember came from Adam Lallana and Jesse Lingard – players who, with Raheem Sterling, look like the core of a side on which the next England might be built.
A 24-minute cameo was all that Lallana needed to demonstrate again why he is currently the nation's outstanding footballer. A year ago he seemed too lacking in muscularity to be a Jurgen Klopp player, though they will tell you on Merseyside that he now adds the pace, the energy and the unexpected into the Liverpool midfield. This was no different. The pass he bent around Martinez to find Vardy and win a penalty was only the half of it. Drifting right from the position he was nominally allocated behind the striker, Lallana was the at the leading edge of England's high pressing game, dispossessing Thiago in the blink of an eye and panicking the Spaniard into conceding a free kick. It seemed to be the Klopp influence incarnate: evidence as those who watched Spain flourish for so long that the silky possession is underpinned by cold steel.
You know a player is at peak confidence when he seizes the ball for the penalty kick he has just won and – impervious to any designs the centre forward may have had on taking it – dispatches it high beyond the goalkeeper, Pepe Reina.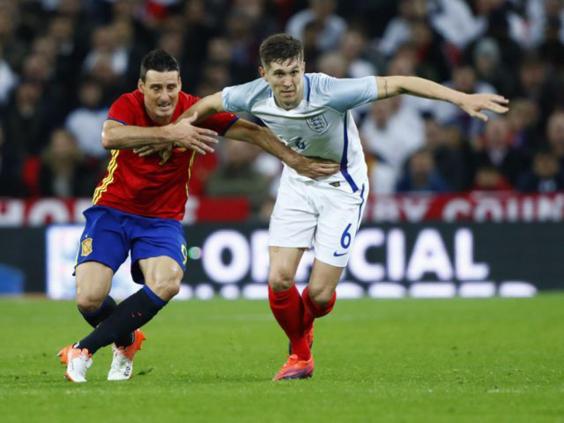 When Lallana had limped off after an injury under a Thiago challenge, Lingard took up where he had left off. He blends touch and aggression, too. The deft reverse pass - sending Sterling racing into the area for a cross Vardy could not reach – demonstrated how he deals in tight spaces. So, too, the ball he squeezed through to Walcott from a tight space in front of the Spanish box – the forward's finish was weak – told that he is also the face of Southgate's future.
England vs Spain player ratings
England vs Spain player ratings
1/22 Joe Hart – 6 out of 10

Didn't see much of the ball at all and had very little to do from a blunted Spain attack.

2/22 Danny Rose – 7 out of 10

Attacked and defended well down the action-packed left flank but picked up a silly yellow.

3/22 Nathaniel Clyne – 7 out of 10

Attacked well down the right-hand side and didn't see much coming his direction in the way of defending.

4/22 Gary Cahill – 7 out of 10

Solid and controlled the back line well throughout, albeit it with little threat coming his way.

5/22 John Stones – 6 out of 10

Still not looking like a settling presence and played one awful pass to Dier which nearly put caused Spain to win the ball in a dangerous area.

6/22 Jordan Henderson – 7 out of 10

Won the midfield battle with Busquets and looked comfortable with the armband on yet again.

7/22 Eric Dier – 7 out of 10

Needed to be strong in the tackle to stop Stones' poor pass from being a costly one.

8/22 Raheem Sterling – 9 out of 10

Carvajal will wake up in a fit of sweats tonight with memories of what Sterling did to him. Tortured the Spanish defence and was brilliant throughout.

9/22 Adam Lallana – 8 out of 10

Flawless in the 24 minutes he played before going off injured. His teasing cross drew the penalty and he converted it brilliantly.

10/22 Jesse Lingard – 7 out of 10

Started strongly in the No 10 role but faded as the game went on. His pace was always a threat though.

11/22 Jamie Vardy – 9 out of 10

Was clever in winning the penalty and luring Reina's challenge and there was no one stopping him getting his head on the ball from his goal. Good celebration too.

12/22 Pepe Reina – 5 out of 10

Was made to look like a fool by Vardy for the penalty in the first half but saved well from Henderson in the second.

13/22 Cesar Azpilicueta – 6 out of 10

Attacked well down the left and avoided most of England's attacking threat, which was all down the other channel.

14/22 Inigo Martinez – 5 out of 10

Got a cynical yellow for a challenge on Walcott and didn't really look comfortable.

15/22 Nacho – 5 out of 10

Another to struggle with England's attack and was left chasing shadows.

16/22 Dani Carvajal – 5 out of 10

Struggled with the pace of Sterling, Lingard and Vardy throughout and didn't manage to get forward as he would have liked.

17/22 Sergio Busquets – 5 out of 10

Failed to stem the midfield flow as he usually does for Barca and was another to struggle with England's pace.

18/22 Thiago Alcantara – 6 out of 10

Played in a slightly deeper role and looked classy in everything he did – although failed to create anything of any substance.

19/22 Vitolo – 4 out of 10

Had a shot in the first half which he dragged wide but had a tough evening at Wembley.

20/22 Juan Mata – 5 out of 10

Exchanged a couple of neat passes with Silva but failed to create anything of note.

21/22 David Silva – 6 out of 10

The leader of the team on the night and did all he could to get Spain in it.

22/22 Artiz Aduriz – 4 out of 10

Barely saw the ball and wasted a good chance in the first half with an under-hit pass to Vitolo.
The same cannot be said of Vardy. His poacher's goal was welcome but he still looked like a shadow of the individual who took the nation by storm a year back – lucky to be on the field after a ghastly follow through on Cezar Azpileuta in the opening moments and bereft of the trigger response to what the line of three behind him created. Neither did Theo Walcott thrill when he arrived in Lallana's place. We will still look in for the unexpected, game-changing moments from him for England and they still do not come.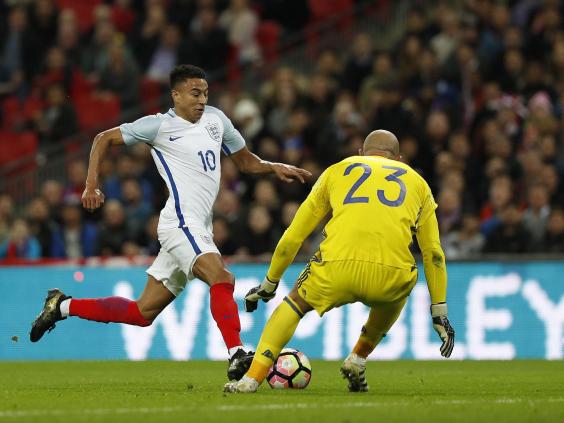 When Marcus Rashford arrived in Vardy's place, haring around the back of the penalty area with the ball at his feet, as we are wont to see him do, and drawing a foul, another piece seemed to fall into place. The case for him leading the forward line will soon become irresistible.
The weakness in Stones revealed itself again in the manner of a shocking Spanish comeback. Iago Aspas toyed with the centre half before steering the ball beyond him into the net. It was Dier whom the same forward ran in ahead of to equalise. Such are the weakness to fix. Yet there was a sense of spirit, of new beginnings and a long forgotten feeling that England can make the pulse quicken.