Nothing is easy, nothing is smooth, when it comes to the England national team. Gareth Southgate had that fact burned into him 20 years ago but this match, and especially the last five minutes of it, formed another helpful reminder.
This was very nearly the perfect evening for Southgate, in the fourth and final match of his audition for the full-time job. Normal time was nearly done and England were 2-0 up against Spain, hoping to see out what would have been a brilliant win, deserved and controlled, a win that would have shown that England can now beat almost anyone.
Had England held on and won, it would have been their best result in the last few years, on a par with winning in Germany back in the optimistic spring. Was this the start of a brave new era for the England side? Or was it just the end of one of their worst spells of modern times. Either way, it certainly felt like something. And then Iago Aspas pulled one back, England panicked, retreated and desperately hacked the ball away. Isco, off the bench, missed one chance to equalise, but by then everyone knew the score. Isco ended up making it 2-2 with the last kick of the match.
How much will those two goals matter? In one sense, not very much. It was only a friendly, after all, even if the tackling made it feel more like a scrap at the top end of the Championship. Surely the late turnaround will not affect Gareth Southgate's chances of getting the England job. He still deserves it, not least for the first 89 minutes, in which England were genuinely excellent. What those two late Spanish goals do, though, is remind everyone that international football is very difficult. And no honeymoon or fresh dawn, especially when England are involved, is quite as good as it looks.
But if ever there was a game to play brilliantly and not win, though, it was this one. Although Southgate had promised in advance to go toe-to-toe with Spain, that is not how this went. Spain were allowed to dominate possession, while England lay in wait, beckoning Spain onto them before hitting them hard on the counter.
Spain were stroking the ball out from the back but when it went to Vitolo, the left wing-back, England pounced. Adam Lallana and Jesse Lingard stole possession, and sprung forward. Lallana curled a perfect pass round the back of Inigo Martinez onto Jamie Vardy's run. Vardy was perfectly happy for Pepe Reina to foul him, which he did, and Lallana converted the penalty.
England vs Spain player ratings
England vs Spain player ratings
1/22 Joe Hart – 6 out of 10

Didn't see much of the ball at all and had very little to do from a blunted Spain attack.

2/22 Danny Rose – 7 out of 10

Attacked and defended well down the action-packed left flank but picked up a silly yellow.

3/22 Nathaniel Clyne – 7 out of 10

Attacked well down the right-hand side and didn't see much coming his direction in the way of defending.

4/22 Gary Cahill – 7 out of 10

Solid and controlled the back line well throughout, albeit it with little threat coming his way.

5/22 John Stones – 6 out of 10

Still not looking like a settling presence and played one awful pass to Dier which nearly put caused Spain to win the ball in a dangerous area.

6/22 Jordan Henderson – 7 out of 10

Won the midfield battle with Busquets and looked comfortable with the armband on yet again.

7/22 Eric Dier – 7 out of 10

Needed to be strong in the tackle to stop Stones' poor pass from being a costly one.

8/22 Raheem Sterling – 9 out of 10

Carvajal will wake up in a fit of sweats tonight with memories of what Sterling did to him. Tortured the Spanish defence and was brilliant throughout.

9/22 Adam Lallana – 8 out of 10

Flawless in the 24 minutes he played before going off injured. His teasing cross drew the penalty and he converted it brilliantly.

10/22 Jesse Lingard – 7 out of 10

Started strongly in the No 10 role but faded as the game went on. His pace was always a threat though.

11/22 Jamie Vardy – 9 out of 10

Was clever in winning the penalty and luring Reina's challenge and there was no one stopping him getting his head on the ball from his goal. Good celebration too.

12/22 Pepe Reina – 5 out of 10

Was made to look like a fool by Vardy for the penalty in the first half but saved well from Henderson in the second.

13/22 Cesar Azpilicueta – 6 out of 10

Attacked well down the left and avoided most of England's attacking threat, which was all down the other channel.

14/22 Inigo Martinez – 5 out of 10

Got a cynical yellow for a challenge on Walcott and didn't really look comfortable.

15/22 Nacho – 5 out of 10

Another to struggle with England's attack and was left chasing shadows.

16/22 Dani Carvajal – 5 out of 10

Struggled with the pace of Sterling, Lingard and Vardy throughout and didn't manage to get forward as he would have liked.

17/22 Sergio Busquets – 5 out of 10

Failed to stem the midfield flow as he usually does for Barca and was another to struggle with England's pace.

18/22 Thiago Alcantara – 6 out of 10

Played in a slightly deeper role and looked classy in everything he did – although failed to create anything of any substance.

19/22 Vitolo – 4 out of 10

Had a shot in the first half which he dragged wide but had a tough evening at Wembley.

20/22 Juan Mata – 5 out of 10

Exchanged a couple of neat passes with Silva but failed to create anything of note.

21/22 David Silva – 6 out of 10

The leader of the team on the night and did all he could to get Spain in it.

22/22 Artiz Aduriz – 4 out of 10

Barely saw the ball and wasted a good chance in the first half with an under-hit pass to Vitolo.
It was ruthless counter-attacking football, but Spain's frustration was that Vardy was still on the pitch. The tackling here did not make it look like a friendly, and the tone was set when Vardy's studs connected with Cesar Azpilicueta shin in the opening exchanges. It was a surprise that he was not punished, although Sterling was booked for a clumsy rake on Aritz Aduriz. Theo Walcott came on for Lallana and, soon enough, he was in the book for chopping down the unfortunate Azpilicueta.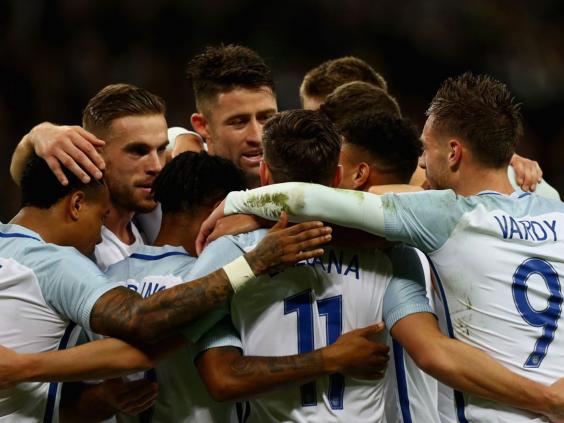 But the aggression was working. Spain were rattled, and soon switched from their 3-4-3 to a 4-5-1. England finished the first half the stronger team, and when the second half started they did not let up. Theo Walcott, on for the injured Lallana, should have scored after 20 seconds. It did not matter. Two minutes later it was 2-0 anyway.
Sterling and Vardy drove forward, again, and Spain could not properly clear. The ball came back out to Henderson, who clipped a cross to the far post. Inigo Martinez and Dani Carvajal stood still, Vardy ran between them and beat Pepe Reina with a thumping diving header.
From there England had the game exactly where they wanted it, and continued to threaten Spain in behind. Jesse Lingard and substitute Marcus Rashford caused Spain problems and Tom Heaton looked comfortable in goal. He had to save from Alvaro Morata and Koke from distance but England felt as if they could see the game out.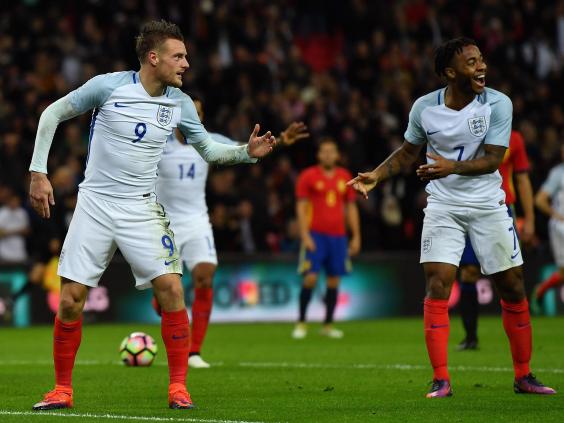 There was just one minute left when Aspas took the ball on the right and drove forward. England failed to stop him, and when he got into the box he realised he might as well shot. So Aspas bent the ball around John Stones into the far top corner.
That was when the nerves started to kick in. Isco was only just on but he was finding space with easy, and it needed Stones to throw himself in front of a shot to deflect it wide. Then, five minutes into the five added on minutes, Isco took a ball from the right down on his chest, skipping into the box. His first touch was perfect and his second slotted it through substitute Tom Heaton's legs. Southgate complained the allocated time had gone. This was the end of his audition, and it was almost perfect.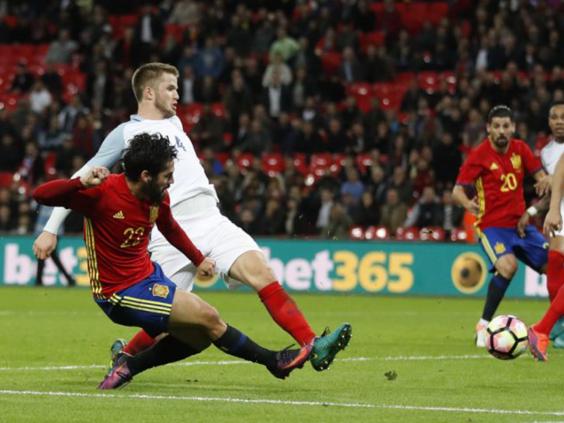 England (4-2-3-1): Hart (Heaton, 45); Clyne, Cahill (Jagielka, 45), Stones, Rose (Cresswell, 79); Dier, Henderson; Sterling (Townsend, 65), Lallana (Walcott, 26), Lingard; Vardy (Rashford, 67).
Subs not used: Walker, Sturridge, Keane, Wilshere, Bertrand, Pickford. 
Spain (3-4-3): Reina; Azpilicueta, I. Martinez, Nacho; Carvajal, Busquets (Nolito, 78), Thiago (Herrera, 56), Vitolo (Koke, 45); Mata (Aspas, 45), Aduriz (Morata, 64), Silva (Isco, 64).
Subs not used: De Gea, Sergi Roberto, Bartra, Callejon, Monreal, Asenjo. 
Referee: O Hategan (Romania)
Reuse content