The last time Steven Gerrard had worn such a despondent look was when he slipped over at Anfield and watched Demba Ba skip off toward goal, all but taking the Premier League trophy with him.
Then, Suarez's face was much the same. But, the sadness of Suarez's club captain wasn't weighing on his mind as he slapped his second goal of the match past Joe Hart and wheeled away before collapsing on his knees in front of the Uruguay fans. Incredibly, one of those knees had been operated on just four weeks ago. Suarez, who had not played a competitive match since 11 May against Newcastle United in Liverpool's final game of the season, showed no signs of rustiness, just that dead-eyed precision for where the opponent's goal is.
Gerrard had promised there would be no interaction between him and his "really good friend" Suarez in the hours before kick off here.
And it was a pledge that extended almost right the way through the 90 minutes, in a match that will mean a lot to both men's careers, but probably not to their friendship.
Before the game, England's captain lined up at the very front of the tunnel, Suarez at the very back. For the anthems they could not have been further apart. Suarez again at the very far end of the Uruguayan line, Gerrard in the captain's position at the front of his.
In the opening minutes, England's captain fired several of his trademark low balls from deep, showing signs that he would, eventually, open up the Uruguayan defence just as their coach Oscar Tabarez had feared he would.
How did England perform?
How did England perform?
1/11 Joe Hart

Blameless for Suarez's goal and generally impressive against Uruguay's early pressure. Reacted sharply to two difficult Suarez corners to his near post. 6

Getty Images

2/11 Glen Johnson

England needed quality from their experienced right-back and Johnson, who struggled at first, delivered it with the cross for Rooney's goal. 5

Getty Images

3/11 Gary Cahill

Not as responsible as Jagielka for the goal and generally kept his head above water until the second goal, when he was caught off-guard by Suarez. 5

Getty Images

4/11 Phil Jagielka

Has struggled to contain Luis Suarez in the past and last night was no different, as he lost the Liverpool striker who peeled away from him to score. 4

Getty Images

5/11 Leighton Baines

Worked hard up and down the left-flank but, as in the Italy game, his final-third quality was not quite as good as it needs to be. 5

Getty Images

6/11 Steven Gerrard

England needed leadership and control in the middle but Gerrard was poor again, failing to keep the ball and losing the ball for both of Suarez's goals. 4

Getty Images

7/11 Jordan Henderson

Ran hard without the ball but failed to make much of a contribution going forward as England lacked ideas in the middle of the pitch. 5

Getty Images

8/11 Raheem Sterling

Not as impressive as he was against Italy, Sterling did try to run at opponents, with not much success. The first to be taken off. 5

Getty Images

9/11 Danny Welbeck

Tried to stretch Uruguay, running in behind, but England could not get him the ball quickly enough and he failed to use well it when they did. 5

Getty Images

10/11 Wayne Rooney

Restored to his preferred No 10 role, Rooney looked eager and although nothing came off at first, he persevered for the late tap-in. 6

Getty Images

11/11 Daniel Sturridge

Far less impressive than against Italy, less incisive with his movement, less responsible with his hold-up play and less dangerous in the penalty area. 4

Getty Images
Usually, it is the looping runs of Suarez with which such balls connect. The Uruguayan lurked behind his friend as he did so, staring at the back of his shirt, hoping for a mistake.
In the seventh minute Suarez clattered into Gerrard, knocking him to the ground, but it was innocuous stuff.
On 30 minutes, an error came. The England captain was unlucky as the ball ricocheted seemingly right through him as the Uruguayan moved the ball up the centre of the pitch and into feet off Edinson Cavani. Suarez wheeled away and suddenly, almost for the first time, it was Gerrard looking at his friend's back, as he headed home, over Joe Hart's head and in to the England net after a perfect ball by Edinson Cavani.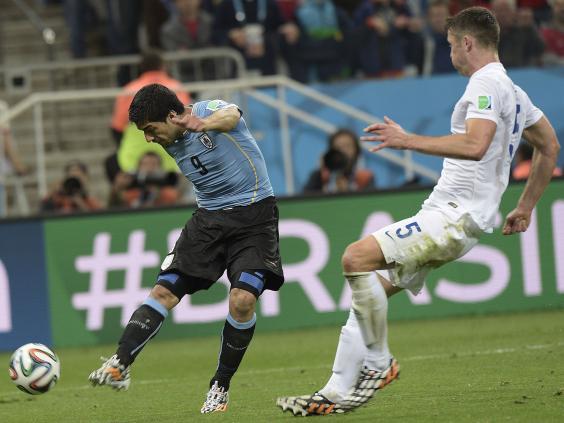 As Suarez sunk to the ground Gerrard moved determinedly back towards the centre circle.
One might have expected a little more interaction, but the England captain was not at his best. Suarez, in fact, was relatively quiet, save for the two explosive moments that decided the match.
At the final whistle Suarez, who had come off shortly before the end no doubt with Uruguay's final group match against Italy in mind, was hoisted into the air by his team-mates in celebration. After wallowing in the glory he sought out a disconsolate and inconsolable Gerrard.
He ruffled his Liverpool captain's hair before embracing him. Gerrard did not seem to want to know, lost in his own despair at the all too real prospect of another – and in all likelihood his last – international tournament slipping by with nothing but pain and disappointment to mark it by.
Gerrard was part of England's ill-Christened "Golden Generation" but his international career has been far from glittering, just one studded with failure.
Although both men missed out on the Premier League title Suarez has the golden boot, both Player of the Year Awards, and now this. Gerrard just has another sad chapter in what, in the end, must be quite a depressing near culmination to an extraordinary career.
It's not over, of course. England may yet go through and Uruguay out. Italy and Costa Rica to come are different prospects. But it will certainly be this game, round which the jokes on the Liverpool training pitch are likely to revolve. Although how funny Gerrard will find them is up for debate.
Reuse content