Here is the England kit Roy Hodgson's men will be sporting in their quest for World Cup victory in Brazil this summer.
Nike have looked to the past for inspiration, the shirt baring similarities to the all-white kit worn by Sir Alf Ramsey's defending champions in 1970. England reached the quarter-finals in Mexico in that campaign.
On the new kit, forward Wayne Rooney said: "I'm always proud to put on the England kit and with these ones it'll be no different. I can't wait to get to Brazil and play in them this summer."
Nike Football's Global Design Director, Martin Lotti added. "Two references really stood out during the design process for the home kit. That stunning all-white kit England wore in Mexico in 1970 and the idea of the armour of English Knights."
But how does England's new get-up compare? Here are all the other unveiled shirts for this summer's World Cup
World Cup 2014: What shirt each team will be wearing
World Cup 2014: What shirt each team will be wearing
1/32 Brazil

2/32 Croatia

3/32 Mexico

4/32 Cameroon

5/32 Spain

6/32 Netherlands

7/32 Chile

8/32 Australia

9/32 Colombia

10/32 Greece

11/32 Ivory Coast

12/32 Japan

13/32 Uruguay

14/32 Costa Rica

15/32 England

16/32 Italy

17/32 Switzerland

18/32 Ecuador

19/32 France

20/32 Honduras

21/32 Argentina

22/32 Bosnia Hercegovina

23/32 Iran

24/32 Nigeria

25/32 Germany

26/32 Portugal

27/32 Ghana

28/32 USA

29/32 Belgium

30/32 Algeria

31/32 Russia

32/32 South Korea
Nike has also collaborated with the renowned English typographer Neville Brody to create a new font for the names and numbers on the back of this England jersey.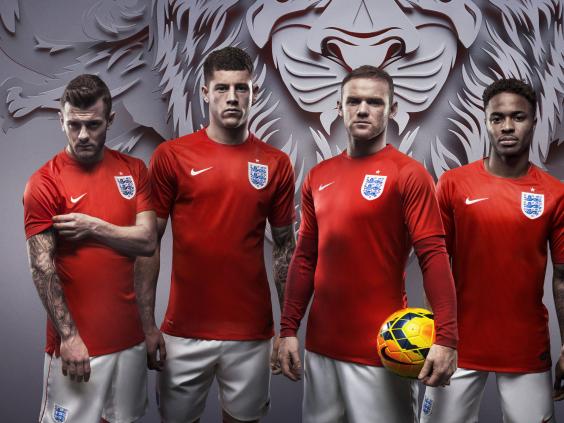 "It has been an extraordinary honour to design the fonts for the English jersey," said Brody. "The core inspiration was to focus on the intersection between flair and workmanlike reliability."
The new home kit will debut in the friendly with Peru at Wembley on 30 May.
Reuse content