The worst part of the inquest was already behind them. The apologies had already been made. The hotel was packed up. All that awaited England's players was a plane sitting on the tarmac at Belo Horizonte's airport. Those who had featured against Costa Rica took their playing kit out in plastic drawstring bags to keep it separate from the rest of the luggage. One more small detail that the Football Association had not overlooked.
England departed the Estádio Mineirão just as the frenzy over Luis Suarez's biting of Giorgio Chiellini burst into life, a convenient covering fire under which to take their leave. In fact, as the back pages of this morning's papers dropped on Twitter it was Suarez who dominated. That England departing a World Cup finals at the group stages without a win could be overshadowed was remarkable in itself, but then we had been given five days to get used to the idea.
If it was shock that was the overwhelming emotion after defeat to Uruguay, this time it was more embarrassment. England had failed to beat Costa Rica, already qualified, who have reached the second round of the World Cup for only the second time in their history – the other being 1990. Having spent much of the previous five days apologising, the only difference this time was that the England players who had not featured in the first two games got to say sorry too.
Most remarkable was the reaction of the travelling support who reciprocated the applause that the players offered them after the game. The England support is constant, but it is not afraid to give its verdict. One thinks back to the toxic atmosphere in Barcelona during a qualifier against Andorra in Barcelona in March 2007 when the away support called for Steve McClaren to be sacked. Or the booing for Ashley Cole when he made a mistake against Kazakhstan at Wembley the following year. And that was a 5-1 win.
England 0 Costa Rica 0 player ratings
England 0 Costa Rica 0 player ratings
1/22 Keylor Navas

Managed to cope with everything that England could muster. 7

2/22 Christian Gamboa

Did fine at the back for the South Americans. 6

3/22 Junior Diaz

Not quite as influential as against Italy but fine. 6

4/22 Randall Brenes

Removed on the hour mark after being pretty ineffective. 5

5/22 Joel Campbell

Did very little against England unlike first two World Cup games. Taken off after the hour. 5

6/22 Celso Borges

Played ok but not as attacking as before. Taken off for last ten. 5

7/22 Yeltsin Tejeda

Yeltsin Tejeda Played fine but never really a threat. 6

8/22 Bryan Ruiz

A couple of moments of quality skill but not very effect on his worst game of the World Cup so far. 6

9/22 Roy Miller

First start of the World Cup and performed well. 7

10/22 Giancarlo Gonzalez

Was solid at the back and gave England very little. 7

11/22 Oscar Duarte

Constantly good performer for Costa Rica and did well again. 7

12/22 Daniel Sturridge

Daniel Sturridge England's likeliest player to score, with ambitious efforts from the edge of the box in the first half and closer chances after that, but no success. 5

13/22 Adam Lallana

Lallana Some sharp runs round the corner, trying to out-wit the Costa Rican defence, and a few nice touches, but never too influential before he was taken off. 5

14/22 Ross Barkley

Not especially involved in play but he still can produce exciting moments, like when he made himself room to shoot with his left early in the second half. 5

15/22 James Milner

Worked tirelessly down the wings, as he always does, chasing passes but not always creating chances for team-mates when he got on the ball. 6

16/22 Jack Wilshere

The most dangerous of England's new players, he drove forward with the ball, played with his head up and sparked England's best moves. 7

17/22 Frank Lampard

Showed his years of experience with a controlling performance at the base of the midfield, giving a glimpse of the type of player England have missed. 6

18/22 Luke Shaw

As secure as any 18-year-old full-back on World Cup debut has a right to be, storming up and down the line, solid on and off the ball. 6

19/22 Chris Smalling

Solid defensively, although with not much to marshal, Smalling was slightly better with the ball than Phil Jagielka without quite being at the level England need. 6

20/22 Gary Cahill

On his third straight start, Cahil looked assured against opponents who were not as ambitious as they had been in their first two games. 6

21/22 Phil Jones

Never looked especially controlled, either while defending or going forward. Has to work this coming season on establishing a permanent role for England and Manchester United. 5

22/22 Ben Foster

Did not have too much to do but made one brilliant finger-tip save from Celso Borges' top-corner free-kick late in the first half. 7
Something had pacified the England fans on this occasion. There had been time to get used to the idea of being out the competition, and at least they could say they were in Brazil and enjoying the place. Hodgson looked over at his players after his on-pitch television interview on the pitch and, sensing the mood, jogged over to join them. There were no boos.
This lunchtime, England's flight touches down in Manchester to deposit the northern-based players, before continuing to Luton airport where Hodgson will see the last of his squad before they reconvene for the Norway friendly at the start of September. In recent days, England's 66-year-old manager has started to look haggard and tired. The FA's logistics can take care of a lot but he is still effectively chef de mission and the endless meetings and the travel can take a toll on anyone.
Hodgson will say that much has been learned this summer that can be put to good use in the European championships in France in two years' time. But the lessons seem to be more about what England cannot do rather than what they can. For instance, the future of Phil Jones, either at right-back or centre-back, is a major concern. The Manchester United man struggled against Costa Rica and he is supposed to be one of the mainstays of the next generation.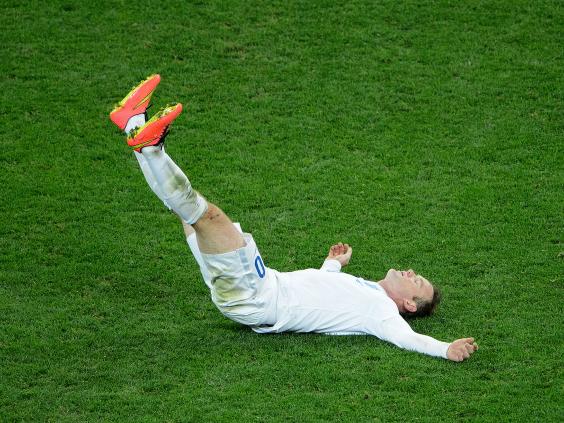 So too, Chris Smalling in the centre of defence and once thought of as the natural successor to Rio Ferdinand. Ross Barkley showed glimpses of his power and technique but he also gave the ball away a lot. In more sophisticated football nations with deeper talent pools than Hodgson has to call upon, Barkley would be tucked away in the Under-21s to mature a little longer. As it is, England have little choice but to use him now.
There are major challenges facing Hodgson. In three weeks' time Steven Gerrard is expected to announce that, at the very least, he is no longer to be England captain. Whether or not he still makes himself available for selection is yet to be decided. Hodgson hinted on Monday that he would seek a pledge from Frank Lampard to make himself available if needed. Perhaps he will take the same route with Gerarrd.
With respect to both players' careers, it is coming to something when a manager does not feel he can safely wave farewell to a 34-year-old and a 36-year-old with 220 caps between them because he fears a scenario when he may need them. What would that scenario look like? Do they sit above or below, say, Tom Cleverley or Tom Huddlestone in the new hierarchy?
Giving Wayne Rooney the captaincy is probably the easiest decision for Hodgson. He knows better than ever that he has to keep his best players onside, even if Rooney continues to blow hot and cold. He said before this tournament that he did not expect to play in another World Cup finals at anything like his best. As he chases Peter Shilton's cap record, and Sir Bobby Charlton's 49-goals, one wonders how this race against time will play out.
The tournament England leave behind is wide open. There is no clear favourite and it is possible to imagine a first-time winner like Colombia or Chile. On another day, England could have been among these sides who get have managed to be more than the sum of their parts, making up for deficiencies in some areas by excelling in others. The French and the Dutch, for instance, have different levels of quality throughout both their teams, but they have played brilliantly at times.
As the England camp rolled out of town for the last time they took with them all the usual paraphernalia, including some new innovations. Like the drinks boxes that are adorned with the players' names. At each break in training, the men in charge of the drinks would open the lids like parents at a picnic as the players walked over. They would then take their personalised bottle, one more detail that the FA was determined to get right.
The FA would argue that it is damned either way. Had it cut corners and failed to provide for its players it would be taken to task. Having done so, England's failure makes it all seem a bit pointless. They prepared professionally. The FA could not give the players the one thing they really needed, the sparkle and confidence that so many others have demonstrated at this tournament.
Reuse content