Everton striker Enner Valencia has described accusations that he owes £13,500 in child maintenance to the mother of his daughter as a 'ridiculous persecution' against him.
Valencia was chased out of the stadium by police following Ecuador's World Cup qualifier against Chile last week as they attempted to question him over alleged unpaid alimony.
Video footage was released showing the 26-year-old being carted off the field after suffering from altitude sickness with a number of officers in pursuit.
Police were also in attendance as he arrived for the game with Valencia's teammates having to smuggle him into the stadium off the team bus.
However, Valencia has now released a statement, stating how he must 'honour his family as well as his personal and professional image' after his ex-wife Synthia Pinargote initiated several legal matters against him.
In a statement, he said: "I feel the need to make the following clarifications, in order not only to clarify the facts, but to honour the image of my family and myself, both personally and professionally.
"I am currently facing several lawsuits initiated by Sinthyia Pinargote Chumo, which I perceive are aimed exclusively on matters of economic and personal gain, such as the demand for maintenance, presented in 2015, where I set the amount of 30,000 dollars a month as alimony.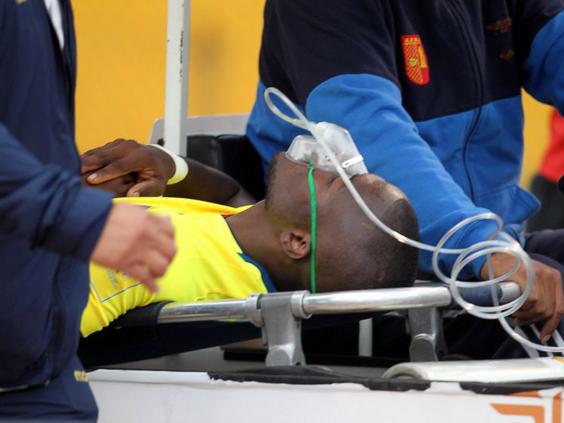 "Within the last two years, despite spending a sum estimated to 100,000 US dollars, for pensions of food, which can be verified on the website of the judiciary, she has prevented me strengthening my relationship with my daughter, because her mother prevents me from exercising any contact on my visits when I am in Ecuador.
"After talking with my family, we have made the decision to file a lawsuit, seeking custody of my daughter Beira, aiming for her to come live and study in England, where I live now, so she can grow in a stable environment, with the necessary conditions for her development.
"That application was granted in December 2015, the judiciary bestowing me custody of my daughter Beira, and suspending all alimony monthly payments to Mrs. Sinthyia Pinargorte."
 Valencia's agent Gonzalo Vargas confirmed on Friday that the arrest warrant for the striker had now been publically revoked.
Reuse content