There was a red tinge to England's success on Thursday night, and it suggested an optimistic future. While nothing too much can be read into the 5-0 defeat of opposition as poor as San Marino, there were still positive signs for Roy Hodgson's side.
For the first 20 minutes of the second half at Wembley, when the team played its best football, there were five Arsenal players on the pitch: Kieran Gibbs, Calum Chambers, Jack Wilshere, Alex Oxlade-Chamberlain and Danny Welbeck. The last time there were so many Arsenal players in one England team was 1936.
Of course, five Arsenal players were not on the pitch because they are inherently superior, but the same bonds of trust, understanding and communication on which football teams are based can be used by both Hodgson and Arsène Wenger.
The biggest challenge in international football is to teach a group of players how to combine and move like a good club team, but with far less coaching time to do it. This is why the last two great international sides – Germany's current world champions and the all-conquering Spain side before them – were built on foundations from one  club team.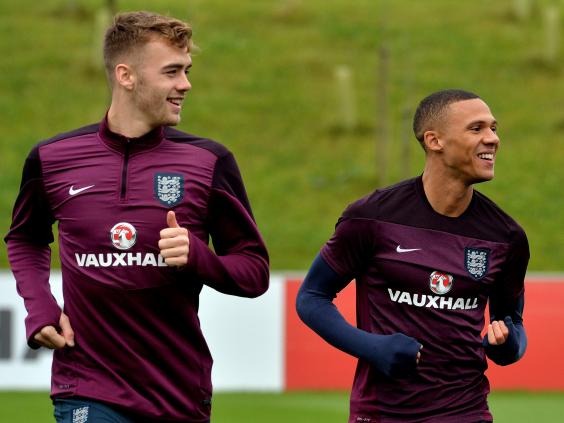 By taking so many of the players – and the ethos – from Barcelona, Spain had a club model in place, short-circuiting the demands traditionally placed on international coaches in their brief contact time with players. The same, more or less, was true with Germany, who have built on the reliable spine of Bayern Munich.
This Arsenal side are some way away from the level of Barcelona or Bayern Munich, as their recent meetings in the Champions League have shown. But there is a still the potential benefit here of talented youngsters working together every week at the London Colney training ground, playing at the Emirates, and then taking those lessons with them to the national team.
Oxlade-Chamberlain certainly hopes so. "When you train day in day out with these lads, you get to know the way they play," he said, after his impressive second-half performance on Thursday. "You can't help but take that into the international break. When they're all on the pitch with you, you do know their characteristics and where they're going to pass the ball and where they like the ball to be passed. It definitely helps."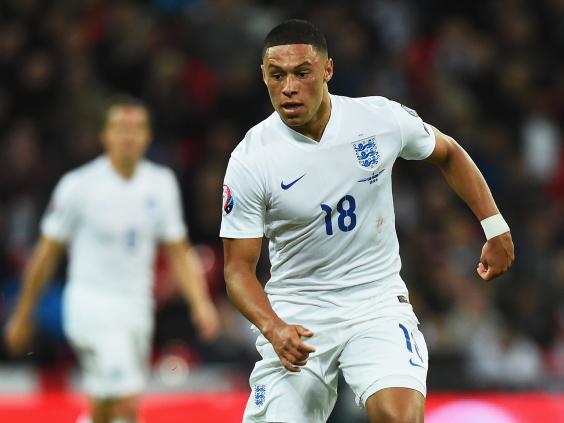 Within four minutes of his arrival on the pitch, Oxlade-Chamberlain set up England's third goal, playing the key role in a move that was started and finished by Arsenal players. "When I got that ball down the line I knew Calum was going to be able to find me first," he said. "And I knew that Danny  likes to make that run to the front post. That just shows having a lot of lads in the same team week-in-week-out then coming to the international team does help."
Welbeck was asked about the same goal and said that he knew exactly where Oxlade-Chamberlain would put the ball. "There is a good understanding on the pitch," he explained.
The Arsenal contingent is not even at full strength, with their most experienced England international still on his way back from a knee- ligament injury suffered last January. "I can't forget Theo Walcott, he's going to be back very soon," said Oxlade-Chambelrain. "He's going to be another one to add to the England squad, I'm sure. You do notice a lot more of an English presence [at Arsenal], it's hard not to. It's a nice thing as an English lad myself."
England 5 San Marino 0 player ratings
England 5 San Marino 0 player ratings
1/12 Joe Hart

At least he didn't have to pay to watch the game. Hardly touched the ball for an hour until fielding (a couple of sympathetic) back passes. 6/10

GETTY IMAGES

2/12 Calum Chambers

Allowed to go forward at will on his full debut and had few defensive duties. Rarely went past anybody and was guilty of one embarrassing miskick. 5

GETTY IMAGES

3/12 Gary Cahill

Had to take part in occasional aerial duels with San Marino's one striker, Andy Selva, and won most of them. Never threatened on the ground. 7

GETTY IMAGES

4/12 Phil Jagielka

Earned gratitude for making the breakthrough with a headed goal and, like Cahill, was able to relax at the back for the rest of the evening. 6

GETTY IMAGES

5/12 Kieran Gibbs

On his first start for almost four years, enjoyed the freedom to attack. Plenty of touches but can expect Leighton Baines to return on Sunday. 6

GETTY IMAGES

6/12 James Milner

Not a game to be playing as a holding midfielder when you fancy adding to a record of one goal in 50 internationals. Foolishly booked. 6

GETTY IMAGES

7/12 Jordan Henderson

One dangerous cross and a couple of ambitious Steven Gerrard-like passes that did not come off. Instead he came off, after only 45 minutes. 5

GETTY IMAGES

8/12

Expected to be at the base of the diamond midfield, he was on the left of it instead, but was not alone in ploughing through the middle too often. 6

GETTY IMAGES

9/12 Raheem Sterling

Used behind the front two when the space was out on the flanks, he found it tough and was replaced by Adam Lallana (who roamed a little more freely). 6

GETTY IMAGES

10/12 Danny Welbeck

Found space to score his third goal in two games before being rested. Frustrated earlier on, like Rooney, at being surrounded by so many defenders. 7

GETTY IMAGES

11/12 Wayne Rooney

Good chance to move closer to the England scoring record, but it took a penalty to do so. Jimmy Greaves will be outraged if he claims the own goal too. 7

GETTY IMAGES

12/12 Alex Oxlade-Chamberlain

Set up a goal for Welbeck within four minutes of coming on at half-time and showed clever movement. He was unluckily denied a goal. 7

GETTY IMAGES
Oxlade-Chamberlain poi-nted out that it is not just Arsenal but Liverpool who can provide the bonds of understanding in this England team: even after Steven Gerrard's retirement, there is Raheem Sterling, Daniel Sturridge and Jordan Henderson.
"Having a lot of lads in the same team week in, week out, then coming to the international team does help," said the Arsenal forward. "And we can say that for the Liverpool lads. They've been a strong force in this England squad for a while."
Even if England are not at the level of Spain or Germany yet, the ambition and the principles are the same. "Knowing each other off the pitch and on it, it does really help in gelling the team together," he added. "The Germans and the Spanish, they've been able to do that. Spain have a big influence from Real Madrid and Barcelona. When you go and watch Spain play it's almost like watching Barcelona or Real Madrid play at times, with the number of players on the pitch."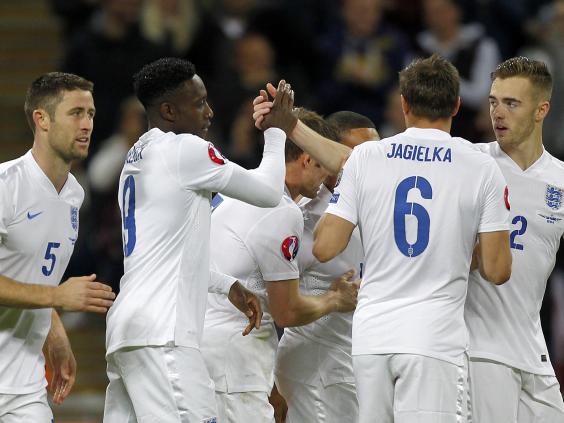 Hodgson, however, would not admit to consciously building around one club, saying it was a natural outcome of the best English players playing for the best teams. "To be fair, it is a situation we have always had with England," he said. "The best England players gravitate towards the Champions League teams and teams at the top."
It would not be in the manager's nature to promise that this batch of players, or their counterparts at Liverpool, would go on to be the equivalent of the Barcelona and Real Madrid players which the Spain coach, Vicente del Bosque, moulded into a World Cup and European Championship-winning side. But he was certainly impressed with the Arsenal players' development on Thursday. "We are pleased with them and the work they do and I hope Arsène will be too."
Reuse content