Ranked 81st in the world by Fifa, Estonia are the kind of team that, with all usual deference, England should have no problems beating. And when there are only ten Estonians on the pitch there really can be no excuses.
Nevertheless, it was not until 16 minutes from time that England finally broke through against an Estonia team without their captain Ragnar Klavan, sent off after half-time, and fighting for the kind of draw that would have been remembered for years in these parts. It was to be the greatest 0-0 in the history of Estonian football until Wayne Rooney picked out a corner of the home goal and the anxiety on the England bench subsided.
It was all well and good spending an evening stroking the ball around in the Baltics, but neglecting to score the goal that secured the points would have been a dereliction of duty for Roy Hodgson's men.
Estonia 0 England 1 player ratings
Estonia 0 England 1 player ratings
1/12 Joe Hart

Another quiet night for England's No 1. A spectator for the most part in Tallinn, though his distribution was wayward at times when required. 6/10

2/12 Calum Chambers

Often sloppy on the ball but matches like this will stand him in good stead for the future, especially when being played out of position. 5

3/12 Gary Cahill

Fast becoming Mr Dependable in England's backline. Always in the best position, and gave Estonia's forwards no chance during rare attacks. 8

4/12 Phil Jagielka

A slightly subdued performance but made up for that with a couple of well-timed challenges. Not over-worked but solid alongside Cahill. 5

5/12 Leighton Baines

Plenty of time and space to attack, with his passing as slick as his hairstyle. Rooney should have put away left-back's cross in the first half. 7

6/12 Jack Wilshere

Despite his starting position as the deep-lying midfielder, he constantly looked to set England on the attack. A couple of delightful through-balls. 9

7/12 Jordan Henderson

Steady from the Liverpool midfielder, with some great movement but the 24-year-old lacked incision with his final ball. Can do better. 6

8/12 Fabian Delph

Often found himself reverting to left-back as cover for the adventurous Baines who was always looking to get forward. Replaced after 61 minutes. 5

9/12 Adam Lallana

The attacking tip of Hodgson's diamond. Linked up well with Rooney, Henderson and Wilshere and made promising runs into dangerous areas. 6

10/12 Wayne Rooney

His celebration was one of pure relief after his missed chances began stacking up. Stepped up with fine free-kick when it mattered. 7

11/12 Danny Welbeck

Sluggish. The Arsenal man just could not get going at all in Tallinn. Heavy in the touch. Had to drop back to get any involvement in the game. 4

12/12 Best of the bench: Alex Oxlade-Chamberlain

His pace posed some problems as the clock wound down, and he came close to setting up Rooney for a late second which the captain couldn't finish. 6
There were times in the first half when the England possession count reached 82 per cent, the kind of levels one would usually only expect against San Marino, not a team ranked 120 Fifa places above them. This was Magnus Pehrsson's plan, to put everyone behind the ball and block, tackle and pressurise anything that looked like an attempt on goal. It worked to an extent: England had six shots on target all evening.
As strategies go, it was a plan to play like San Marino had on Thursday, albeit it with better players. England had the ball all night, but Rooney, Adam Lallana and Jack Wilshere ran into a lot of dead-end streets. Estonia sustained it all without much help from their 10,195-strong crowd. The A Le Coq Arena is not exactly an intimidating swirling cauldron of noise and nationalistic fervour for visiting teams. It is just a bit chilly.
The diamond formation meant that England had to forego the option of dominating the wide areas, where they relied on their full-backs to give them width. Raheem Sterling, a second half substitute, had declared himself tired at the previous day's training and was not in the starting XI. The 19-year-old was praised by Hodgson for his honesty. As he gets older he will learn that ceding a starting place in the England team is always fraught with danger. You don't always get it back.
It was not a classic but these kind of games rarely are. England's passing and movement in the first half was excellent, less so after the break but England got there eventually. It is their third straight victory in Group E of Euro 2016 qualification and the way that things are going this is looking as straightforward as anticipated.
The home side conceded the midfield. Or rather they were outplayed and out-fought in every inch of it where the ball returned to the toes of Wilshere again and again. The Arsenal man was polished in possession although dropping a shoulder and ghosting past an opponent is not generally what a holding midfielder does when he is the last line of protection for the defence.
There was not a lot wrong with his distribution, or his ability to recycle the ball quickly when England's attacks broke down. The problem was the lack of shots on target. The first came a minute before the break when Jordan Henderson struck a volley that was little trouble for the Estonia goalkeeper Sergei Pareiko.
In the box, England lost their way. Rooney lost track of the ball around his ankles a couple of times. Danny Welbeck was unfortunate with a shot from the left side of the area which was deflected away from goal. On 15 minutes, Rooney was fed a nicely-flighted ball from Wilshere to hit on the full but his volley was just over the bar. Unlike the Sammarinese, the Estonians could not be relied upon to do something silly to give England the breakthrough.
They had counterattacked quickly on England in the first minute when Henri Anier played in Sergei Zenjov and he dragged a shot wide of the post. Otherwise there was no Estonian attacking of any note. Gary Cahill, whose signature move is the booming header out of defence, even felt sufficiently relaxed to take one long punt on his chest and volley a ball into the feet of a team-mate.
In the absence of Sterling from the line-up it was Lallana who was required to provide the quick feet in behind the strikers. Given the opportunity he was, as is his way, sharp and tidy but he never really found the space in that congested centre to make much happen for England.
Calum Chambers on the right had a better first half than his left-sided counterpart Leighton Baines, who did, nonetheless, provide one good low cross that Rooney could not guide in. Chambers and Baines offered the width for England around the tight diamond shape that gave them the upper hand in the centre. The problem was that England just did not have enough width to stretch Estonia who, like San Marino, stayed tight and did not allow themselves to be pulled out of shape.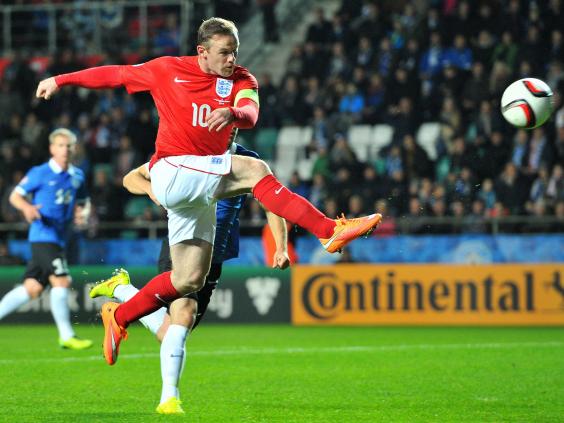 Three minutes into the second half and Estonia lost their captain Klavan, the mainstay of their defence, to a second yellow card for a foul on Fabian Delph.
Hodgson substituted Delph and Henderson in quick succession, bringing on Sterling and Alex Oxlade-Chamberlain but both of them were fitted into the same tight midfield diamond. There was no deviation from the diamond when it felt like more width was required to try a different way of breaking down Estonia. Not until the 71st minute did Oxlade-Chamberlain find himself wide and driving at the Estonia defence.
It was Sterling who won the free-kick from which Rooney scored. The ball was in the left channel and Rooney struck the ball right-footed, over the wall and into the corner of Pareiko's goal, the goalkeeper making a mess of it as he got to the ball. It was England goal No 43 for Rooney, leaving him one behind Jimmy Greaves on the occasion of his 99th cap.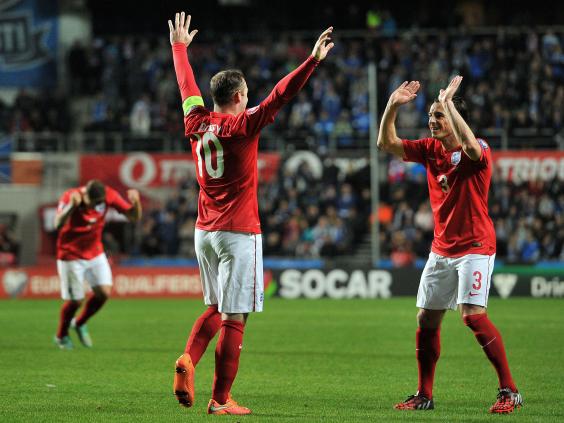 Shortly afterwards, Hodgson brought on Rickie Lambert for Welbeck. The Arsenal man had put in another shift without much reward and went straight to the dressing room with a member of staff. He had "rolled his ankle", Hodgson said later. Surely Arsene Wenger's bad luck is not about to deal him another injured player.
Rooney might have scored another late on when he was put though on goal. In fact he might have many more before then, but to give the England captain his due he was the one who came good on a night when it would have been an embarrassment not to claim all three points.
Estonia (4-1-4-1): Pareiko; Jaager, Morozov, Klavan, Pikk; Mets (Lindpere, ht); Atonov, Vassilijev, Vunk (Kruglov, 83), Zenjov (Ojamaa, 80); Anier.
Substitutes not used: Aksalu (gk), Londak (gk), Barengrub, Dmitrijev, Saag, Hunt, Kams, Artjunin, Teniste.
Estonia (4-1-4-1): Pareiko; Jaager, Morozov, Klavan, Pikk; Mets (Lindpere, ht); Atonov, Vassilijev, Vunk (Kruglov, 83), Zenjov (Ojamaa, 80); Anier.
Substitutes not used: Aksalu (gk), Londak (gk), Barengrub, Dmitrijev, Saag, Hunt, Kams, Artjunin, Teniste.
England (4-1-3-2): Hart; Chambers, Cahill, Jagielka, Baines; Wilshere; Henderson (Sterling, 64), Lallana, Delph (Oxlade-Chamberlain, 61); Rooney, Welbeck (Lambert, 80).
Substitutes not used: Forster (gk), Foster (gk), Clyne, Gibbs, Miner, Townsend.
Referee: M Strahonja (Croatia).
Booked: Estonia Klavan England Baines, Henderson, Wilshere
Sent off: Klavan
Man of the match: Wilshere
Rating: 6/10
Attendance: 10,195
Reuse content