Roy Hodgson said that he will manage the fitness of Raheem Sterling in discussion with Liverpool, ahead of Sunday's Euro 2016 qualifier against Estonia.
The England manager was deep in conversation with the 19-year-old winger when the team looked around the A. Le Coq stadium in Tallinn this evening. Hodgson acknowledged that Sterling had played a lot of games recently.
Hodgson said: "I know Liverpool are rightly concerned about that but it's a question of man management. It's a little bit easier for clubs to manage their players because they see them every day, they can quite easily decide the level of intensity in the training. A club can even send the player away for a week's holiday if it wants.
"We when we get the players together, it's a lot more limited. We have a week, a maximum of 10 days with the and two games to play. As a result we have to try and make certain for England's benefit that we use the players in the best possible way.
England 5 San Marino 0 player ratings
England 5 San Marino 0 player ratings
1/12 Joe Hart

At least he didn't have to pay to watch the game. Hardly touched the ball for an hour until fielding (a couple of sympathetic) back passes. 6/10

GETTY IMAGES

2/12 Calum Chambers

Allowed to go forward at will on his full debut and had few defensive duties. Rarely went past anybody and was guilty of one embarrassing miskick. 5

GETTY IMAGES

3/12 Gary Cahill

Had to take part in occasional aerial duels with San Marino's one striker, Andy Selva, and won most of them. Never threatened on the ground. 7

GETTY IMAGES

4/12 Phil Jagielka

Earned gratitude for making the breakthrough with a headed goal and, like Cahill, was able to relax at the back for the rest of the evening. 6

GETTY IMAGES

5/12 Kieran Gibbs

On his first start for almost four years, enjoyed the freedom to attack. Plenty of touches but can expect Leighton Baines to return on Sunday. 6

GETTY IMAGES

6/12 James Milner

Not a game to be playing as a holding midfielder when you fancy adding to a record of one goal in 50 internationals. Foolishly booked. 6

GETTY IMAGES

7/12 Jordan Henderson

One dangerous cross and a couple of ambitious Steven Gerrard-like passes that did not come off. Instead he came off, after only 45 minutes. 5

GETTY IMAGES

8/12

Expected to be at the base of the diamond midfield, he was on the left of it instead, but was not alone in ploughing through the middle too often. 6

GETTY IMAGES

9/12 Raheem Sterling

Used behind the front two when the space was out on the flanks, he found it tough and was replaced by Adam Lallana (who roamed a little more freely). 6

GETTY IMAGES

10/12 Danny Welbeck

Found space to score his third goal in two games before being rested. Frustrated earlier on, like Rooney, at being surrounded by so many defenders. 7

GETTY IMAGES

11/12 Wayne Rooney

Good chance to move closer to the England scoring record, but it took a penalty to do so. Jimmy Greaves will be outraged if he claims the own goal too. 7

GETTY IMAGES

12/12 Alex Oxlade-Chamberlain

Set up a goal for Welbeck within four minutes of coming on at half-time and showed clever movement. He was unluckily denied a goal. 7

GETTY IMAGES
"I think Brendan Rodgers will be very much aware of Raheem's situation. We are aware of his situation. We are all working together for the boy's best. We want him to play the games because he has burst onto the scene with a vengeance and he is playing very well and as a result you don't want to leave your best players out of the team."
Hodgson said that he planned to tell his players the line-up in their team meeting tonight. Estonia were beaten away in Lithuania last week but September last year they came close to beating the Netherlands in a World Cup qualifier, the latter needing a late penalty from Robin van Persie to bring the score back to 2-2.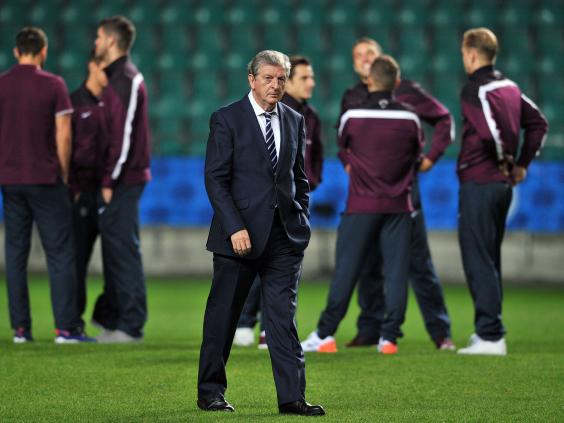 Hodgson said that there was a possibility that his team could win every one of their ten qualifying games. "It wouldn't be easy but there is no reason it could be a goal. The goal of remaining unbeaten is somewhat more realistic. The bottom line is they are nice statistics. It is nice to be able to say we went through two qualifying campaigns unbeaten.
"All that really matters is getting to France 2016 and that we have a competitive team. It is not something I would set up as an important goal."
The squad trained in Hertfordshire earlier in the day before flying out to Tallinn. Wayne Rooney said that the short three-day turnaround between games would not be a problem. "I feel fine. Over the last ten years I have been used to playing mid-week Champions League football and you get in a routine. It is now the same with internationals.
"It means less training and less time to work on the things the manager wants to do. As players you really want to play the game."
Rooney said that he had no regrets about the opportunities that passed him by against San Marino to close in on Sir Bobby Charlton's golascoring record. "There are records there in front of me, but you know at the end of the day if they come then great.
"It is not something I am looking at in particular. I am looking at qualifying for the European Championships with England. As I have said, if records come then that'd be great but the important thing is that we do well for the team."
Reuse content