Two years ago, Harry Kane was being farmed out on loan to Leicester City, having spent the early part of the season at Norwich City.
This time last year, he was still to make his first Premier League start for Tottenham Hotspur. By yesterday morning, Roy Hodgson was on the England senior team training pitch at St George's Park clutching a piece of paper on which  he had sketched out a formation that paired Kane with Wayne Rooney.
The meteoric rise of the  21-year-old Kane shows no sign of burning out, with the Spurs striker the beneficiary of the decision late on Monday night that Daniel Sturridge should return to Liverpool for treatment on a hip problem.
It was Kane's initiative that saw him transformed from academy loan fodder to the Premier League's current top goalscorer and now he has made the leap, the opportunities keep presenting themselves.
The Football Association has been cautious around Kane, preferring that he utters his first words on international duty after he has made his England debut rather than before it. For that reason, Kane was kept in the team hotel after his training session, although his moment is surely coming against Lithuania on Friday in the Euro 2016 qualifier. He has joined up with the squad having just scored that hat-trick against Leicester, and Harry Kane mania – Kania, if you like – shows no sign of relenting.
In the absence of the man himself, there were plenty of testimonies from those who have played against him in this breakthrough season. Gary Cahill was in the Chelsea defence blown apart by Kane and his Spurs team-mates on New Year's Day in Tottenham's 5-3 victory at White Hart Lane in which the young striker scored twice. The effect was so profound that Jose Mourinho changed Chelsea's style considerably for the Capital One Cup final against Spurs this month.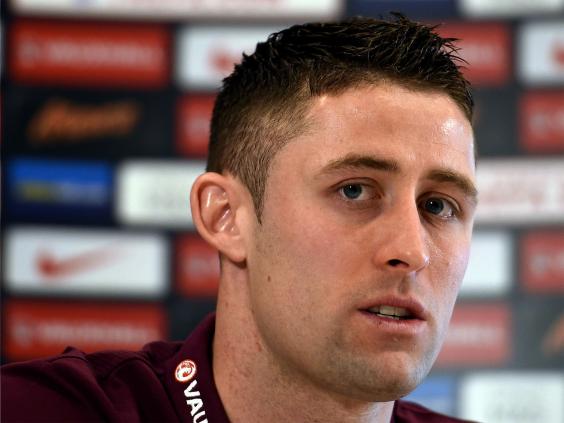 "It was hard because a lot of things went wrong in that game for us as a team," Cahill said "He [Kane] was fantastic on the day, as were a few other Tottenham players, and sometimes when you have a bad day at the office collectively you could be against whoever in the Premier League and it is tough. But he has been fantastic.
"He has deserved his [England] place, as a young English player at a top club in the Premier League. I have played against him three times this season and he is a real handful. It is hard to talk a young player up too much, because  I think we do that a lot in this country, but for me he has everything.
"He can hold the ball up, he runs in behind, he has two good feet, he can head, he can finish, he has a bit of pace. Physically he is strong enough, so he has all the attributes and he has had a fantastic season. To meet up with the England squad for your first time in  the seniors off the back of a hat-trick, his confidence must be sky high. He is in a good place at the minute."
Kane is one of five Spurs players in the England squad, with the recent call-ups for Danny Rose and Ryan Mason alongside those for Andros Townsend and Kyle Walker, and between them they make up the biggest one-club contingent. Most critically for Kane, however, Hodgson is down to only three strikers, with neither the Under-21s' Danny Ings nor Charlie  Austin called on to replace Sturridge.
It is extraordinary, given his 19 league goals, that Kane had to wait until November for his first start in the competition, around the same time that England last convened. As the oldest member of the squad at 33, Michael Carrick has seen some bright young things come and go in his time, and it will be staying at the top, he said, that presents Kane with his biggest challenge.
"He's got presence as a guy," Carrick said, "and, playing against him a couple of times, I've been hugely impressed with him because you can see sometimes players have a good spell and then drop away, but I don't see that with him. You can see the progression and see him really fulfilling that over a period of time.
"We'd all love more home-grown, British players to get opportunities. It's difficult. There are two sides to the argument: you've got to be good enough to get the chance in the first place but someone's got to give you that chance. Someone like Harry is the perfect example of how we'd all like it to be. Getting that chance, he's been out on loan, in and out, gets his chance and takes it and elevated himself to another level. It doesn't always work like that."
Carrick said that Kane has been "sensational", and there will be no relenting in the expectation come Friday if he does start the game against Lithuania.
"If you look at the start of the season, he's jumped a couple of levels at least,"  Carrick added. "What's impressed me most is as the spotlight has grown on him, as he's talked about, given more praise, and as defenders are becoming more aware of him, he's taken his game on and kept producing.
"At the weekend, he's obviously had a big call-up [for England] and then scored a hat-trick. It's a good sign, it's almost like he thrives  on that little bit of pressure and expectation to do what he's done."
Two years ago, Kane was a member of the squad for the unloved Under-20s World Cup in which England failed to make it out the group again. The only other survivor from that campaign currently in the senior squad is Ross Barkley and while his promise was more obvious then, Kane's ascent has been relentless.
Reuse content