One for the conspiracy theorists among you – the nominee profiles for the Fifa Ballon d'Or award have emerged on Fifa's website, and they seem to be playing down Cristiano Ronaldo's achievements this year, not talking him up.
Ronaldo has been at odds with Sepp Blatter in recent weeks, after the Fifa president was forced to apologise to the Real Madrid forward after mocking his image, and not talking about his footballing talent when asked to compare him to Lionel Messi, who has won the award for the past three seasons in a row, saying: "One has more expenses for the hairdresser than the other."
Blatter had to write a letter to Real Madrid president Florentino Perez stating that he did not mean any harm with the comment, and that he has "huge respect" for the forward.
Ronaldo seems still clearly irked though, and had written on his Facebook page: "This shows clearly the respect and consideration that Fifa has for me, for my club and my country." In a recent interview with Shortlist magazine he said he did not want to talk about Blatter.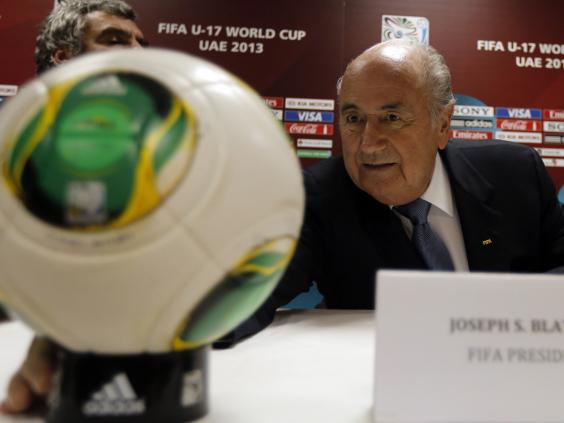 But looking at Ronaldo's profile on the Fifa's official website, the Portuguese may indeed have a point.
"2013 proved to be another goal-drenched year for Cristiano Ronaldo. The Portuguese star helped himself to 34 of them in the 2012/13 Liga season, a haul beaten only by Lionel Messi's 45, and scored a hatful more in Europe and for his national team," it said.
To analyse this, the profile has missed out the fact that Ronaldo has scored 62 goals for club and country in his "goal-drenched" year, currently 17 goals more than any other player (Lionel Messi has scored 45). The Barcelona forward, meanwhile, was described as an "attacking wizard" in his profile, while Franck Ribery was lauded for "mesmerising dribbles" in his.
Ronaldo's "hatful" in Europe is 14 Champions League goals in 2013, five more than any other player as well.

The winner of the award will be announced on 13 January 2014 in Zurich.
The Ballon d'Or shortlist:
Gareth Bale (Real Madrid/Wales), Edinson Cavani (Paris St-Germain/Uruguay), Radamel Falcao (Monaco/Colombia), Eden Hazard (Chelsea/Belgium), Zlatan Ibrahimovic (Paris St-Germain/Sweden), Andrés Iniesta (Barcelona/Spain), Philipp Lahm (Bayern Munich/Germany), Robert Lewandowski (Borussia Dortmund/Poland), Lionel Messi (Barcelona/Argentina), Thomas Muller (Bayern Munich/Germany), Manuel Neuer (Bayern Munich/Germany), Neymar (Barcelona/Brazil), Mesut Özil (Arsenal/Germany), Andrea Pirlo (Juventus/Italy), Franck Ribéry (Bayern Munich/France), Arjen Robben (Bayern Munich/Holland), Cristiano Ronaldo (Real Madrid/Portugal), Bastian Schweinsteiger (Bayern Munich/Germany), Luis Suárez (Liverpool/Uruguay), Thiago Silva (Paris St-Germain/Brazil), Yaya Touré (Manchester City/Ivory Coast), Robin van Persie (Manchester United/Holland), Xavi (Barcelona/Spain).
Reuse content