Walk around the Stade de France and there are few sign of the events which befell the stadium over a year-and-a-half ago, but the nuts, bolts and ball-bearings have left an indelible mark on its history.
The first explosion came outside the Gate D entrance. It killed Manuel Colaço Dias, a 63-year-old on-duty Portuguese chauffeur who had intended have the evening off. He would be the first of 130 fatalities on a night of horror in Paris. Three minutes later, there was a second blast at Gate H. The sound made Patrice Evra, on the ball at the time of the blast, shake.
The third and final blast was felt a while later, close to a nearby McDonalds, where Bilal Hadfi detonated a device identical to those used by his two accomplices. Like the attacker at Gate H, he injured several but killed nobody. The grand total of fatalities across all three explosions, excluding the attackers, was one; Dias. It could have been far, far higher.
Hadfi initially attempted, unsuccessfully, to gain entry to the stadium itself at Gate L. He intended to detonate his bomb not in one of the several sparsely-populated business park in surrounding area, but in the middle of an 81,000-capacity arena. The actions of Salim Toorabally, the security guard who stopped him, prevented what would have been an unspeakable atrocity; a massacre of innocents, live on television, while they enjoyed watching a game of football. Instead the cuprits' 'spectacular', the centrepiece to the city-wide attack, failed.
This stadium came that close to being tarnished by memories too painful to endure. Instead, it is now a symbol of unbowed defiance. It was fitting, then, that France and England should meet here, three weeks since 22 people were killed in the bombing of a pop concert in Manchester and 10 days since another attack at London Bridge, in which eight lost their lives. The victims were remembered before kick-off in much the same way that the 130 people who lost their lives in Paris were remembered the last time these two teams played each other, four days after the attacks in the French capital.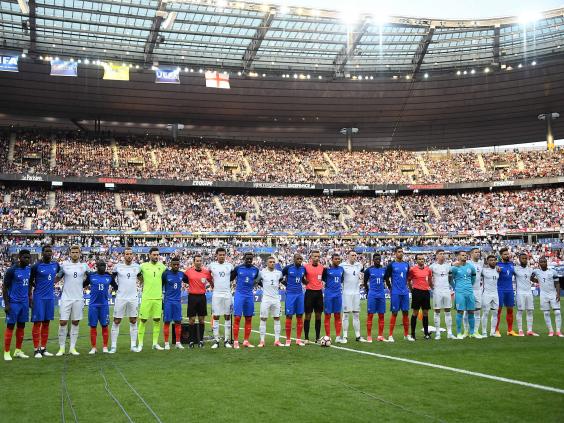 That night at Wembley was a strange occasion. The game itself was an irrelevance, with England comfortably beating a jaded, bereft France, composed of players who had spent the night of the attacks locked inside their national stadium, fearful for the safety of loved ones on the outside. Midfielder Lassana Diarra's cousin Asta Diakite was among those senselessly killed at Bataclan Theatre, while Antoine Griezmann's sister had escaped. To a man, the team looked like they wanted to be anywhere else other than a football pitch. 
Altogether, it felt wrong to be playing a game so soon after those events. Yet when you spoke to the French supporters on Wembley Way that night, there was consensus. The game should be played, tributes should be made and only gratitude was shown towards England, the Football Association and their fellow fans for standing by the victims and the families.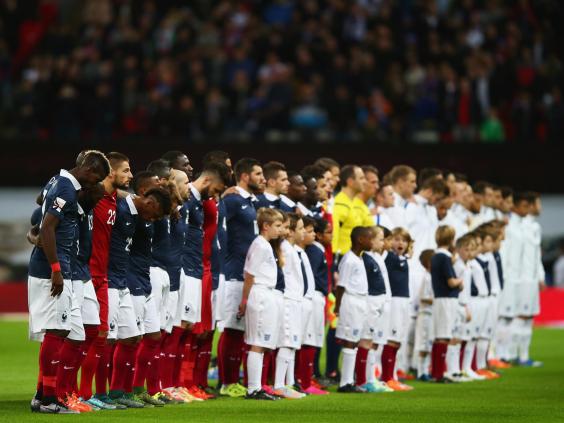 Here, France reciprocated that gesture and this time, it felt unquestionably and totally appropriate. Just as La Marseillaise was sung in Wembley, God Save The Queen was sung in Saint-Denis. One anthem celebrates blind subservience to a once-absolute monarch, the other is about using the aristocracy's blood as potato fertiliser, but the two rang out with a common purpose on this occasion.
Crowds gather for vigil honouring victims of London Bridge attack
Crowds gather for vigil honouring victims of London Bridge attack
1/8

John Loughrey lays down flowers in Potters Fields Park, central London in honour of the London Bridge terror attack victims

PA

2/8

People queue to lay flowers after a vigil for victims of Saturday's attack in London Bridge, at Potter's Field Park in London

AP

3/8

Mayor of London, Sadiq Khan (centre) British Home Office Secretary, Amber Rudd (right) and British Shadow Labour Home Secretary (left) Diane Abbott arrive with flowers

EPA

4/8

PA

5/8

Floral tributes left for victims of Saturday's London Bridge attack

AP

6/8

People pay their respects, leaving floral tributes after a vigil for victims of Saturday's attack in London Bridge

AP

7/8

People queue to honour those killed on Saturday. Police have arrested several people and are widening their investigation after the attack

AP

8/8

Tributes lie outside City Hall in London

EPA
Before them, though, came a single and far more apt anthem. In a knowing touch, Oasis' 'Don't Look Back in Anger' was played as the two teams made their entrance. The verses were quiet, most locals not being able to work their way around Noel Gallagher's twang, but the chorus was emphatic. Anger, after all, is a wholly natural response to horrific events such as these, but it subsides in time and something more useful takes its place. In this second shared display of solidarity, the national teams of France and England - and most of all, their supporters - showed the understanding, friendship and unity that international sport, in troubled times, can foster.
Reuse content