Brazilian striker Fred has announced he has retired from international football after his team lost the third-place play-off against the Netherlands.
The 30-year-old striker came in for a huge amount of criticism for his lacklustre performances in the tournament, where he scored just once for a Brazil team that entered the World Cup with such high hopes and failed spectacularly in the semi-final.
According to ProZone statistics, Fred emerged from the World Cup having spent less than one minute in possession of the ball during his six matches.
It's a stark comparison to Brazil's golden boy Neymar who spent six and a half minutes with the ball at his feet on home soil.
The alternative World Cup winners based on expectations and quality
The alternative World Cup winners based on expectations and quality
1/32 1 Costa Rica

By far the biggest overachievers, and came a penalty kick from something even more historic.

Getty Images

2/32 2 Colombia

The most exciting team in the tournament, and made history in their best ever World Cup.

3/32 3 Argentina

The semi-final was their "minimum objective" but they are on the brink of maximum achievement.

Getty Images

4/32 4 Germany

The time has come for their revolution to produce a true-end product. They've at least set up the chance.

5/32 5 Netherlands

Louis van Gaal made a young side look so much more mature, and they greatly exceeded expectation.

Getty Images

6/32 6 Algeria

A revelation in getting to the second round, while playing some refreshingly progressive football.

AFP/Getty Images

7/32 7 Chile

Although they did not get as far as they could have, there was a deeper merit in how close they came to eliminating the hosts.

Stu Forster/Getty Images

8/32 8 France

A deflating last match should not completely overshadow the rejuvenating campaign that preceded it.

Mattias Schrader

9/32 9 Belgium

Didn't flop like many feared, but never fired in what was a weirdly forgettable campaign.

Getty Images

10/32 10 Mexico

Recovered their spirit after an awful qualifying campaign, and came close to doing so much better.

Getty Images

11/32 11 USA

A campaign about more than their impressive second-round finish, because of the emotional momentum it generated.

Twitter/@USSoccer

12/32 12 Nigeria

Became the first African side to reach the second round for a third time, which is all the more creditable given the off-field ructions.

Getty Images

13/32 13 Greece

Didn't win much admiration for their football, but deserve huge respect for getting to the brink of the quarter-finals.

GETTY IMAGES

14/32 14 Ghana

The team whose end results at least matched their performances. Had simple luck gone a different way, they could have been quarter-finalists.

Getty

15/32 15 Iran

It is always almost impossible for them to get through, but the impressiveness of their displays brought respect.

Getty Images

16/32 16 Switzerland

The thrashing to France rendered their seed status ridiculous, but were resilient against Argentina.

Getty Images

17/32 17 Uruguay

Humiliated themselves worse than any thrashing with the reaction to the Luis Suarez incident, and played poorly after it.

Getty Images

18/32 18 Ecuador

Didn't get through, but played supremely in every game, and paid a fine tribute to the tragically departed Chucho Benitez.

Getty images

19/32 19 Croatia

Two excellent performances, but dropped off badly just when it mattered.

Getty Images

20/32 20 Australia

Lost all of their games, but came encouragingly close to winning the important first two.

Getty Images

21/32 21 Ivory Coast

A fortunate first win, but not much else, which sums up a generation who under-performed.

Getty images

22/32 22 Bosnia and Herzegovina

A baffling second game undid what should have been a special first World Cup.

Getty Images

23/32 23 Honduras

Beaten as expected, but responded with an unsavoury aggression of their own.

GETTY IMAGES

24/32 24 Japan

That they still had a chance of reaching the second round in the final game seems irrelevant, because they never looked like seizing it.

Getty Images

25/32 25 South Korea

Thrashed in their most winnable game, which says a lot about a forgettable campaign.

GETTY IMAGES

26/32 26 England

Only one point, only one acceptable performance and very few positives.

Getty Images

27/32 27 Russia

A poor third place, even worse performances. Dismal.

GETTY IMAGES

28/32 28 Brazil

A semi-final place simply pales next to what may be the most haunting defeat of their entire history.

Getty Images

29/32 29 Portugal

Cristiano Ronaldo will never now have his great World Cup, Portugal just looked like an average team.

GETTY IMAGES

30/32 30 Italy

A side with that kind of talent shouldn't have gone out so early. So poor after the first game.

Getty Images

31/32 31 Spain

A fourth successive trophy was always a stretch, but the abiding memory is how badly it was all pulled apart.

AP

32/32 32 Cameroon

Shambolic off the pitch and on it, this was possibly the worst World Cup campaign ever.

Getty Images
Time in possession statistics show that Fred had the ball for just 52 seconds during the tournament, accounting for 129 'individual possessions' (or touches) during his six matches.
A number of those touches would have come from kick-offs and restarts (as shown in the heat map below).
He had nine shots in total, with just four of those hitting the target and one finding the net.
Unsurprisingly, his best performance of the World Cup came in the 4-1 win against Cameroon, where he recorded 28 touches of the ball and recorded three of his five shots on target. He also scored in that game, though he only had seven seconds in total on the ball.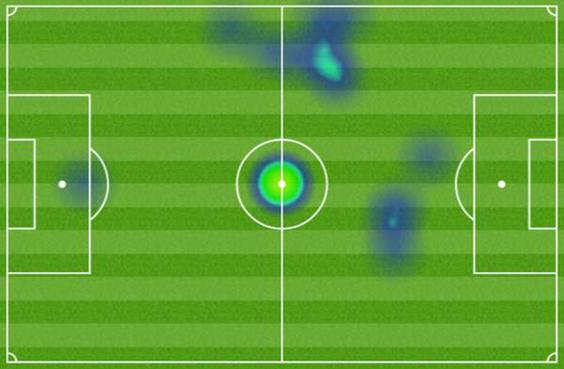 In the humiliation against Germany he had just one shot and his 20 touches used up 13 seconds of play.
This pales in comparison to star man Neymar, who recorded 392 seconds on the ball, for 261 individual possessions.
Neymar also had 18 shots in five games, with 12 of those on target as he scored four goals and added one assist.
Fred retires with a pretty decent international record with 18 goals in 39 matches, though nine of those came in an 11 match spell in 2013.
Reuse content