Gareth Southgate claims his decision to make friends redundant while Middlesbrough manager proves he possesses the steel to make the toughest decisions with England as Wayne Rooney's position in the team faces renewed scrutiny ahead of Tuesday's World Cup qualifier against Slovenia.
Having navigated an unconvincing and, at times, insipid 2-0 victory against Group F minnows Malta at Wembley on Saturday, England fly to Slovenia on Monday facing a stern test of their qualification credentials in Ljubljana.
And with Rooney subjected to boos and jeers from a section of the Wembley crowd at the weekend following his unimpressive performance in midfield, Southgate is now coming under pressure to replace the Manchester United player with Tottenham's Eric Dier in order to inject more fluency to his team.
But while Southgate defended Rooney's performance against Malta, the 46-year-old insisted that none of the selection dilemmas in front of him can compare to the task of having to tell people they had lost their jobs as a result of Middlesbrough's relegation from the Premier League in 2009.
"Making some really close friends redundant-- that's probably as big as you can get," Southgate said, when asked to describe the toughest decision he had made in management.
"I've got to make decisions which are right for the team and whenever you select a team, with England, you're going to leave some guys on the bench that are playing every week in the Premier League for their club.
"You have to be prepared to do that. That's part and parcel of the job."
England vs Malta player ratings
England vs Malta player ratings
1/11 Joe Hart - 6 out 10

Had next to nothing to do. Delivered when called upon late in the game.

Getty

2/11 Kyle Walker - 7

Up to his usual tricks bombing down the right flank, delivering multiple balls into the box. Untested on the back foot.

Getty

3/11 John Stones - 6

Composed on the ball and enjoyed a surging run or two down the centre of the park. Faced no real challenges with Malta's front line.

Getty

4/11 Gary Cahill - 6

Like his partner, never really put out of his comfort zone. Showed some good cover play.

Getty

5/11 Ryan Bertrand - N/A

Exited early through injury.

Getty

6/11 Wayne Rooney - 5

Mediocre performance. Distributed well to the flanks with inch-perfect precision but rarely pressed forward when he needed to.

Getty

7/11 Jordan Henderson - 7

Created chances with his probing balls into the box and ventured into Matla's final third to link up neatly with his teammates.

Getty

8/11 Dele Alli - 6

Missed a series of chances throughout but made up for it with his goal.

Getty

9/11 Jesse Lingard - 5

Struggled to deliver on the occasion. Missed too many chances. Marcus Rashford would have given England more.

Getty

10/11 Theo Walcott - 5

Quiet throughout. Didn't see much of the ball and missed his only opportunity in front of goal.

Getty

11/11 Daniel Sturridge - 6

Took his goal well to get England off the mark. A busy presence at times around the opposition box but occasionally went missing.

Getty
The Rooney dilemma is in danger of becoming a distraction for Southgate during his four-game reign as interim manager.
With Dele Alli – the scorer of England's second goal against Malta – proving a better option than Rooney in the number ten role, Dier's emergence as one of the positives of the disastrous Euro 2016 campaign threatens to squeeze Rooney out of the picture in the deeper position he occupied on Saturday.
Against Slovenia, Southgate is expected to select Dier alongside Rooney, with Theo Walcott likely to be dropped following his latest fruitless performance for England against Malta.
But having admitted on ITV prior to the game that it will become a 'problem' if players face prolonged time out of the team at club level – Rooney has failed to start United's last three games – Southgate performed a U-turn following the match by insisting the 30-year-old had done enough to retain his place.
"I think at this moment in time that (lack of football at United) is irrelevant," Southgate said. "Part of that is because we've got 30 per cent of the Premier League eligible for England.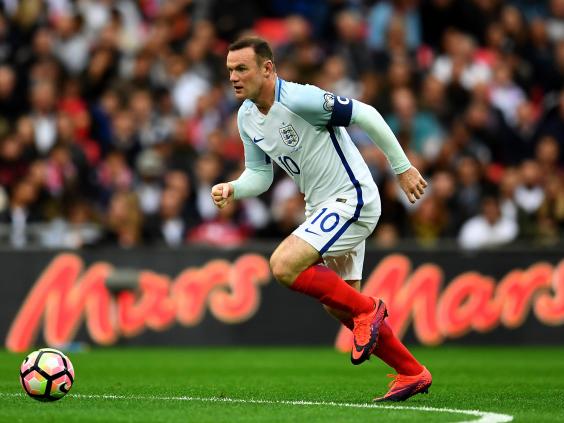 "Of that, some don't want to play, of that some aren't good enough to play and you've got a captain who is desperate to lead on and off the field and continues to make outstanding contribution to that group of players.
"So that was why he was selected. What's happening at Manchester United for this week is not as important.
"I was very pleased with Wayne's performance. I felt the role he was asked to play he fulfilled.
"He was asked to dictate the game, play with positional discipline which we thought was very important. Him and Jordan Henderson as a pair did exactly as we hoped.
"Slovenia is a completely different game, we are likely to be playing against a different tactical system and away from home so we have got to assess all of those things with all of the players to pick the right team for that game.
"I think Wayne commands the respect (of his team-mates). When he makes his observations, he speaks up, it's clear the authority that he talks with, but also the insight and his knowledge of the game is of a very high level, not just of the game but the dynamics of the groups and things they can learn, things they can improve upon.
"But it's impossible to really feel that unless you are inside it."
Southgate accepts, however, that Dier is a player who merits consideration for selection in the starting XI.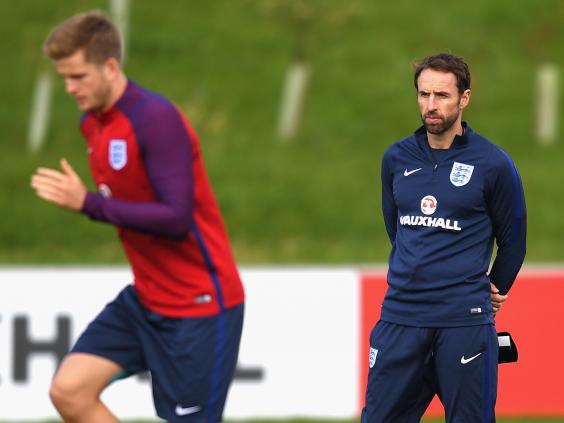 "Eric was definitely a player we wanted to protect (against Malta)," Southgate said. "He's had hamstring injuries, so playing two games in quick succession was going to be difficult.
"I wrote the team that I thought would start ten days ago and we ended up five short! So, always with international management you have some lovely ideas about what you'd like to do and where you'd like to go and the realities are often very different.
"The best thing for us it to assess everybody, see who's available and have a look at the Slovenia game and check what we see is what we get and then have a think from there really.
"Whenever we pick a team, we select a team we feel which is right for the game.
"Given the number of chances we created against Malta, I don't think we were far away from that.
"From my point of view, especially Jesse Lingard's performance I was really excited by and pleased about. That was a real positive."
Having missed a hatful of chances against Malta, with opening goalscorer Daniel Sturridge one of the biggest culprits, England extended their worrying run of dominating games without converting their opportunities.
Over the last four games, England have scored just four times from 87 chances created, but Southgate is happy that the opportunities are at least being carved out.
England manager contenders
England manager contenders
1/6 Gareth Southgate - 6/4

Highly thought of by the decision-makers at the Football Association, the former Middlesbrough boss was brought into the fold to coach the Under-21s with an eye on future progression. Faltered at last year's Under-21 European Championship but led the team to victory at the Toulon tournament in the summer. Had no interest in succeeding Hodgson but takes charge for England's next four matches against Malta, Slovenia, Scotland and Spain while the FA looks for a permanent appointment.

Getty

2/6 Steve Bruce - 2/1

The former Manchester United defender was interviewed in the summer about the vacant England manager's job. Just days after speaking to the FA, Bruce decided to call time on his spell at Hull, where he had become the most successful manager in the club's history. He remains out of work.

Getty

3/6 Eddie Howe - 8/1

A smart, erudite and tactically-savvy coach who, at 38, looks to have a bright future at the top of the game. The manager has flourished at Bournemouth and only last week described coaching England as the "ultimate" job. "I would never say no," Howe said.

Getty

4/6 Alan Pardew - 8/1

Seemed to be a new man after swapping Newcastle for Crystal Palace and some fine early-season results saw him seriously linked with the England job for the first time in his career. Reached the FA Cup final but league results tailed off badly. A slow start to this campaign has been followed by three successive Premier League victories.

Getty

5/6 Jurgen Klinsmann - 10/1

The former Tottenham striker has managerial experience at international level, having been in charge of the United States for almost five years and Germany before that. America fell to a semi-final Copa America exit in the summer while Klinsmann guided Germany to the last-four stage at the 2006 World Cup.

Getty

6/6 Gary Neville - 25/1

Seemed a heavy favourite to progress from his role as Hodgson's assistant until his ill-advised stint with Valencia saw his stock plummet. It may yet be decided that was a case of the wrong job but the right man. Out of coaching since exiting with Hodgson during the summer, the videos of Allardyce appear to show him saying Neville was the "wrong influence" on his predecessor.

Getty
"We knew the packed Malta defence we would have to try and break down, we actually thought they would be a 5-3 but they were a 5-4 so there was even less space," Southgate said.
"We created some really clear chances and their keeper made some good saves.
"I think we have players in the side who will score goals. Hopefully they will come when it's more important than it was on Saturday."
Southgate added: "It's going to take time for our ideas to get through to them and embedded into the players. I'm realistic about how quickly that can happen.
"On Saturday, I saw really good evidence of that. At times I think we could have moved the ball more quickly, we might have played with more width as well.
"We could have played right on the touchline which would have created more space. But I think three coaches in three games speaks for itself."
Reuse content