Gary Neville has claimed that if Cristiano Ronaldo and Lionel Messi boycotted the World Cup then the tournament "would not exist", and Sepp Blatter's tenure as Fifa president would come to an end.
Writing in his Telegraph column, Neville said that the players, rather than fans and sponsors, hold the key to unseating Blatter after he was re-elected for a fifth term as the head of football's governing body.
While Neville said the responsibility of leading a concerted movement lay not with individuals but with associations and organisations set up to act in the interests of players, such as the PFA, he suggested the impact that the game's two best players boycotting the world's biggest tournament could have.
The Fifa bigwigs facing charges
The Fifa bigwigs facing charges
1/14 Jeffrey Webb, 50, Cayman Iskands

A Fifa vice president. His arrest came as a big surprise, as he had been tipped as the man to clean up Fifa once Blatter departs. Webb is also president of Confederation of North, Central America and Caribbean Association Football (Concacaf) and the Cayman Islands Football Association

Getty

2/14 Costas Takkas, 58, UK

A British citizen, Mr Takkas is currently an attache to the Concacaf president. He was previously general secretary of the Cayman Islands Football Association, of which Mr Webb is president

3/14 Jack Warner, 72, (pictured), Daryan Warner, 46 and Daryll Warner, 40, Trinidad & Tobago

The former Fifa vice president and head of Concacaf was a dominant force in football for 30 years, but was suspended from his roles in 2011 amid accusations of corruption dating back to the 1980s and an investigation by Fifa's ethics committee. He later resigned, ending the proceedings against him. Daryan Warner, the son of Jack Warner is also believed to have co-operated with the FBI. He pleaded guiltyin October 2013 to wire fraud conspiracy, money laundering conspiracy and the structuring of financial transactions, forfeiting $1.1m. Daryll Warner, another of Jack Warner's sons, he pleaded guilty to various offences in July 2013. A former Fifa development officer, he lost the job in 2012 after his father's resignation amid corruption allegations. He and his brother both face up to 10 years in prison

Getty

4/14 Charles Blazer, 70, USA

The former Concacaf general secretary reportedly turned "supergrass" to help the FBI inestigation, using a bugging device hidden inside a key fob to record meetigs with his Fifa colleagues at the London 2012 Olympics. In November 2013 he pleaded guilty to racketeering conspiracy, wire fraud conspiracy, money laundering conspiracy, and income tax evasion. Seriously ill with colon cancer

Getty

5/14 Rafael Esquivel, 68, Venezuela

Executive committee member of the South American Football Confederetion (Conmebol). It is alleged that officials at Conmebol, which organises the Copa America, received bribes from marketing executives

Reuters

6/14 Eugenio Figueredo, 83, USA/Uruguay

The Fifa vice president and executive committee member is a big name in world football, having previously been at the head of Conmebol and the Uruguayan Football Association. A former right-back

Reuters

7/14 Nicolas Leoz, 86, Paraguay

A former Fifa executive committee member and Conmebol president. When he retired in 2013 for health reasons, he said: "I've not stolen so much as a cent"

Getty

8/14 Eduardo Li, 56, Costa Rica

President of the Costa Rican Football Federation. He was elected to Fifa's executive commitee in March

Reuters

9/14 José Maria Marin, 83, Brazil

The former president of the Brazilian Football Confederation is also a member of Fifa's committee for Olympic tournaments

Reuters

10/14 Julio Rocha, 64, Nicaragua

Fifa development officer. Previously president of his country's football federation

EPA

11/14 José Hawilla, 71, Brazil

The owner and founder of the Traffic Group, a sports marketing conglomerate, pleaded guilty to racketeering conspiracy, wire fraud conspiracy, and money laundering conspiracy in 2014. Two of his companies - Traffic Sports International Inc and Traffic Sports USA Inc - have also pleaded guilty

youtube.com

12/14 Aaron Davidson, 44, USA

President of Traffic Sports USA, is a large promoter of football events in America

AP

13/14 Alejandro Burzaco, 50, (pictured), Hugo Jinkis, 70 and Mariano Jinkis, 40, Argentina

Alejandro Burzaco, a media executive who controls Torneos y Competencias, a sports marketing business. Hugo Jinkis, is the president of Full Play Group, a sports marketing business in Argentina. His son Mariano, is vice president

AP

14/14 José Margulies (AKA José Lazaro), 75, Brazil

Although he is in broadcasting, it is alleged he served as an intermediary to facilitate illicit payments between sports marketing executives and Fifa officials

youtube.com
"Just think of Cristiano Ronaldo and Lionel Messi, the two biggest stars in the game right now, and consider a World Cup without those two," Neville said.
"The tournament would not exist if Ronaldo and Messi turned their backs on the World Cup because of the way Fifa is running the game. This would impact sponsors and broadcasters and in turn bring this whole debacle of an organisation to a standstill."
Neville spoke of his own reputation for being a "political" footballer, which earned him the nickname "Red Nev" after he attempted to lead the England squad in a strike in 2003 over Rio Ferdinand being omitted from the side after missing a drug test.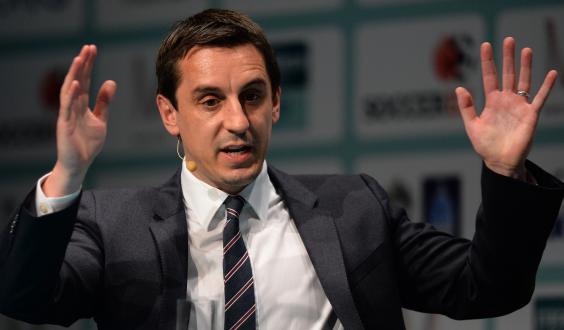 "But this is different," the Sky Sports pundit and England coach said. "It is about smart thinking and players uniting through FIFpro to rid the game of the stain that is currently damaging it.
"Sepp Blatter has reigned over turmoil for years now and he is the man at the top of the operation, but he is still in charge and it is beyond laughable and unprecedented, in politics, sport or industry, where one individual can remain in power like this."
Blatter was elected for his fifth term at the helm of football's governing body in Zurich on Friday despite not gaining a majority vote over Prince Ali bin al-Hussein, his only opponenent.
He had been overwhelming favourite to win despite a week in which 14 current and former Fifa executives were arrested as the organisation faced two separate criminal corruption probes. No charges have been brought action Blatter.
Upon his re-election, the 79-year-old said: "I thank you, you have accepted me for the next four years. I will be in command of this boat called Fifa. We will bring it back off shore."
Reuse content