Having had his role as a TV co-commentator questioned due to his position as England assistant coach, Gary Neville has dished out his first chunk of criticism on a current England player after both Richard Keys and Gary Lineker claimed he may be unable to do so.
Neville claimed goalkeeper Joe Hart had to do better in his attempts to save separate shots from Franck Ribery and Arjen Robben, who both beat the current England number one at his near post.
Having deflected Ribery's effort into the back of the net in just the seventh minute, Neville wasted no time in criticising the Manchester City shot-stopper.
"It's the power of the shot," said Neville. "He's got to do better there, Joe Hart, beaten at his near post. It just goes through his hand. It's not the start Manchester City wanted or the goalkeeper."
And Neville was on the attack again when Robben's 60th minute strike was again palmed into the back of the net by the 26-year-old to give Bayern Munich a 3-0 lead at the time.
"You have to say Joe Hart's got to do better again at that near post," said Neville. "That's twice he's been beaten there tonight. He'll be disappointed again."
Speaking to Jack Pitt-Brooke of The Independent earlier this month, Keys admitted that he saw it hard for Neville to give an honesty opinion when members of the England squad came under criticism for poor performances.
"I don't think he can serve both masters – Sky and England," Keys said. "He was having a little pop at David De Gea and seven days later Joe Hart was every bit as bad and worse, and yet he didn't get out his microscope and dissect his performances. If it was because he's the England goalkeeper, only he can tell us. You can't serve both masters honestly, fairly, and without compromise in my opinion. He's got to do one or the other."
Keys' opinion was mirrored by BBC presenter Gary Lineker, who when speaking with The Guardian admitted that Neville had already shied away from criticising English players in the Premier League.
"He's very good," praised Lineker. "The only difficult thing for him is that when it comes to analysing England players he's involved with them as [an assistant] coach. There have already been a couple of occasions when he's avoided it."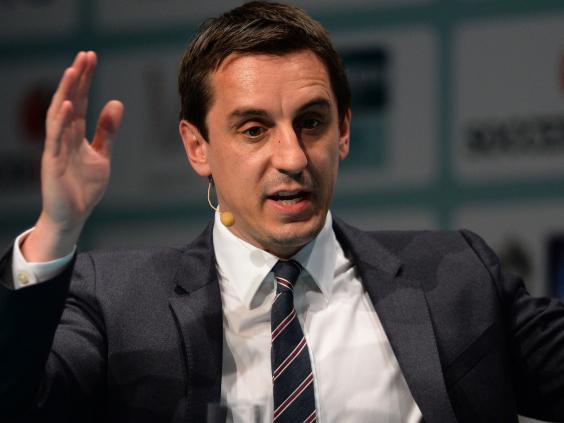 Neville was not the only one to criticise Hart after his display last night, with Keys taking to Twitter to voice his concerns over the City goalkeepers' form ahead of two crucial World Cup qualifiers against Montenegro and Poland.
"I'm sorry. Joe Hart has got to save that. No excuses. He make too many mistakes," Keys wrote on his official account.
There have been call for Celtic 'keeper Fraser Forster to be given a chance with the 25-year-old yet to make his debut for the national side. Norwich number one John Ruddy has also been in the running for a chance between the sticks, while the currently injured Ben Foster has impressed enough for West Brom that he could push Hart for the spot when he returns from a stress fracture in his right foot.
But City boss Manuel Pellegrini refused to individually identify Hart as underperforming, instead choosing to criticise the entire performance by his side in the 3-1 defeat at the Etihad stadium.
"Of course, I'm worried about the mistakes," said Pellegrini. "But I think that was not an easy game. We played against a very strong team. But our performance was not the way we are playing. It is important to think about the future and what the solutions are. I will talk about the team, not individual players. We played really badly. Not the team we see every week in the Premier League.
"I think we started playing well but after the first goal our team felt the goal and started losing the ball. That is very dangerous against this team. The second half we improved with the changes.
"Of course, I was surprised by the game we played today. The goal from Negredo was a little thing in the end of the match."
Reuse content