In a World Cup where almost all the big names have failed to disappoint, it seems only logical that Pepe managed to get himself sent off in his first game of the tournament.
After all the Real Madrid and Portugal centre-back has a proud reputation to uphold, with a history of violence and general stupidity on the pitch stretching back throughout his career.
His 37th minute red card was to many as inevitable as getting sand in your shoes after a long walk down Copacabana beach.
But can the Portuguese defender feel a little hard done by? Was the referee right to send him off?
The incident started when Thomas Muller and Pepe were competing alone for the ball in Portugal's half.
Pepe fairly effectively muscled Muller off the ball, his arms going across the German's chest as he held him off.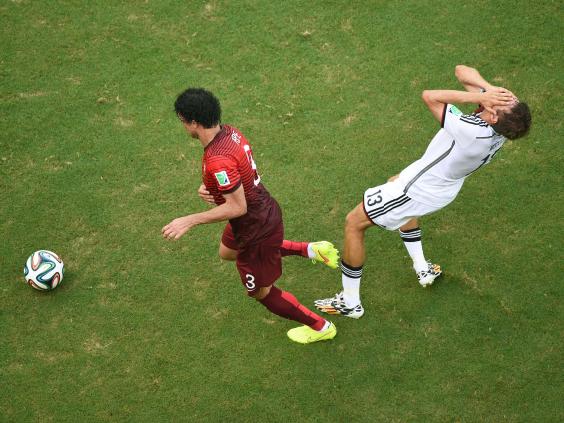 The German forward made the most of the coming together, perhaps knowing Pepe's reputation for hotheadedness, clutching his face and falling to the ground.
With not much in the coming together, it was a fairly cynical attempt from Muller to earn Pepe a booking (at least) - and could in some circumstances perhaps have earned the German a yellow card had things stopped there.
However, unfortunately for Portugal, that was not where things ended. Pepe, slightly less menacing than in his bald days but clearly no less prone to acts of madness, decided the best way to register his displeasure with Muller was to headbutt him as he sat on the ground.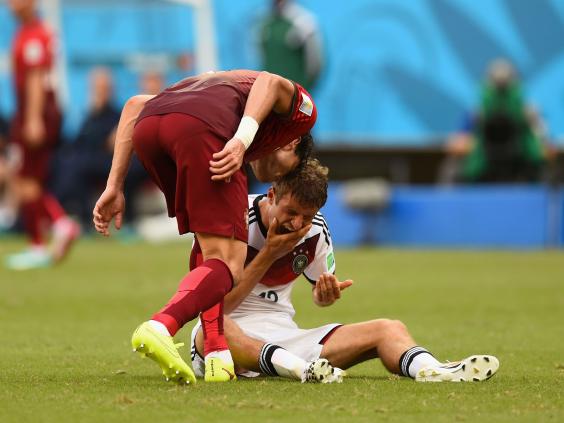 Admittedly as headbutts go it was more Alan Pardew than Duncan Ferguson, but there really isn't another word for using your head to hit another person's head, and it certainly isn't allowed in football.
VERDICT: Definite red card.