In a World Cup that has defied order and logic Germany continued to test both to their very limits last night in Porto Alegre. Joachim Löw's attempt to become the first manager to win it all without a natural striker will roll on to the Maracana and a date with France.
It will do so though, only after surviving an almighty test at the hands of Algeria. Of the six knock-out games already played, just one - Colombia's ousting of Uruguay - could be said to have been decided with the game entering the final minutes. Having watched France flounder before them, Germany danced with death for so long here.
The stands were filled with thousands of German descendants who came from nearby suburbs with names like Novo Hamburgo, the weather was distinctly North London in January rather than South Brazil with grey skies and temperatures barely crawling in double figures. It should have felt like a home away from home away from home for Mesut Özil.
Özil's debut season in English football produced some highlights, some lowlights and a lot of time spent operating in the half-light. It wasn't disappointing, there just weren't enough £42.5million moments to suggest Arsene Wenger had got the bang that matched the bucks he'd finally freed from frugal fingers.
Germany 2 Algeria 1 player ratings
Germany 2 Algeria 1 player ratings
1/23 Manuel Neuer

Perhaps the best goalkeeper in the world right now, Manuel Neuer recovered from a shaky start to deliver a truly commanding performance. 7

GETTY IMAGES

2/23 Benedikt Howedes

Struggled to deal with the pace of Faouzi Ghoulam and was left wanting far too often. Could have cost Germany dearly. 6

GETTY IMAGES

3/23 Per Mertesacker

Isolated by the Algerians as a possible chink in Germany's armour, the Arsenal man's lack of pace was regularly used against him. 6

GETTY IMAGES

4/23 Jerome Boateng

Made a series of awful first-half mistakes but calmed down in the second period. A couple of essential blocks ensure a decent rating. 7

GETTY IMAGES

5/23 Shkodran Mustafi

A surprise choice in the German line-up, the Sampdoria man did a decent job in left-back. Sofiane Fegouli's pace, though, will give him nightmares. 6

GETTY IMAGES

6/23 Bastian Schweinsteiger

Marshalled the play effectively and was one of the major reasons why it'll be Germany who take on France in the quarter-finals. 7

GETTY IMAGES

7/23 Mesut Ozil

The Arsenal playmaker had a difficult night against an Algerian defence intent on muzzling him for large periods. At least got himself a late goal. 6

GETTY IMAGES

8/23 Philipp Lahm

Playing just in front of the backline, the German captain had an important job to do. Faced difficulty preventing Algerian counter-attacks though. 6

GETTY IMAGES

9/23 Toni Kroos

Playing higher up the pitch than usual, to begin with at least, the Real Madrid target was forced to resign to midfield as Algeria began to get a hold of the game. 6

GETTY IMAGES

10/23 Thomas Muller

Could have scored a hat-trick. While his assist for Andre Schurrle's goal is a redeeming factor, this was a poor evening's work. 5

GETTY IMAGES

11/23 Mario Gotze

Played with his usual blend of energy and flair but was faced with a brick wall for much of the game. Couldn't find a way round it. 6

12/23 Andre Schurrle

Best off the bench: Ultimately turning the game on its head, the Chelsea man scored the goal which sent Germany on their way. Having a big hand in Mesut Ozil's winner too, this was a vital appearance from the bench. 8

13/23 Rais Mbolhi

A warrior at the back for Algeria, there is nothing Rais Mbolhi could have done about either German goal. 8

GETTY IMAGES

14/23 Faouzi Ghoulam

Made a magnificent last ditch tackle to deny Thomas Muller in the second half which defined his evening. Was pitch perfect all night. 8

GETTY IMAGES

15/23 Esseid Belkalem

Had difficulty dealing with the tricky style of play utilised by Germany's attacking players but remained strong in the air. 7

GETTY IMAGES

16/23 Rafik Halliche

The Algerian captain led from the back, barking instructions at every stoppage in play, but struggled to deal with players running straight at him. 7

GETTY IMAGES

17/23 Aissa Mandi

Giving Algeria another creative outlet, with a series of magnificent crosses into the box, Aissa Mandi was thoroughly impressive. 7

GETTY IMAGES

18/23 Medhi Lacen

Was the essential cog in the ever-turning machine of Algeria's counter-attacking system. Picked up the ball and got it forward in seconds. 7

GETTY IMAGES

19/23 Sofiane Feghouli

A constant menace, Sofiane Feghouli was regularly seen galloping down the left flank with a twinkle of intent in his eyes. Unlucky not to have scored. 7

GETTY IMAGES

20/23 Saphir Taider

Tasked with pressing the Germans from the right-hand side, Saphir Taider wasn't as effective as his colleague on the opposite flank. 6

GETTY IMAGES

21/23 Mehdi Mostefa

Lucky to have not been sent off, after a series of tackles worthy of a yellow card, Mehdi Mostefa provided a physical edge to Algeria's lightweight set-up. 7

GETTY IMAGES

22/23 Islam Slimani

A threat throughout, Islam Slimani deserved his goal and then some. It's just a shame that it came so late. Bittersweet. 8

GETTY IMAGES

23/23 El Arabi Soudani

Partnering Islam Slimani must have been a pleasure with the amount of chances his colleague created. Unfortunately for Algeria, Soudani couldn't put one of them away. 6

GETTY IMAGES
And that's how it had gone for Özil here in Brazil too, who finally had something to smile about when he scored Germany's second late in extra time. His start-stop displays in the first two games led to concerns. Özil responded by echoing Wayne Rooney's pleas, asking to be put more front and centre against the US, rather than positioned out wide.
"Everyone knows I'm a playmaker," he said. "It is my favourite position but the coach decides on the system. Now I play on the right. I don't have all the freedom."
Instead Bastian Schweinsteiger came into the middle then with Toni Kroos in front of him and Löw again called Ozil ashore early after he had neither improved nor looked like scoring. The manager's eve-of-battle media session here had been peppered with questions over the Schweinsteiger-Sami Khedira dilemma. The feeling though was that Özil had reached the point where another ineffective display would see his place up for grabs next time out.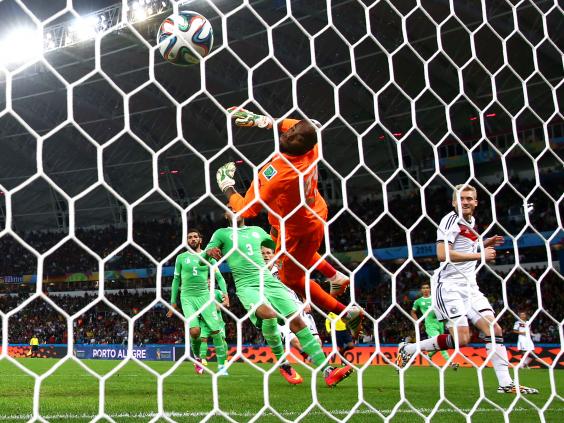 Simply assuming there would be a next time out for Germany though was risky business in a tournament that has left predictions and plain old logic in its wake.
And so it began all over again - for Özil and logic - as Algeria tore into Löw's men from the get-go. Some members of the Africans' squad insisted that the scandal of 1982 would have no impact on this tie, yet they chased down their nemesis of Gijon with the look of men who had three decades of pent-up fury to get out of their system.
The early threats stemmed down Özil's right side where the inexperienced Shkodran Mustafi had come in as part of a defensive reshuffle and was left all too isolated with Faouzi Ghoulam hounding him.
Ghoulam it was who delivered a wicked whipped cross that red-hot commodity Islam Slimani flew at and powered past Manuel Neuer. The opening salvo in a 1982 re-enactment? The linesman said no as he signalled offside. It was a wake-up call but Germany hit the snooze button.
As Algeria continued to pick off passes and counter with crisp control the contrast was stark. Özil switched wings with the all but absent Mario Goetze and finally found joy. Terrific work from Thomas Müller on 24 minutes fed him on the run and his delicate chip caused concern but Rais Mbolhi tipped over. At least he was making inroads. He was about the only one.
Löw responded at the break and brought Andre Schurrle in for Goetze. The Chelsea man shaped to be the biggest threat to Özil's place but now the two were asked to restore order for the Mannschaft.
There was to be little order though. Not on a night like this and certainly not in a cup like this. It was to be Schurrle who eventually made the breakthrough in extra-time to take Löw, Ozil and the whole experiment forward. How far forward remains to be seen.
Reuse content