Ein Land, eine Mannschaft, ein Traum – "One nation, one team, one dream", read the legend on the window of the German team coach which drew up under a slate grey sky here yesterday. Though there is a solidarity within Joachim Löw's ranks, the aspiration to clinch a first World Cup in 24 years is yet to grow from fantasy into deep conviction.
There was certainly bold talk after the second favourite's sensational opening win against the Portuguese. "This is going to be our World Cup," proclaimed the German tabloid Bild, bearing out all the pre-tournament fervour at home. "Germany will be world champions. There's no better than us. The only team who could pose us problems are Brazil," was the pre-tournament assessment of Jürgen Kohler, a member of the class of 1990, who last lifted this prize. "The best squad ever," added Günter Netzer, a former German international and now a media pundit.
But we are still searching for more evidence of German invincibility. Some of the noises emanating from the squad's entourage suggest the multi-million euro training base, Camp Bahia, that the German DFB have built just north of Porto Seguro is too insulated and cut off, while "Jogi" Löw's side have fluctuated between the loose abandon of the 2-2 draw with Ghana and the rather stiff inertia of the win over Jürgen Klinsmann's United States. Löw deployed the energy of Sami Khedira for the former but when he bolstered the midfield with more strategic Bastian Schweinsteiger alongside Philipp Lahm and Toni Kroos for the latter, there was not enough attacking impetus to create any sense of satisfaction. 
Rotating the pair resolves the problem of neither being fully fit. Schweinsteiger has been suffering inflammation of the knee, while Khedira is returning to full strength after six months' recuperation from cruciate ligament surgery.
Schweinsteiger seems a more natural fit for a nation who are a mirror of Bayern Munich and their passing game, and will be preferred against the Algerians tonight, but Dietmar Hamann, a member of Germany's 2002 World Cup final team, is among many who view the nation's dependency on "Schweini" as unhealthy. "He has had a lot of problems with injuries and if he doesn't perform, then Germany cannot win the World Cup – it really is as simple as that," Hamann says.
World Cup 2014: Group stage best XI
World Cup 2014: Group stage best XI
1/11 Guillermo Ochoa - Goalkeeper (Mexico)

The Mexican goalkeeper produced a man of the match display to keep Brazil at bay and has been at the heart of a resolute defence that has helped put the side in the knockout stages.

GETTY IMAGES

2/11 Serge Aurier - Right-back (Ivory Coast)

Reportedly on the radar of several Premier League clubs and you can see why. Provider of some crucial assists already, he has looked a serious talent.

Getty Images

3/11 Rafael Marquez - Centre-back (Mexico)

The veteran centre-back has turned back the years to marshal a disciplined Mexican defence and lead his side into the knockout rounds.

GETTY IMAGES

4/11 Mario Yepes - Centre-back (Colombia)

Another old-timer who many thought had his best years behind him. Yepes has looked solid for Colombia and even managed a marauding run through midfield at one point.

5/11 Daley Blind - Left-back (Netherlands)

The Netherlands man provided the superb assist for Robin van Persie's magnificent header, and Blind has offered a different option with his charges forward down the left-flank. Has the most assists in the tournament so far alongside Juan Guillermo Cuadrado.

Getty Images

6/11 Philipp Lahm - Defensive midfielder (Germany)

The Germany captain had a quiet start to the tournament as he let the attacking-minded players take the plaudits against Portugal. But he has controlled the strings since, completing more passes than any other player, and his versatility means Muller, Mesut Ozil and the likes can push on to leave Lahm marshaling the back-four.

Getty Images

7/11 Arjen Robben - Right-wing (Netherlands)

Robben's pace to blow away Sergio Ramos summed up his performance in the 5-1 dismantling of Spain, as he starred throughout the Netherlands' group campaign. Three goals from his eight shots represents a very solid return.

Getty Images

8/11 James Rodriguez - Right-wing (Colombia)

One of the stars of the World Cup so far, Rodriguez became the Colombian to score in all three of their group games, helping the South Americans to progress to the second round as winners of Group C.

Getty Images

9/11 Lionel Messi - Central midfield (Argentina)

How can you leave Messi out of any best XI? Answer - you can't. Proving the doubters wrong, Messi put in three match-winning performances to help Argentina improve as the tournament goes on and book their spot in the last 16. He takes a roaming midfield role in our XI, but with the way he is playing at the moment, we'll let him play where he wants!

Getty

10/11 Neymar - Left-wing (Brazil)

Brazil's poster boy for the World Cup has dominated the headlines since the tournament began. Two goals against Croatia in controversial circumstances, and another brace against Cameroon sees Neymar level with Messi and Muller on four goals so far. Can the golden boy go on to claim the golden boot as well as the golden trophy?

Getty Images

11/11 Thomas Muller - Centre forward (Germany)

With no recognised striker in their starting line-up, Muller has flourished spearheading a German attack that interchanges position at will. If Germany are to be knocked out, Muller will have to be marked out of the game, as he has already shown this prowess in front of goal if he is given the chance.

Getty Images
Germany's national conversation is also consumed with the question of Löw's decision to deploy Lahm as the central midfielder he has morphed into under Pep Guardiola at Bayern Munich. Hamann is among those who believe that constitutes a risk. Operating there will not be as elementary as it is for Bayern, with their passing game, for the German nation whose route towards the final will grow steeper if they beat Algeria tonight. France, then Brazil, then Argentina or Netherlands lie ahead. "Lahm wants to play in the centre because that's where he has been playing his club football with Bayern Munich," Hamann says. "He should be playing at full-back, which is his best position.
"Lahm has been playing for six or seven months in a new position, but it's not enough time to learn it. It is staggering that he is playing there after just a few months in the role with Bayern Munich. He plays there for Bayern Munich, who have 75 per cent possession in most games. It is different playing for the national team in that role. But he has made it clear he wants to play there. Instead Germany are playing with two central defenders [Jerome Boateng and Benedikt Höwedes] as full-backs."
These issues suggest that this Nationalmannschaft still searching for all the answers and certainly not one without flaws.
The same can be said of many of the nations who aspire to win this competition. No one looks imperious. The winner may be the nation who best shake off their weaknesses, and German confidence is certainly bolstered by Thomas Müller. No one expected the man who once called himself a "Raumdeuter" – space investigator – to put himself in a strong position to win the Golden Boot for the second tournament running. He, Neymar and Lionel Messi have four goals, and Colombia's James Rodriguez five.
The question for Löw is how to deploy him. At Bayern, Jupp Heynckes liked to play him on the right while Pep Guardiola has set him free to roam, with Arjen Robben on the right, though for Hamann, the solution resides in not making his role too complicated.
"He is a clinical finisher playing in a team that creates a lot chances – you could see that with his goal against USA," Hamann says. "He is a very clever player. His biggest asset is his pace and finishing. He is not the most gifted, but I think his best position is up top because he is a goal threat."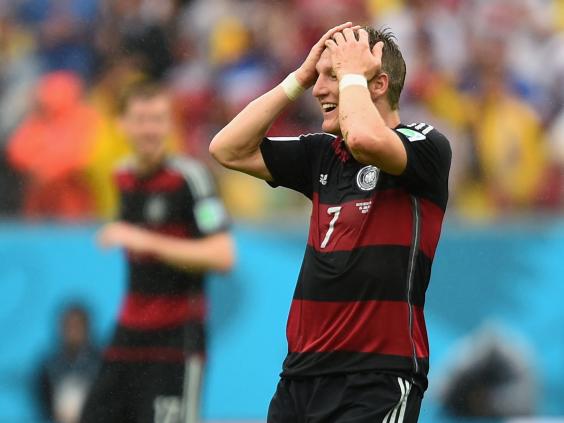 The ice in Müller's veins at the age of 24 gives the former German international most reason for optimism. "Players make the World Cup," says Hamann. "This is the biggest stage and Müller has shown in 2010 and in Brazil that he can handle it. It is seven games of high intensity and the players have to perform at their very best. He is doing that."
Löw is not imbued with a galaxy of talents in reserve. Though there is Toni Kroos and Mario Götze in the squad, seven of the squad have fewer than five caps each. Hamann certainly takes issue with Günter Netzer's talk of the best side ever.
Löw, without Arsenal's Lukas Podolski tonight due to a muscular problem, admits things are not perfect before the match with Algeria – who have revenge on their mind for the so-called no-aggression pact between Germany and Austria in 1982, which resulted in the North Africans' elimination.
"There's been lots of light, but also plenty of shadows; some good things, but also things which didn't work,' Löw said at the weekend. "We won our group, which was our primary objective, so we are happy, but we are also self-critical and we know that we can play better. We've not reached our limit yet."
Reuse content