It was supposed to be Joachim Löw's party but it felt more like Abigail's. The soufflé was flat, the Black Forest gateau was frozen and the world champions, ripped apart by the brilliance of Angel Di Maria, were four down in their own stadium inside 50 minutes.
There was a revival of sorts, with André Schürrle and Mario Götze finding the net, and a lap of honour at the end. Nevertheless, it was a reminder that not everything in football runs to pre-ordained lines.
Argentina got what they wanted – the thin compensation for losing the World Cup. And so did Louis van Gaal. The Dutch are not supposed to enjoy German triumphs and this was an early vindication of his spending £60m on Di Maria.
A game to celebrate the 2014 final finished with an undesirable result for the winners – but this game will be forgotten in time – the World Cup victory in Brazil will live long in the memory in this country.
Every time Germany has won the World Cup it has meant something. The Miracle of Bern in 1954 was a victory for those who had rebuilt the Federal Republic nine years after the smoke cleared from the rubble of the Reich.
In 1990 it seemed a vindication of reunification, albeit they were still playing as West Germany. In his victory speech in Rome, Franz Beckenbauer suggested a reunified nation might dominate football for years to come. In European terms they did but Beckenbauer had reckoned without Brazil, who would play in the next three finals.
This was more reminiscent of 1974 – the Germans do like a year that ends in a 4 – in that it was the team that was being celebrated. Forty years ago they were world and European champions who in the words of L'Equipe "played football as if it were the year 2000".
The irony is that in 2000 the German game had struck rock bottom, forcing the great overhaul that finished with them lifting the World Cup in the Maracana earlier this summer. Löw would remember 2000 as a year in which he was sacked by Karlsruhe after a disastrous attempt to take them back to the Bundesliga. He fled to Adana, a remote Turkish club near the Syrian border. There, he performed even worse. He could not have imagined how his career would turn.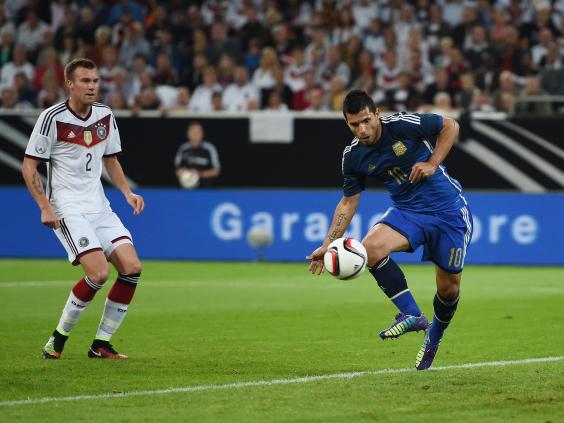 This was not the team that had won in Rio de Janeiro and it did not play like it. Sami Khedira, Mats Hummels and the new captain, Bastian Schweinsteiger, were at the Esprit Arena but only on the backs of shirts that now carry four stars.
There were plenty of Lionel Messis, although the man himself was back in Barcelona.  As Löw had pointed out, nothing Messi could have done here would have wiped out Götze's World Cup final goal, though he might not have expected this.
The way Di Maria and Sergio Aguero combined for a goal scored in Düsseldorf but made in Manchester suggested that however much Messi may fade, Gerardo Martino's side are favourites to win next year's Copa America. The second was even better – a cross from Di Maria, finished brilliantly by Erik Lamela.
Löw brought off Manuel Neuer at half-time for Roman Weidenfeller, who found himself beaten twice inside five minutes.  Federico Fernandez headed the first and then Di Maria, having made three, scored one himself.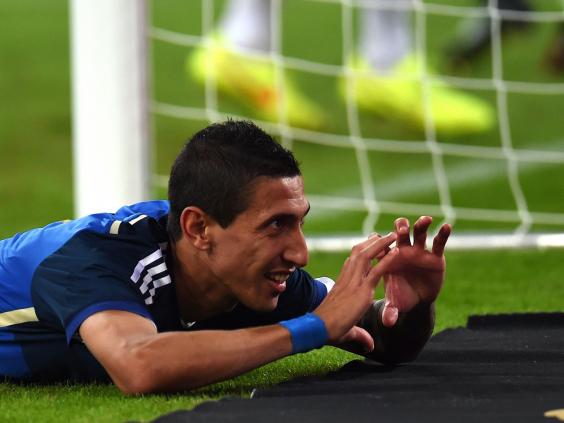 The build-up to kick-off was the pride before the fall. Ten vast national flags paraded in front of the goalmouths, the four stars were displayed along with three-pointed star of Mercedes-Benz, which has been milking its sponsorship of the Nationalmannschaft for all it is worth – which when you think about it is millions. Vauxhall are unlikely to be so lucky with England.
The three who had made the World Cup final at the Maracana their last international – Philipp Lahm, Per Mertesacker and Miroslav Klose – were given an emotional farewell. The boys of 1966, many of whom were given their MBEs decades afterwards and whose leader, Bobby Moore, was shamefully neglected by the FA, might wonder when the applause will fade.