For a time there seemed to be revolution in the air in Brazil this heady World Cup month. Not on the streets, where suffocating policing, home-nation progress and a desire to put on a show meant there was no repeat of the mass protests of last summer's Confederations Cup, but on the pitch.
Amid steaming heat, game after game was thrilling and open. The holders Spain began with a 5-1 drubbing en route to being swiftly dethroned. Two other former kings were bundled out too, as was the reigning World Player of the Year, a lame Cristiano Ronaldo no match for the endless running and can-do enthusiasm of Jürgen Klinsmann and his Americans. With Colombia, Chile and Costa Rica shining, the possibilities seemed endless.
However, as with most revolutions, in the final analysis the new order turned out to look much like the ancien regime. The final is the third such meeting between Argentina and Germany/West Germany. The semi-final quartet had collectively won 10 World Cups and made it to 21 finals.
And yet, even before Germany played like Brazil in 1982, and Brazil like Zaire in 1974, this was a World Cup that did confound expectations.
World Cup finals - In pictures
World Cup finals - In pictures
1/19 1930: Uruguay 4-2 Argentina

The first World Cup final set a tough act for subsequent games to follow. Before a crowd of 93000 adoring fans in the Estadio Centenario in Montevideo, hosts Uruguay trailed 2-1 at half-time against their bitter neighbours Uruguay but clawed their way back to win 4-2. Thousands of Argentine supporters had made the short journey across the River Plate to the Uruguayan capital in the expectation of seeing their heroes victorious. They had to wait a little while, however- the final was delayed after both teams insisted upon using their own ball.

Getty Images

2/19 1934: Italy 2-1 Czechoslovakia

The second World Cup final was the first that failed to be decided within 90 minutes. Again the host nation made it to the final in Rome, where they were watched by Benito Mussolini and tens of thousands of screaming tifosi. The technical Czechs struck first through winger Antonin Puc and held on until the 81st minute, when the Argentine-born Raimundo Orsi curled in an equaliser. With the great Giuseppe Meazza limping, Italy looked in dire straits heading into extra-time- but in the 95th minute they forced an unlikely winner.

Getty Images

3/19 1938: Italy 4-2 Hungary

Paris' Stade Olimpique de Colombes hosted one of the great World Cup games. In their second successive final the Italians took the lead after six minutes after fine play from Meazza. Hungary took just two minutes to level proceedings through Pal Titkos, but in the 16th minute Meazza again turned creator to give Italy a lead they would not let go. With 20 minutes remaining the Hugarian captain Gyorgy Sarosi broke away to make it 3-2, but another Italian goal ensured back-to-back Azzurri world titles.

Getty Images

4/19 1950: Brazil 1-2 Uruguay

This was, up until yesterday, Brazil's greatest footballing tragedy. The hosts were so confident of victory that they hired a samba band to stand by the side of the Maracana pitch, ready to play a new song called 'Brazil the Winners' after their inevitable victory. Things started off well: Brazil took the lead two minutes into the second half, but a quarter of an hour later a resurgent Uruguay equalised. Then, almost unbelievably, with 11 minutes to go they took the lead and held it until the end. A final memorable as much for Brazilian hubris as for the football on display-and an echo of yesterday's loss in so many ways.

Getty Images

5/19 1954: West Germany 3-2 Hungary

The highest point for the 'Magical Magyars' of Ferenc Puskas and Nandor Hidegkuti was also their lowest hour. This is the match known as the 'Miracle of Bern', when the underdog West Germans snuck past a seemingly imperious Hungary side. The group-stage game between the two had ended 8-3 in favour of the Hungarians, who had arrived in Switzerland as the favourites and progressed serenely to the final. Their subsequent 3-2 defeat would go down in history as perhaps the most famous game in the history of German football- and Hungary would never get so close to the Jules Rimet trophy again.

Getty Images

6/19 1958: Sweden 2-5 Brazil

For the fourth time in six World Cups, the hosts reached the climax to the tournament. The final in Solna was a one-sided affair as the Brazilians ran riot, putting five past the Swedish goalkeeper Kalle Svensson. Pelé netted twice to add to a brace from Vava and a goal by the 'Little Amnt' Mario Zagallo, later to become a World Cup winner as a coach. The final was overshadowed in quality by a memorable semi between Brazil and the brilliant French led by Juste Fontaine.

Getty Images

7/19 1962: Brazil 3-1 Czechoslovakia

Brazil lacked their icon for this final in Santiago. But in Pelé's absence Garrincha starred, scoring four times including a crucial goal in the final in which Brazil trailed. As they had four years earlier they hit back almost immediately through Amarildo, brought into the side earlier in the tournament following Pelé's injury. The game ended 3-1- not a classic like some of the earlier finals, but memorable in a sense for the manner in which the Brazilians rallied without their star. Another unfortunate parallel with 2014…

Getty Images

8/19 1966: England 4-2 West Germany

The most famous final of all, for those of an English persuasion. Nearly half a century on no England team has come close to emulating Alf Ramsay's 'Wingless Wonders', who beat West Germany 4-2 at Wembley through Geoff Hurst's hat-trick- still the only treble ever scored in a World Cup final- and that much-disputed third goal that many Germans still claim never crossed the line. This was a thrilling final made greater by its position within our national footballing consciousness, as well as the failures of subsequent generations to live up to its legacy.

Getty Images

9/19 1970: Brazil 4-1 Italy

Perhaps the greatest World Cup final ever from a neutral standpoint. The best Brazilian side in history demolished the Italy of Facchetti and Rivera in the pounding heat of Mexico City's Estadio Azteca- but the game will always be remembered for the fourth and final Brazilian goal. Eight Brazil players touched the ball in the build-up before Pelé drew the defence and slipped a pass to Carlos Alberto, who hammered a low shot into the far corner.

Getty Images

10/19 1974: West Germany 2-1 Netherlands

The one the Dutch let get away- and have regretted ever since. The 1974 final pitted the Netherlands of Cruyff, Neeskens and Krol against Beckenbauer and Gerd Müller- and it was one for the ages. The Dutch struck first and appeared to be in control- until their grip on the game hardened into arrogance and the Germans struck back with a hotly-disputed Paul Breitner penalty. Then Müller won it with the kind of poacher's goal that was his hallmark- and in doing so, left an indelible stain on the Dutch footballing mentality that persists to this day.

Getty Images

11/19 1978: Argentina 3-1 Netherlands

A last, glorious bow for the great Dutch side of the 1970s- and a controversial victory for Argentina in a World Cup where the Argentine military junta were never far from proceedings. Mario Kempes scored twice, one in normal and one in extra-time and was named man of the match. But the Dutch accused the Argentines of underhand tactics- this final is remembered for the oppressive atmosphere that surrounded it more than the sporting spectacle.

Getty Images

12/19 1982: Italy 3-1 West Germany

An iconic final, if only for Marco Tardelli's celebration of manic joy upon putting Italy 2-0 in front. West Germany were never in the game, and Paul Breitner's 83rd minute strike was hardly even a consolation. At 40, Dino Zoff became the oldest player to win the World Cup after one of the most memorable finals in the tournament's storied history.

Getty Images

13/19 1986: Argentina 3-2 West Germany

It seems strange to say given their unerringly consistent record, but Germany were persistent failures at World Cups in the 1980s. In the same Estadio Azteca that had hosted the 1970 final they fell behind to a Jose Luis Brown goal. Their sense of doom was compounded after Diego Maradona played Jorge Burruchaga in for the winning goal with a pass plucked from genius' pocket- before that the Germans had scored twice to level the final from a seemingly impossible position.

Getty Images

14/19 1990: Argentina 0-1 West Germany

Their final four years before had been one of the best ever- but the rematch was as dour as 1986 was vibrant. The Argentines ended with nine men after Monzon and Dezotti were dismissed, in a bad-tempered final that was a microcosm of a cynical tournament. Full-back Andreas Brehme scored the only goal of perhaps the first 'bad' World Cup final.

Getty Images

15/19 1994: Brazil 0-0 Italy (a.e.t., Brazil win 3-2 on penalties)

The first final to end goalless after normal time- and the first to go to the great lottery of the penalty shootout. USA 94 pitted Dunga's uncompromising and tactically-savvy Brazil against an Italy inspired by the 'Divine Ponytail', Roberto Baggio. It was Baggio's penalty miss that decided the final- he blasted the ball far over the bar into the Californian sky. It's an image with which one of the world's great players will forever be unfairly tarnished. The final itself, as the scoreline suggests, was the second dull one in a row.

Getty Images

16/19 1998: France 3-0 Brazil

The intertwining storylines in this one far outstrip the quality of the game itself. Zidane inspired the French to a veritable stroll of a victory, but the real drama was played out before the match. Brazil's star, Ronaldo was unwell yet was forced to play- by the team, by the sponsors or by himself, or perhaps a combination of all three- and in the game he was a ghostlike influence as his side were pulverized by the Tricolores.

Getty Images

17/19 2002: Brazil 2-0 Germany

The 2002 final brought a comprehensive victory for a Brazil side carried to victory by a rejuvenated Ronaldo. It was comprehensively dull, too- Germany had scraped their way to get there bbut in the game itself they barely had a sniff. We're now well within the sequence of poor-quality finals.

18/19 2006: Italy 1-1 France (a.e.t., Italy win 5-3 on penalties)

Somehow, Marcelo Lippi and Fabio Cannavaro dragged Italy kicking and screaming to a third world title after a buildup dominated by revelations from the Calciopoli scandal. The final could best be described as middling- the real action occurred within the space of a mad second as Zidane signed off his international career in violent style with a ram-like headbutt to the chest of Marco Materazzi, who had earlier opened the scoring for Italy.

Getty Images

19/19 2010: Spain 1-0 Netherlands

Andrès Iniesta's extra-time strike settled what was less a football game than a recreation of the Trojan War. Having decided there was no way they could compete on footballing terms, the Dutch instructed Nigel de Jon and Mark van Bommel to act as trained assassins-the studded chest of Xabi Alonso was the natural outcome. Not a fondly-recalled final.

Getty Images
As hosts, if not performers, Brazil defied forecasts of doom and staged a tournament that worked. There have been occasional tales of ticket problems, some travel delays, and more rain than most visitors expected, but the infrastructure coped. Crime appears to have been light – at least in the areas World Cup officials and tourists go – and though a bridge tragically collapsed in Belo Horizonte, none of the stadia fell down.
Not that all has been plain sailing. The glaring absence of black faces at matches has been noted, with ticket prices effecting a form of economic apartheid. Reservations over the financial and social cost of staging the finals have not been abated. Indeed, for many western observers there was an obscene contrast between the grandiose stadia, some of which are already white elephants, and the grim struggle of many people's daily lives.
If any good comes of the tournament in that respect, it is that the global exposure of favela residents' desperate circumstances may belatedly shame the authorities into redemptive action. Ian Herbert's report in these pages of the death toll related to something as basic as the failure of state-owned companies to hook up communities to legitimate power sources ought to have been a sobering read for those responsible. If, when the Olympics come to Rio in two years, the same articles need writing, the Brazilian government will have failed their people – again.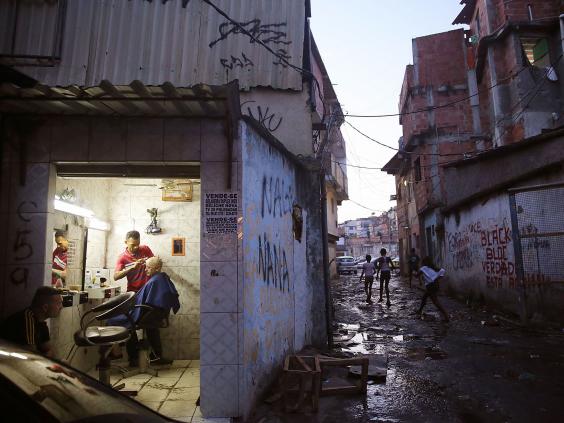 In the great old tradition of "bread and circuses" dating back to Roman times, President Dilma Rousseff will have this year hoped for a sixth World Cup triumph to distract the impoverished masses. For a while it seemed her prayers could be answered but the Selecao's disintegration in the Estadio Mineirao put the focus back on to Brazilian failings.
It is not just socio-economics under the microscope. In a refrain familiar to English ears, some pundits, including ex-player Juninho, saw a silver lining in the 7-1: now, they said, Brazilian football must conduct much-needed root-and-branch reform.
There is not space here to go into the problems of the Brazilian game, but one aspect is relevant. This tournament has confirmed the sorry reality that the jogo bonito now exists only as a marketing concept. Luiz Felipe Scolari's Brazil betrayed their heritage. Not only were they over-reliant on Neymar (below) for inspiration (even Oscar seemed reduced to the role of water-carrier), their cynical attempt to stop James Rodriguez playing was shaming. What does it say when Brazil fear being outplayed at home by Colombia?
Sadly it was Neymar who paid the high price when Colombia responded in kind and he suffered one of the worst injuries of the finals. Responsibility for this, and Rodriguez's treatment, must ultimately be laid at Fifa's door, for it was they who instructed referees to take a laissez-faire approach to fouls. There are wrong priorities when Luis Suarez is banned for four months from all football activity, and slapped with a nine-match suspension, for a bite that did not cause injury, yet reckless tacklers who endanger players' careers get one-match bans. Red and yellow cards are at their lowest level since the 1986 finals and it is the entertainers who have suffered.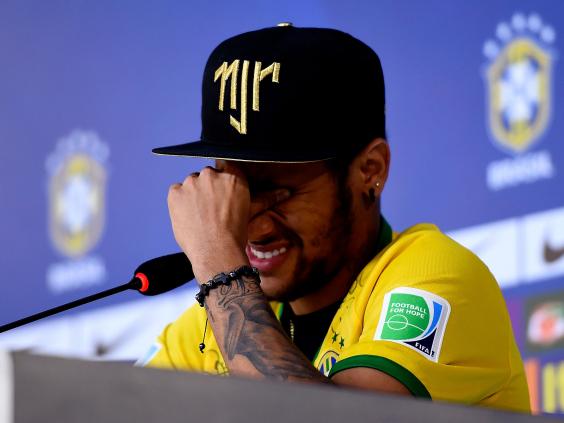 Not that this had any relevance to the holders' exit. That Spain were jaded was clear before the finals but, despite the clues provided by the Champions League failure of Barcelona and Pep Guardiola's Bayern Munich, no one expected that their brand of possession football would be so thoroughly swept aside. It was not just Spain. In game after game possession percentages proved football statistics are meaningless without context.
Brazil 2014 will be remembered for fast-paced matches – despite a stifling climate at many games – often with teams pressing high, for superb close control and quick passing. Germany, Chile and Colombia have been the best exponents, with the Netherlands, Costa Rica and Mexico very good tactically. France shone briefly while the US showed that effort and desire can take a team a long way.
It was a decent tournament for teams from the Concacaf region but a relative geographical familiarity, and the fact their star players were often goalkeepers, suggests this will not necessarily come to be regarded as a breakthrough tournament.
Asia's campaign was disastrous. The region provides 60 per cent of the world's population and key Fifa sponsors, but South Korea, Japan, Iran and Australia collectively lost nine games, drew three and won none.
Africa could point to second-round qualifiers in Nigeria and Algeria but in truth it was a poor tournament for the continent, with the turmoil surrounding Ghana and Cameroon reviving all the old cliches about African football. In many countries, administrative reform is desperately overdue.
The same can be said of Fifa who began the tournament under fire but must have thought they had escaped once the attention turned to the matches. Then came this week's twist in the tale when the local police decided to look into ticket re-selling. We wait to see what happens, but the Brazilian authorities may have over-turned a very large stone.
England, as usual, looked short of quality and depth. With better fortune they might have qualified for the knockout stages, but it would only have delayed the inevitable. Defensive players continue to look very uncomfortable in possession, midfielders lack game intelligence, and while there is potential in the forwards, there are no guarantees it will be realised.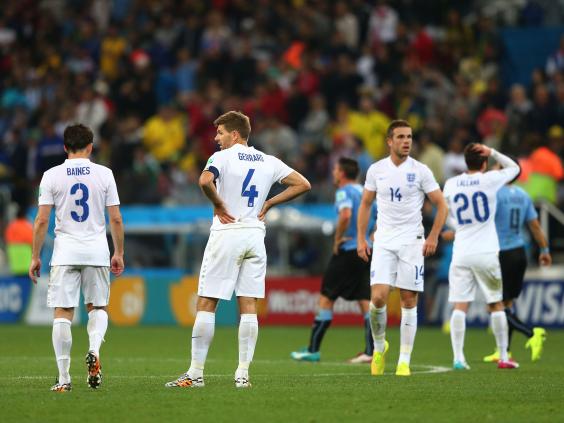 Wayne Rooney at last scored in a World Cup, and is up with the nation's current best, but to watch the likes of Lionel Messi, Rodriguez, Arjen Robben, Toni Kroos, Bastian Schweinsteiger, Philipp Lahm and others is to realise what "world class" really means.
It is no coincidence that many of these players are German, or that Joachim Löw's team are in the final against Argentina. This is a country in which the club and international game work together, not with distinct agendas. It can be done.
As a result we have a final that pits the best team against the best player in a clash of continents and styles. It is a fitting climax to a month that has captivated the globe and proven the World Cup remains the game's grandest stage.
Reuse content