After 31 days and 63 matches it has all come down to this: a squad defined by their team collective take on a squad defined by an individual. This German generation await completion; Argentina's Leo Messi awaits coronation.
That contrast does not just condition the game but the moods ahead of it. "We're in top shape," Bastien Schweinsteiger declared on the eve of the final. "I just have a good feeling about tomorrow. There's huge anticipation. We have no pressure.''
If Germany are engendering a mood of relaxation, Argentina are all about resilience. Beyond Messi, the South American side have struggled to find the same fluency as Germany, but that in itself has created a more epic sense of struggle around their roughly-hewn path to the Maracana. The relief can be seen in the mixed zones after every anxious win, with the drive to rectify 24 years of underachievement becoming all the more overarching. The emotion was evident on Javier Mascherano's face after the semi-final win over Holland, and could be heard in his words.
"The special thing is to be in the final. It's a delight, a delight that lifts your soul," he said. "It's something you can't explain, something I never imagined, but there we are."
Accompanying them is a deeper sense of emotion, of narrative force, not least because of all the discussion about Messi finally replicating Diego Maradona.
It's different with Germany.
World Cup 2014: 20 things we learned
World Cup 2014: 20 things we learned
1/20 Red faced

Vincent Tan, owner of relegated Cardiff City, is proved wrong again: red shirts do not increase the chances of success. Red was the most popular first-choice shirt colour in the tournament. Nine teams picked it, yet five, including big guns Spain and Portugal, failed to get out of their groups. Two more fell in the second round, and the furthest any crimson campaigners got was the quarter-finals – Ivory Coast and Belgium.

GETTY IMAGES

2/20 Don't get carried away

Not for the first time at a World Cup, the number of goals (added to by Netherlands' 5-1 thrashing of Spain) in the first round sparked talk of a new record. But the group stages are no guide for the latter rounds, and the goal rush dried up once the sudden-death reality of the knockouts took hold.

Getty Images

3/20 Letter of advice

To succeed in these finals you needed your nation's name to start with a letter in the first half of the alphabet, Algeria (pictured) being the most surprising. Of the 32 nations, only nine started with a letter in the latter half of the alphabet. Of those, five got through to the second round, but out of eight quarter-finalists only Netherlands represented N-Z.

Getty Images

4/20 Well done Jose

For Jose Mourinho to get £50 million from PSG for David Luiz looks great business. The Chelsea manager's chief concern was always the Brazilian centre-half's defensive ability, and the semi-final against Germany, when he effectively abandoned his post, graphically proved Mourinho's point.

GABRIEL BOUYS/AFP/Getty Images

5/20 Spain lacked energy

Spain's feeble performance, especially against the Netherlands, proved that at the top level age isn't as important as freshness. Many of their players are in their prime and playing for top clubs. And it was not exactly an old team. But success can sap a player's energy as much as age.

GETTY IMAGES

6/20 Europe can win away

The fact that this World Cup was only a Javier Mascherano tackle and a penalty shoot-out away from being a third successive all-European final shows the old belief that only South American teams win on that continent needs updating. It wasn't the climate that prevented the Netherland's best player, Arjen Robben, scoring a late winner against Argentina.

Getty Images

7/20 Hair cuts both ways

The jury is out on whether changing your hairstyle aids success. Ronaldo's zig-zag didn't help him or Portugal, while Neymar's blond tint presaged his injury and Brazil's 1-7 thrashing. But Argentina defender Martin Demichelis has been reborn as a player since he lost his ponytail. The newly shorn Marouane Fellaini must be hoping for the same at Old Trafford.

Getty Images

8/20 Messy not Messi

The "vanishing foam" may have kept defensive walls back 10 yards at free-kicks, but it did nothing to help the free-kick taker strike the ball cleanly. The ball had to be kicked through the ring of foam circling the ball, splattering it everywhere.

Twitter

9/20 Money talks in Africa

Nigeria's Stephen Keshi (above right) became the continent's first manager to reach the second round, where there were two African teams for the first time. It should have been a landmark tournament; instead three federations got involved in financial disputes as the old problems resurfaced.

GETTY IMAGES

10/20 A star is born

Given the media globalisation of the club game, it seemed rather old-fashioned to imagine a hitherto unregarded player making himself properly known at a tournament. But in this World Cup James Rodriguez (right) of Colombia has gone from the fringes of the elite to worldwide superstar.

11/20 Referees became softies

Allegedly on Fifa orders, so many fouls went unpunished by a book- ing for the perpetrator. The statistics also suggest leniency: 10 red cards (above) is fewer than any finals since 1986.

Getty Images

12/20 Fifa's timely earner

The game's governing body may be a "non-profit organisation", but they are still very good at earning. That could be seen every time the sponsored watch-shaped stoppage-time board (above) was held up by the fourth official.

GETTY IMAGES

13/20 Corners are key

Set-pieces are supposedly the weapon of choice for weaker teams, but much of Germany's potency derives from them. For all the squad's talent, the key opening goals in both their quarter-final and semi-final were from corners.

GETTY IMAGES

14/20 Rotation is crucial

The three best-performing semi-finalists all shared one trait: they changed either formation or line-up in every match, making them very difficult to work out. It was a factor in why Argentina-Netherlands was so tense, and one explanation why Brazil fell apart. Without Neymar and Thiago Silva, they could not adapt.

GETTY IMAGES

15/20 Club and country

A club season is no guide to World Cup form. Steven Gerrard was immense for Liverpool, anonymous for England. On the other side of things, there is Sergio Romero . The goalkeeper only made three appearances for Monaco last season but has been one of Argentina's stars.

Getty Images

16/20 Asia still minor

So much for the breakthrough of Asian football. All four teams finished bottom of their groups, without a win between them. It was so bleak that the South Korean Football Association even offered a collective bow of apology.

GETTY IMAGES

17/20 Oh lucky man

The records show that England had the seventh worst campaign of the 32 teams. Unlike those who outperformed him, such as Greece's Fernando Santos and even Japan's Alberto Zacceroni, Roy Hodgson has stayed in employment.

PA

18/20 Shoot-out kings

Argentina 1990 remain the only side to have won two shoot-outs in the same World Cup. So it was perhaps fitting that it was Alex Sabella's side who prevented the Dutch team from emulating them (above). Argentina never looked like losing from the moment of the first penalty.

19/20 Tweet tweet

The second semi-final offered a first, as Argentina tweeted their list of penalty takers. It almost felt like they were calling Louis van Gaal's bluff. It's hard to say whether it was a factor, but it did reflect how this World Cup has been dominated by social media.

20/20 No new balls please

Complaints about the ball have always been one of the tournament's clichés, but not this time, with a complete absence of discussion about it. The ball is doing exactly what it is meant to, meaning attackers are more comfortable with it.

PA
None of this is to fall back on the classic clichés about their teams just doing their job, but they've had a contrasting route here. While Argentina have had to fight with every step, Germany have gradually begun to soar. The trajectory of their World Cup performances also reflects the rise of the last decade, as if this final is the inevitable consequence of the structural changes implemented in 2000.
"We have players right now who are playing at their peak," Jogi Löw, the manager, said on the eve of the final.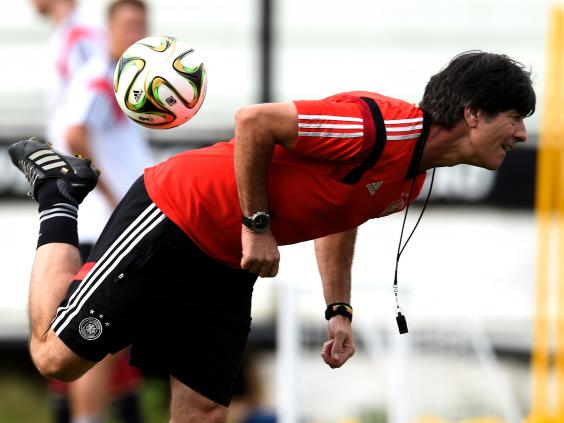 That is not to say Germany have not worked to get there. It would be a huge mistake to think otherwise. The point is the work done 12 years ago has facilitated the apparent ease and smoothness of their play.
Like the Spanish before them, Germany's coaching revolution and the way in which they bring through young players affords them a team cohesion beyond pretty much any other national team. It is a cohesion Argentina could never hope to reach without the same deeper long-term transformation, so Alejandro Sabella, their manager,  has constantly had to figure out a different way.
Germany's performance against Brazil reached a different level. There was no better display of the merits of their overall football culture. There may be no better display, full-stop.
From very early in that semi-final, there was a sense of their performance coming together to produce a high quality of execution so rarely achieved. Brazil may have buckled, but Germany brutally produced their absolute best.
Once Thomas Müller had scored the opening goal from the rehearsed work of a set-piece, there was the excellence of Philipp Lahm's tackle through to the effortlessness with which they interchanged and evaded Brazilian defenders. By the time Toni Kroos had dispatched a volley past Julio Cesar without a split-second's hesitation, they were on that elusive plane of performance where everything just works. The fact Miroslav Klose broke Ronaldo's World Cup scoring record and they achieved the highest semi-final win emphasised the scale of the performance.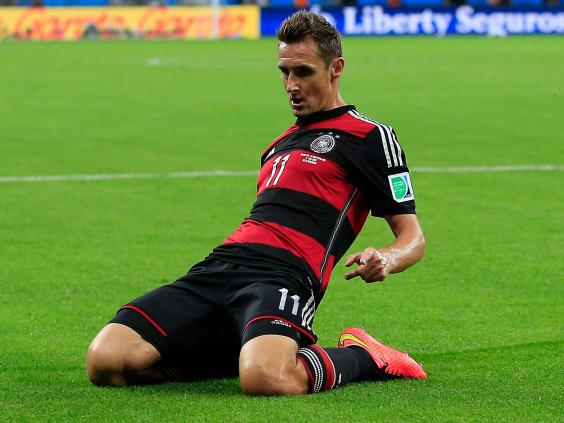 "That was perfection," Franz Beckenbauer said. It also shifted the central issue of this final from stopping Messi to stopping the force of inevitability, the idea of a grand project coming to fruition.
"We just have to tap into our potential," Schweinsteiger said, with Löw repeating the same phrase.
"We believe if we can impose our game, we will win."
That is difficult to dispute. The one potential problem is whether that has all come to fruition at a fractionally inopportune moment. The one issue with perfection is that it is virtually impossible to maintain and can create challenges of its own.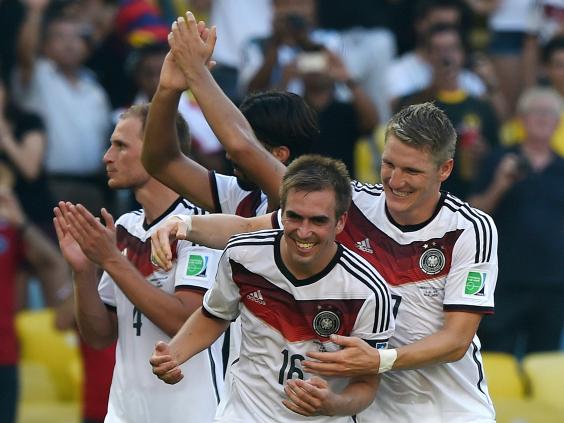 There is something universal about a group suffering a hangover after such a heady night. On the other side, there is sheer disruptiveness of Argentina's bloody-minded ability to dig in. Schweinsteiger pointedly described Mascherano as "the leader of a pack of wolves." Argentina have often shown a feral response to the idea of being beaten, and tomorrow is likely to be no different.
"The team puts their lives on the pitch. They kill for each other," the goalkeeper Sergio Romero says.
Mascherano struck a similar tone. "We need to be narrow and we need to be compact."
The issue of Germany's level adds another layer to the match. Löw is clearly excellent at creating an attack, but has always had something of a blind spot with backlines. That rarely matters if Germany are on form, but becomes a formidable issue when they are not. If the latter is the case, it will mean Löw simply has to come up with something to stop Messi. That is a fearsome task, as so many have found.
It was put to the German manager, how devastating the No 10 can be. "We don't have any fear whatsoever," he said. "It is a matter of winning. We know we can write history."
Reuse content