For all the talk of Lionel Messi's magic, Alejandro Sabella's unsung heroes are just as vital to their hopes of glory
Ezequiel Garay
Garay has always threatened to be among the best centre-backs in the game, and now, on the eve of the World Cup final, he is close to winning the big prize at least. Garay's club career has never quite delivered on his obvious talent. He left Benfica this summer for Andre Villas-Boas's Zenit St Petersburg, after three years in Lisbon in which he was on the losing side in two Europa League finals, winning just one league title. During his spell at Benfica, Garay did at least show the poise, natural reading of the game and athletic ability that made him such a celebrated youngster, and which finally secured his place in the Argentina side.
Lucas Biglia
Javier Mascherano has been heroic in the Argentina engine room, but he has been ably helped out by willing assistant Lucas Biglia, an honest, hard-working combative player who has usurped the rather more refined Fernando Gago in Argentina's last few games. Like many of those in Alejandro Sabella's team, the 28-year-old Biglia's club career has been admirable but unremarkable. He plays his club football for Lazio, whom he joined last summer after seven seasons at Anderlecht. He won four Belgian titles, but was always looking for a step up to a bigger league.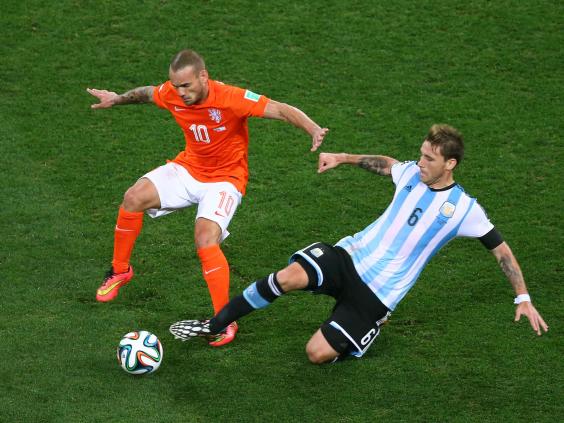 Rodrigo Palacio
With Sergio Aguero injured and Carlos Tevez out of favour, Argentina have had to look elsewhere to bolster their attacking options. Sabella has turned to Rodrigo Palacio, a rather limited scurrier who came on against the Netherlands on Wednesday, causing some problems in extra-time.  Palacio is recognisableby his rat-tail hairstyle. Unlike many Argentine players, Palacio did not leave to play in Europe until the age of 28, but in five seasons in Italy – three with Genoa and two with Internazionale – he has been a success, scoring 17 Serie A goals last season, as many as Argentina's main striker Gonzalo Higuain at Napoli.
Marcos Rojo
In an Argentina team rather short on pace and width, powerful young left-back Marcos Rojo has provided both. Operating up and down the  left-flank, Rojo has tried to replicate what the far more familiar Pablo Zabaleta gives them on the opposite side, and has often been let down by the lack of bodies in the opposition's box. Rojo started off at Estudiantes and, as is increasingly common, was picked up by an eastern European club – Spartak Moscow. After one year there he joined Sporting Lisbon, and at 24 must be a likely target for one of Europe's elite clubs.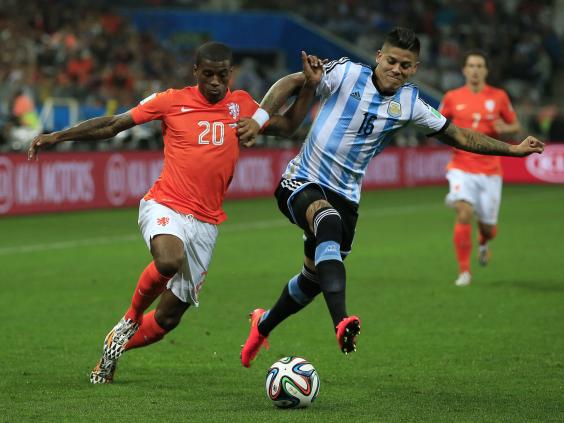 Enzo Perez
The very difficult task of replacing the brilliant Angel di Maria has fallen to Enzo Perez, who came on for him against Belgium and kept his place for the semi-final. Perez does not have Di Maria's pace or technical ability but is a hard-working and selfless player, who characterises the reliable values of this Argentina team. It is no surprise that Sabella trusts Perez: he was in the Estudiantes midfield, along with Juan Sebastian Veron, when Sabella led them to the Copa Libertadores in 2009. No-one else from that side is in this Argentina team. Perez now plays for Benfica, and he won Portugal's player of the season this year.
Sergio Romero
Romero was the hero of the semi-finals, saving two of the Dutch penalties to win the shoot-out for Argentina. The 27-year-old was presented with the match ball afterwards, saying it was the best moment of his career, coming at the end of an emotional season in which he played just three league games. Romero went out on Monaco from Sampdoria, but had been barely involved, having been first choice at Sampdoria for the past two seasons. Before then he had won the Dutch title with AZ Alkmaar, managed by a certain Louis van Gaal.