For a player who has not shown a single second's doubt or hesitation during this World Cup, Javier Mascherano's mindset is somewhat surprising.
The 30-year-old is talking about the moment that saved Argentina's entire campaign, and the thoughts running through his head as the events unfolded before him.
In the 90th minute of Wednesday night's semi-final against the Netherlands, Arjen Robben executed a  gloriously quick exchange with Wesley Sneijder to finally put one of this tournament's finest attackers through on goal. Robben suddenly left the Argentina backline behind him and seemed set to  finish them. But Mascherano trailed in his wake.
Given Robben's pace and pedigree, it all seemed so certain. Mascherano was not thinking any differently.
"It was terrible," he says. "I thought I'd slip, I thought I wouldn't make it, I thought he'd get ahead of me. I thought so many things."
Netherlands 0 Argentina 0 player ratings
Netherlands 0 Argentina 0 player ratings
1/22 Jasper Cillessen

Kept starting place after being taken off for Saturday's spot-kicks. Held on to a Messi free-kick and displayed fine turn of feet but had little to do. Didn't save a penalty. 6/10

Getty Images

2/22 Ron Vlaar

Aston Villa man came through injury worry and was strong as he relished physical battle in the rain. Positionally superb and put his body on the line. Weak penalty was saved in the shootout. 8

Getty Images

3/22 Bruno Martins Indi

Offered further muscle at the back and often resorted to pulls and checks to stop danger of Messi. Booked and replaced at the break by Janmaat. 5

Getty Images

4/22 Stefan de Vrij

Has come of age in these finals and continued to display calm authority in a defensive match. Strong challenge on Lavezzi went unpunished. 7

Getty Images

5/22 Dirk Kuyt

Mr Utility was switched to the right on his 102nd appearance for the national side. Adapted well and shut out Messi before moving over to the left. 6

Getty Images

6/22 Georginio Wijnaldum

Clashed heads with Mascherano but again unable to bring domestic form to international scene. All too often wasted momentum of Dutch attacks. 5

Getty Images

7/22 Daley Blind

Struggled to repel Argentina attacks down his side before being moved further back after the break as coach Louis van Gaal reshuffled.6

Getty Images

8/22 Nigel de Jong

Brought back into side a week after being ruled out of tournament. Did a fine job on containing Messi, keeping on the right side of the law – just. 7

Getty Images

9/22 Wesley Sneijder

Minimal impact on proceedings before the break and left field briefly for treatment. Failed to trouble Romero with free-kick after interval. Had his penalty saved in the shootout. 6

Getty Images

10/22 Arjen Robben

Flying Dutchman was grounded before break, touching the ball just six times. Improved in second half; denied at the last by Mascherano's challenge.6

Getty Images

11/22 Robin van Persie

Was he ever likely not to make the match? Just beaten to ball by Garay when poised to go clear but often left marooned up front. Hooked over.6

Getty Images

12/22 Sergio Romero

Made strong clearances after Dutch took time to find their feet. Liked to punch rather than catch but was confident. Was the hero in the shootout. 7

Getty Images

13/22 Pablo Zabaleta

Eager to advance but struggled to penetrate massed defence. Sprayed wide to Lavezzi to spark attack but gave away one dangerous free-kick.7

Getty Images

14/22 Marcos Rojo

Returned after missing win over Belgium through suspension. Got forward well but overhit ball at times. Late shot claimed easily by Cillessen.7

Getty Images

15/22 Ezequiel Garay

Displayed bravery in heading over from close range in midst of Vlaar's swinging foot. Cleared well from Van Persie and equally adept with just the one boot.7

Getty Images

16/22 Martin Demichelis

Manchester City stopper escaped card for swipe at Sneijder before being booked for holding Robben back. Has had a fine tournament.8

Getty Images

17/22 Javier Mascherano

Fell back to allow Rojo and Zabaleta forward. Left sprawled out after clash of heads with Wijnaldum. Sublime saving tackle on Robben late on.8

Getty Images

18/22 Lucas Biglia

Snuffed out danger as Robben broke free early in the second period. Crunching tackle on Janmaat ended with Lazio man clutching his arm.6

Getty Images

19/22 Enzo Perez

In-demand Benfica maestro was quick to settle and buzzed around Dutch penalty area in impressive display. Inswinging cross wasted by Higuain.7

Getty Images

20/22 Ezequiel Lavezzi

Delivered fine cross that Higuain was unable to reach. Lively down the right and was Argentina's main threat without producing telling final7

Getty Images

21/22 Lionel Messi

Fired free-kick straight at Cillessen but shadowed by Nigel de Jong. Sent fine ball to Perez before ballooning over and faded badly after interval.6

Getty Images

22/22 Gonzalo Higuain

Caught offside too easily and beaten to header by Janmaat. Had to work hard to get any joy out Vlaar and stabbed into side netting from close range.5

Getty Images
In the end though, none of those thoughts mattered. His actions, once again, were all that counted. "But I did get there," Mascherano says, with a quiet satisfaction, "and it wasn't a goal."
The defensive midfielder somehow capitalised on a split-second's awkward slip by Robben to throw his body forward and get the crucial touch to foil a goal.
It may well have been the tackle of the tournament. It may well have come from the player of the tournament. While Lionel Messi will continue to get attention ahead of Sunday's final, it is  Mascherano who best defines the resilience and durability of this Argentina side in making it there.
They have still not fully convinced in this World Cup, but have compensated by really knowing how to dig in and fight. Seen as Alejandro Sabella's "on-pitch manager", Mascherano sets that tone.
He is prepared to go the distance, to feel the pain. Wednesday night was an almost literal example.
Mascherano's early head injury may have received most of the attention, but he was preoccupied with pain in another part of his body.
"I don't want to be rude," he says with a smirk about the stretched challenge that stopped Robben, "but I opened my anus."
It is quite an image. Mercifully, there are many more images from the night that overshadow it.
Before the penalty shoot-out, there was the sight of Mascherano grabbing  goalkeeper Sergio Romero and telling him "Tonight, you make yourself a hero". After it, as every other Argentina player sprinted forward in utter jubilation, the midfielder sank to his knees.
"We did the job," the former West Ham and Liverpool man said, before repeating the words. "We did the job."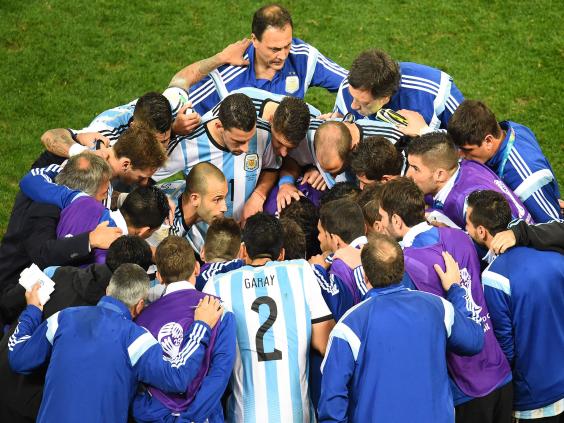 It is little wonder Sabella described the player as "a symbol, an emblem" for the team. "He's a huge influence on our squad," the Argentina manager said of Mascherano. "Reaching the semi-finals took a huge weight from his shoulders."
That sense of redemption and delivery was another  sentiment frequently expressed by Mascherano after Wednesday night's shoot-out win. Having made his debut in 2003, he has endured Argentina's recent history of underachievement more than most. His 11 years with the team have coincided with the longest the country has ever gone without winning a trophy. It is now 21 years.
On Sunday, against Germany, they have the chance to rectify that, and Mascherano is determined to seize the moment – and appreciate it.
"I have had 11 years where we have seen a lot of things but haven't seen the light," he says. "Tonight, we started to see it."
It's quite a poetic statement from a player most notorious for applying the game's darker arts. Yet, despite his abrasive reputation on the pitch, there is an unmistakable humility to Mascherano off it. It comes across when he describes the Robben challenge more.
"He played a great exchange with Sneijder but, because of that extra touch, he didn't quite hit it so early, it gave me the possibility, that extra split second. The truth is there's not much virtue for me. I just threw myself into it.
"If I was a moment off, it was a penalty. There's no  virtue. Anyone could have done that, I was lucky to get there. The team was lucky Robben took one more touch. To get to a final, you always need a bit of luck."
You also need his defensive aptitude, his resilience. And some who know Mascherano say it is precisely his humility that makes him realise a chance like this should not be wasted for want of desire.
The game is evidently life to him, but that means it also requires a real work ethic. That's reflected when he talks about his experience after his first World Cup, in 2006. As Mascherano prepares for a World Cup final as one of the tournament's finest players, it is remarkable to think he was once kept out of the West Ham team by Hayden Mullins eight years ago.
"At football you have work, you have to keep a mentality," Mascherano says. "The best thing I did when I couldn't play at West Ham was I kept my mentality.
"I went to train every day to be a better player. I didn't have the chance to play all the games there I wanted to play but obviously football always gives you a chance. When I went to Liverpool I had a chance to show my quality."
He is also proud Argentina have now shown their true spirit. "We did the things we had to do. We have the  tranquility of having given everything, of having  performed like we had to.
"That forms part of this group. It's been so many years but now our country, and our flag, are in the eyes of the world, returning to a World Cup final, the most important match of our careers."
"It's a delight, a delight that lifts your soul. It's something you can't explain, something I never imagined, but there we are."
Ahead of it, Mascherano is asked about a previous moment from this tournament, and another defining image. Before the quarter-final against Belgium, he set the tone with his team-talk.
"I'm tired of eating shit," he roared. "I want joy for those who follow us and everything. We're going out to play the game of our lives."
What about now?  Mascherano smiles. "In life, there's a bit of everything. You always have to... [this time the hesitation in his thoughts are all too evident]...eat a little bit of dirt."
He's also ready to play the game of his life on the grand stage of the Maracana in Rio de Janeiro on Sunday night.
Reuse content