At the previous World Cup finals in South Africa, Lionel Messi was subject to the kind of pre-match warm-up routine that no one on the current Argentina staff would dare suggest to him now. Messi would stand still while the ball was deliberately struck past him, too quickly for him to be able to react, and he was obliged to scurry off, retrieve it and pass it back to the man who had devised the exercise.
That was Diego Maradona. He was manager and, to be frank, the whole operation looked like a disaster waiting to happen. In football, reputations mean a lot, and no one's reputation is bigger than Maradona's and nowhere more so than in Argentina. If it was Maradona's wish that Messi should chase after footballs like a 15-year-old triallist – Carlos Tevez also submitted himself wearily to the same routine – then Messi would chase after footballs. Alejandro Sabella, the current coach, would no more suggest doing the same, as he would serve up caipirinhas at half-time.
World Cup finals - In pictures
World Cup finals - In pictures
1/19 1930: Uruguay 4-2 Argentina

The first World Cup final set a tough act for subsequent games to follow. Before a crowd of 93000 adoring fans in the Estadio Centenario in Montevideo, hosts Uruguay trailed 2-1 at half-time against their bitter neighbours Uruguay but clawed their way back to win 4-2. Thousands of Argentine supporters had made the short journey across the River Plate to the Uruguayan capital in the expectation of seeing their heroes victorious. They had to wait a little while, however- the final was delayed after both teams insisted upon using their own ball.

Getty Images

2/19 1934: Italy 2-1 Czechoslovakia

The second World Cup final was the first that failed to be decided within 90 minutes. Again the host nation made it to the final in Rome, where they were watched by Benito Mussolini and tens of thousands of screaming tifosi. The technical Czechs struck first through winger Antonin Puc and held on until the 81st minute, when the Argentine-born Raimundo Orsi curled in an equaliser. With the great Giuseppe Meazza limping, Italy looked in dire straits heading into extra-time- but in the 95th minute they forced an unlikely winner.

Getty Images

3/19 1938: Italy 4-2 Hungary

Paris' Stade Olimpique de Colombes hosted one of the great World Cup games. In their second successive final the Italians took the lead after six minutes after fine play from Meazza. Hungary took just two minutes to level proceedings through Pal Titkos, but in the 16th minute Meazza again turned creator to give Italy a lead they would not let go. With 20 minutes remaining the Hugarian captain Gyorgy Sarosi broke away to make it 3-2, but another Italian goal ensured back-to-back Azzurri world titles.

Getty Images

4/19 1950: Brazil 1-2 Uruguay

This was, up until yesterday, Brazil's greatest footballing tragedy. The hosts were so confident of victory that they hired a samba band to stand by the side of the Maracana pitch, ready to play a new song called 'Brazil the Winners' after their inevitable victory. Things started off well: Brazil took the lead two minutes into the second half, but a quarter of an hour later a resurgent Uruguay equalised. Then, almost unbelievably, with 11 minutes to go they took the lead and held it until the end. A final memorable as much for Brazilian hubris as for the football on display-and an echo of yesterday's loss in so many ways.

Getty Images

5/19 1954: West Germany 3-2 Hungary

The highest point for the 'Magical Magyars' of Ferenc Puskas and Nandor Hidegkuti was also their lowest hour. This is the match known as the 'Miracle of Bern', when the underdog West Germans snuck past a seemingly imperious Hungary side. The group-stage game between the two had ended 8-3 in favour of the Hungarians, who had arrived in Switzerland as the favourites and progressed serenely to the final. Their subsequent 3-2 defeat would go down in history as perhaps the most famous game in the history of German football- and Hungary would never get so close to the Jules Rimet trophy again.

Getty Images

6/19 1958: Sweden 2-5 Brazil

For the fourth time in six World Cups, the hosts reached the climax to the tournament. The final in Solna was a one-sided affair as the Brazilians ran riot, putting five past the Swedish goalkeeper Kalle Svensson. Pelé netted twice to add to a brace from Vava and a goal by the 'Little Amnt' Mario Zagallo, later to become a World Cup winner as a coach. The final was overshadowed in quality by a memorable semi between Brazil and the brilliant French led by Juste Fontaine.

Getty Images

7/19 1962: Brazil 3-1 Czechoslovakia

Brazil lacked their icon for this final in Santiago. But in Pelé's absence Garrincha starred, scoring four times including a crucial goal in the final in which Brazil trailed. As they had four years earlier they hit back almost immediately through Amarildo, brought into the side earlier in the tournament following Pelé's injury. The game ended 3-1- not a classic like some of the earlier finals, but memorable in a sense for the manner in which the Brazilians rallied without their star. Another unfortunate parallel with 2014…

Getty Images

8/19 1966: England 4-2 West Germany

The most famous final of all, for those of an English persuasion. Nearly half a century on no England team has come close to emulating Alf Ramsay's 'Wingless Wonders', who beat West Germany 4-2 at Wembley through Geoff Hurst's hat-trick- still the only treble ever scored in a World Cup final- and that much-disputed third goal that many Germans still claim never crossed the line. This was a thrilling final made greater by its position within our national footballing consciousness, as well as the failures of subsequent generations to live up to its legacy.

Getty Images

9/19 1970: Brazil 4-1 Italy

Perhaps the greatest World Cup final ever from a neutral standpoint. The best Brazilian side in history demolished the Italy of Facchetti and Rivera in the pounding heat of Mexico City's Estadio Azteca- but the game will always be remembered for the fourth and final Brazilian goal. Eight Brazil players touched the ball in the build-up before Pelé drew the defence and slipped a pass to Carlos Alberto, who hammered a low shot into the far corner.

Getty Images

10/19 1974: West Germany 2-1 Netherlands

The one the Dutch let get away- and have regretted ever since. The 1974 final pitted the Netherlands of Cruyff, Neeskens and Krol against Beckenbauer and Gerd Müller- and it was one for the ages. The Dutch struck first and appeared to be in control- until their grip on the game hardened into arrogance and the Germans struck back with a hotly-disputed Paul Breitner penalty. Then Müller won it with the kind of poacher's goal that was his hallmark- and in doing so, left an indelible stain on the Dutch footballing mentality that persists to this day.

Getty Images

11/19 1978: Argentina 3-1 Netherlands

A last, glorious bow for the great Dutch side of the 1970s- and a controversial victory for Argentina in a World Cup where the Argentine military junta were never far from proceedings. Mario Kempes scored twice, one in normal and one in extra-time and was named man of the match. But the Dutch accused the Argentines of underhand tactics- this final is remembered for the oppressive atmosphere that surrounded it more than the sporting spectacle.

Getty Images

12/19 1982: Italy 3-1 West Germany

An iconic final, if only for Marco Tardelli's celebration of manic joy upon putting Italy 2-0 in front. West Germany were never in the game, and Paul Breitner's 83rd minute strike was hardly even a consolation. At 40, Dino Zoff became the oldest player to win the World Cup after one of the most memorable finals in the tournament's storied history.

Getty Images

13/19 1986: Argentina 3-2 West Germany

It seems strange to say given their unerringly consistent record, but Germany were persistent failures at World Cups in the 1980s. In the same Estadio Azteca that had hosted the 1970 final they fell behind to a Jose Luis Brown goal. Their sense of doom was compounded after Diego Maradona played Jorge Burruchaga in for the winning goal with a pass plucked from genius' pocket- before that the Germans had scored twice to level the final from a seemingly impossible position.

Getty Images

14/19 1990: Argentina 0-1 West Germany

Their final four years before had been one of the best ever- but the rematch was as dour as 1986 was vibrant. The Argentines ended with nine men after Monzon and Dezotti were dismissed, in a bad-tempered final that was a microcosm of a cynical tournament. Full-back Andreas Brehme scored the only goal of perhaps the first 'bad' World Cup final.

Getty Images

15/19 1994: Brazil 0-0 Italy (a.e.t., Brazil win 3-2 on penalties)

The first final to end goalless after normal time- and the first to go to the great lottery of the penalty shootout. USA 94 pitted Dunga's uncompromising and tactically-savvy Brazil against an Italy inspired by the 'Divine Ponytail', Roberto Baggio. It was Baggio's penalty miss that decided the final- he blasted the ball far over the bar into the Californian sky. It's an image with which one of the world's great players will forever be unfairly tarnished. The final itself, as the scoreline suggests, was the second dull one in a row.

Getty Images

16/19 1998: France 3-0 Brazil

The intertwining storylines in this one far outstrip the quality of the game itself. Zidane inspired the French to a veritable stroll of a victory, but the real drama was played out before the match. Brazil's star, Ronaldo was unwell yet was forced to play- by the team, by the sponsors or by himself, or perhaps a combination of all three- and in the game he was a ghostlike influence as his side were pulverized by the Tricolores.

Getty Images

17/19 2002: Brazil 2-0 Germany

The 2002 final brought a comprehensive victory for a Brazil side carried to victory by a rejuvenated Ronaldo. It was comprehensively dull, too- Germany had scraped their way to get there bbut in the game itself they barely had a sniff. We're now well within the sequence of poor-quality finals.

18/19 2006: Italy 1-1 France (a.e.t., Italy win 5-3 on penalties)

Somehow, Marcelo Lippi and Fabio Cannavaro dragged Italy kicking and screaming to a third world title after a buildup dominated by revelations from the Calciopoli scandal. The final could best be described as middling- the real action occurred within the space of a mad second as Zidane signed off his international career in violent style with a ram-like headbutt to the chest of Marco Materazzi, who had earlier opened the scoring for Italy.

Getty Images

19/19 2010: Spain 1-0 Netherlands

Andrès Iniesta's extra-time strike settled what was less a football game than a recreation of the Trojan War. Having decided there was no way they could compete on footballing terms, the Dutch instructed Nigel de Jon and Mark van Bommel to act as trained assassins-the studded chest of Xabi Alonso was the natural outcome. Not a fondly-recalled final.

Getty Images
As tomorrow's World Cup final approaches and Messi attempts to inspire his Argentina team against Germany in the way El Diego did 28 years ago in Mexico, it is worth remembering just what a giant, figuratively speaking, he is attempting to follow. Maradona looms over the modern game whether you happen to come from Rotherham or Rosario, Messi's home city that has an extraordinary lineage of footballers and freedom fighters.
In a hotel off Ipanema beach yesterday, the English footballer who knows Maradona best, Gary Lineker, recalled the one time he played on the same side as the Argentine. That was the Football League centenary game in 1987 involving a Rest of the World XI for whom Lineker, by then at Barcelona, played. Many of the 1986 World Cup stars, like Michel Platini, Paulo Futre and Josimar, turned up but there was no doubt who was top billing.
When Lineker describes the moment that Maradona walked into the dressing room he mimics the open-mouthed, star-struck reaction on the faces of his team-mates. "Diego got bored in the warm-up and he juggled the ball to the halfway line," he says. "He just booted the ball 50 feet into the air and, when it came down, volleyed it back up, first touch. He did it about 12 times and he never had to do anything more than walk. The next week at Barcelona we all tried it. The best anyone did was about three and there was a massive sprint each time to reach the ball."
Messi has the presence. There is no doubt about that. His team-mates defer to him constantly, even Javier Mascherano, watching their captain's poker-face for that hint as to his mood or an instruction.
Lineker says he suspects that the No 10 is not fully fit. "Whether it is tiredness after a long season having suffered from hamstrings, but there is very little movement," he says. "He has done magical things at this World Cup and he is largely responsible for them being in the final but the last two or three games he has done less and less."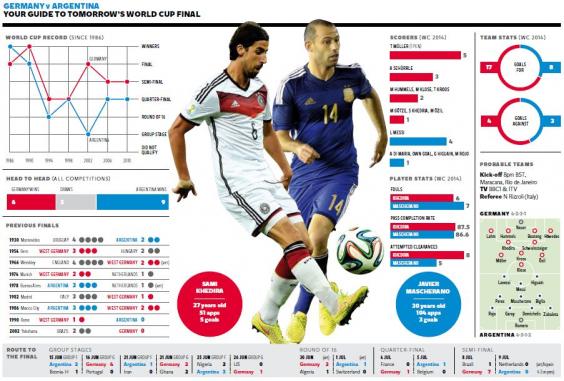 Watching Messi, he looks like a man primed for his moment but also one who knows that he cannot afford to waste energy on the things lesser mortals can do for him. That means less pressurising of defenders, although he did put the wind up the Netherlands with one fierce press at the end of the first half on Wednesday. Instead, he watches and he waits for the one moment that could be the greatest of his career.
In many respects, that takes more courage. Messi could run himself into the ground to make himself look better. He could exhaust himself chasing lost causes, as Wayne Rooney so often does. Or, mindful that the chance may never arise, he can wait, conserve his energy for the opportunity that might win Argentina the final.
In a World Cup where the standard at the very top has been relatively mediocre, Argentina have come through thanks to Messi, Mascherano, Angel di Maria and comprehensive defensive organisation. Their defence, which has been their mainstay, has been changed for injuries and suspensions over the course of their six games, with Martin Demichelis now taking the place of Federico Fernandez. Only Pablo Zabaleta and Ezequiel Garay have played every game.
It is hard to resist the prospect of Argentina winning, simply because of the completeness it would add to Messi's career. He was 27 last month. At the same age, Maradona was already 17 months on from his triumph at the 1986 World Cup finals. It seems unfair to have to compare Messi to him. If he had been Colombian or Uruguayan, he would be out there on his own, but each country has its own heroes and Maradona belongs to Argentina.
Germany are the favourites and while the Maracana will be full of noisy, flag-waving Argentines, Die Nationalmannschaft will line-up in that arena the way that German teams always seem to do. The Latin American emotion that will fill the place will be irrelevant to them. Somewhere on those DFB briefing sheets and in their sensible team meetings they will have covered all that. It cannot be any more intense than it was before their demolition of Brazil in the semi-final.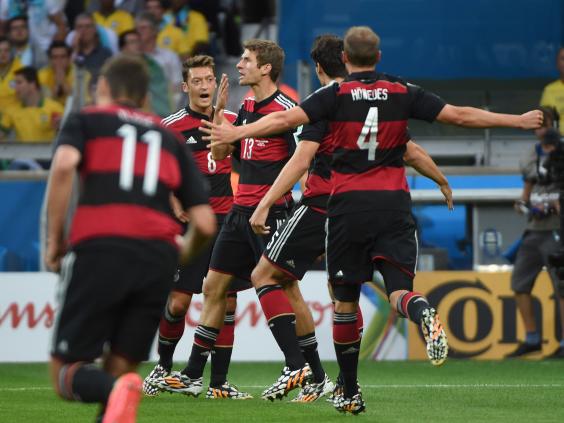 Thomas Müller said yesterday that at half-time in the semi-final the Germans, as is their way, took the dispassionate view that they could conserve energy and also go easy on their broken hosts. "It was about not trying to humiliate our opponents or showboating. We wanted to carry on playing normal football and not get arrogant, but that's quite normal – it was the players' initiative. We were able to concentrate on preserving energy and avoiding injuries in the second half.
"I don't know what kind of a game it will be on Sunday," Müller added, "but I don't expect it to be 5-0 at half-time. That would be nice, but it's probably going to be tight like it was against Algeria or France. But even if it's tight then we will have to try and score from a set-piece because, by now, we have become the king of the set-pieces."
The Germans have decided, their general manager Oliver Bierhoff announced, only to celebrate with a parade in Berlin if they win tomorrow. In 2006 they held a parade at the home World Cup for finishing third. In 2008 they did it despite having been runners' up to Spain at the Euros. "This time, we've decided only to celebrate together with our fans if we win the title," Bierhoff said, "and we are absolutely adamant that we will do it."
It feels like the moment for Germany, the coming team of the last four years. But this is football's great moment of truth, it occurs just once every four years, and of any player on the pitch, Argentina have the single man most capable of grasping it.
Reuse content