If you want to know what Brazil thinks of Argentina you only need to switch on the television here. One World Cup beer advert has Brazilians using a crane to lift a house full of partying Argentinian fans on to a ship to send them back home, and then threatening to fire a straggler home by cannon. In another slot, Romario buys a pair of Havaiana flip-flops. He puts on the right shoe, signifying good luck, and sends the left one to Diego Maradona in Buenos Aires.
Brazil's antipathy to its South American neighbours means that most locals will be supporting Germany in the World Cup final, an attitude constantly reinforced by the media. The day after Argentina won their semi-final against the Netherlands, daily sports paper Lance! published a front-page picture of Lukas Podolski and an indigenous Indian child with the headline: "We've supported the Germans since we were little kids."
Fans of one country taunting the fans of another is an inevitable part of football culture, but worries are being expressed this World Cup that the playful antagonism between Brazil and Argentina has overstepped its mark.
"Definitely the rivalry has got deeper in the last few years. I think that maybe it has gone too far," says the TV comedian Helio de la Pena, who once went to Argentina to film a sketch of how to teach them to play football. "The rivalry used to be just a bit of fun. But it has started to get more serious, and when people take it too seriously it gets dangerous."
Brazilians, in fact, have been shocked by hostility of the Argentinian fans towards them in the stadiums over the last few weeks. The most popular Argentinian chant this World Cup is a provocation to the hosts: "Brasil decime que se siente" – "Brazil tell me how it feels" – which goads locals for their 1-0 loss to Argentina in the last 16 of the 1990 World Cup. The song says the Brazilians have been crying ever since, and ends with the line: "Maradona is better than Pele."
World Cup 2014: 20 things we learned
World Cup 2014: 20 things we learned
1/20 Red faced

Vincent Tan, owner of relegated Cardiff City, is proved wrong again: red shirts do not increase the chances of success. Red was the most popular first-choice shirt colour in the tournament. Nine teams picked it, yet five, including big guns Spain and Portugal, failed to get out of their groups. Two more fell in the second round, and the furthest any crimson campaigners got was the quarter-finals – Ivory Coast and Belgium.

GETTY IMAGES

2/20 Don't get carried away

Not for the first time at a World Cup, the number of goals (added to by Netherlands' 5-1 thrashing of Spain) in the first round sparked talk of a new record. But the group stages are no guide for the latter rounds, and the goal rush dried up once the sudden-death reality of the knockouts took hold.

Getty Images

3/20 Letter of advice

To succeed in these finals you needed your nation's name to start with a letter in the first half of the alphabet, Algeria (pictured) being the most surprising. Of the 32 nations, only nine started with a letter in the latter half of the alphabet. Of those, five got through to the second round, but out of eight quarter-finalists only Netherlands represented N-Z.

Getty Images

4/20 Well done Jose

For Jose Mourinho to get £50 million from PSG for David Luiz looks great business. The Chelsea manager's chief concern was always the Brazilian centre-half's defensive ability, and the semi-final against Germany, when he effectively abandoned his post, graphically proved Mourinho's point.

GABRIEL BOUYS/AFP/Getty Images

5/20 Spain lacked energy

Spain's feeble performance, especially against the Netherlands, proved that at the top level age isn't as important as freshness. Many of their players are in their prime and playing for top clubs. And it was not exactly an old team. But success can sap a player's energy as much as age.

GETTY IMAGES

6/20 Europe can win away

The fact that this World Cup was only a Javier Mascherano tackle and a penalty shoot-out away from being a third successive all-European final shows the old belief that only South American teams win on that continent needs updating. It wasn't the climate that prevented the Netherland's best player, Arjen Robben, scoring a late winner against Argentina.

Getty Images

7/20 Hair cuts both ways

The jury is out on whether changing your hairstyle aids success. Ronaldo's zig-zag didn't help him or Portugal, while Neymar's blond tint presaged his injury and Brazil's 1-7 thrashing. But Argentina defender Martin Demichelis has been reborn as a player since he lost his ponytail. The newly shorn Marouane Fellaini must be hoping for the same at Old Trafford.

Getty Images

8/20 Messy not Messi

The "vanishing foam" may have kept defensive walls back 10 yards at free-kicks, but it did nothing to help the free-kick taker strike the ball cleanly. The ball had to be kicked through the ring of foam circling the ball, splattering it everywhere.

Twitter

9/20 Money talks in Africa

Nigeria's Stephen Keshi (above right) became the continent's first manager to reach the second round, where there were two African teams for the first time. It should have been a landmark tournament; instead three federations got involved in financial disputes as the old problems resurfaced.

GETTY IMAGES

10/20 A star is born

Given the media globalisation of the club game, it seemed rather old-fashioned to imagine a hitherto unregarded player making himself properly known at a tournament. But in this World Cup James Rodriguez (right) of Colombia has gone from the fringes of the elite to worldwide superstar.

11/20 Referees became softies

Allegedly on Fifa orders, so many fouls went unpunished by a book- ing for the perpetrator. The statistics also suggest leniency: 10 red cards (above) is fewer than any finals since 1986.

Getty Images

12/20 Fifa's timely earner

The game's governing body may be a "non-profit organisation", but they are still very good at earning. That could be seen every time the sponsored watch-shaped stoppage-time board (above) was held up by the fourth official.

GETTY IMAGES

13/20 Corners are key

Set-pieces are supposedly the weapon of choice for weaker teams, but much of Germany's potency derives from them. For all the squad's talent, the key opening goals in both their quarter-final and semi-final were from corners.

GETTY IMAGES

14/20 Rotation is crucial

The three best-performing semi-finalists all shared one trait: they changed either formation or line-up in every match, making them very difficult to work out. It was a factor in why Argentina-Netherlands was so tense, and one explanation why Brazil fell apart. Without Neymar and Thiago Silva, they could not adapt.

GETTY IMAGES

15/20 Club and country

A club season is no guide to World Cup form. Steven Gerrard was immense for Liverpool, anonymous for England. On the other side of things, there is Sergio Romero . The goalkeeper only made three appearances for Monaco last season but has been one of Argentina's stars.

Getty Images

16/20 Asia still minor

So much for the breakthrough of Asian football. All four teams finished bottom of their groups, without a win between them. It was so bleak that the South Korean Football Association even offered a collective bow of apology.

GETTY IMAGES

17/20 Oh lucky man

The records show that England had the seventh worst campaign of the 32 teams. Unlike those who outperformed him, such as Greece's Fernando Santos and even Japan's Alberto Zacceroni, Roy Hodgson has stayed in employment.

PA

18/20 Shoot-out kings

Argentina 1990 remain the only side to have won two shoot-outs in the same World Cup. So it was perhaps fitting that it was Alex Sabella's side who prevented the Dutch team from emulating them (above). Argentina never looked like losing from the moment of the first penalty.

19/20 Tweet tweet

The second semi-final offered a first, as Argentina tweeted their list of penalty takers. It almost felt like they were calling Louis van Gaal's bluff. It's hard to say whether it was a factor, but it did reflect how this World Cup has been dominated by social media.

20/20 No new balls please

Complaints about the ball have always been one of the tournament's clichés, but not this time, with a complete absence of discussion about it. The ball is doing exactly what it is meant to, meaning attackers are more comfortable with it.

PA
In response, the only new Brazilian chant that has energised the fans this World Cup has been a direct response: "Mil gols, so Pele; Maradona cheirador": "A thousand goals, only Pelé; Maradona snorts". Judging by the passion invested by each side, you might think that the rivalry between both nations is as ancient as the Sugarloaf Mountain. Yet the antagonism between Argentina and Brazil is only a few decades old.
"Argentina's rivals used to be Chile, Uruguay, England because of the Malvinas, with Brazil in fourth place," says Ronaldo Helal, professor of anthropology at Rio State University, who has a post-doctorate in the football rivalry between Brazil and Argentina. "Brazil's rival was always Uruguay, because of the 1950 World Cup. But once Uruguay was no longer a football power, Brazil needed a new rival, and from the 1970s they invested in Argentina."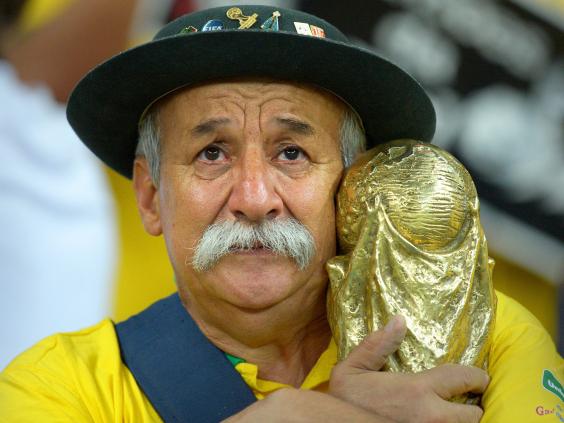 Helal says that in the 1970s and 1980s Argentina had great affection for Brazil: "The Argentinian press supported Brazil in the 1970 World Cup and Clarin [the main Argentine newspaper] employed Pele as a columnist in the World Cups of 1978, 1982, 1986 and 1990." He added that in 1998 Clarín published a book about the World Cup, and in the centre spread "the image clearly showed Pele as the king and Maradona as the heir." The bickering about whether Pele is better than Maradona, which has become a personification of the rivalry, only dates from 2002.
Helal believes that Brazilians started to cheer Argentinian defeats only in the 1990s, years before the opposite happened. "I have no doubt that our provocation predates theirs and is more intense. Now they are responding to it."
As an example, he says that when in the 1998 World Cup the Brazilian media ecstatically applauded Argentina's elimination by Holland, Clarin's Brazil correspondent was confused by the reaction: "I don't know if it is because they don't want to play Argentina or if they really are capable of supporting a European country against us, their Latin American brothers."
As nations, Brazil and Argentina have had a largely peaceful relationship, with the only war between them a short one at the beginning of the 19th century. Brazilians barely saw any Argentinians until towards the end of the 1970s and the beginning of mass tourism.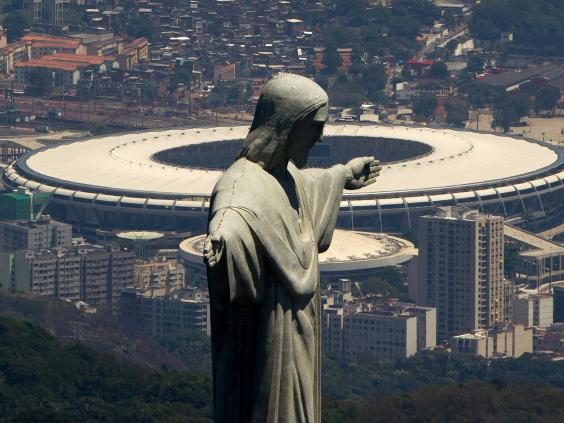 Around 100,000 Argentinians are expected today in Rio de Janeiro because of the World Cup final – most without tickets – meaning that about 10 per cent of the annual number of Argentinian tourists to Rio will be here on a single day.
Helal says that a pivotal moment in Brazil-Argentina relations was the launch of the Argentinian sports daily Olé in 1996, which brought a much more playful, teasing attitude to sports journalism.
He said: "The irony now is that Brazilians are complaining that they are victims of Argentinian chants. But we are reaping what we sowed. My fear is that the rivalry has created too much of an atmosphere of intolerance.
"I'm worried, because among football fans – like everywhere – you get delinquents. I hope that whatever happens on Sunday, the result is peaceful."
Reuse content