Joachim Low inspired Mario Gotze to win the World Cup for Germany by telling him to show the world he was better than Argentina's Lionel Messi.
Germany boss Low took Gotze aside during the break of extra-time and the 22-year-old, who had come off the bench, scored a brilliant volley to break Argentinian hearts in the Maracana.
The 1-0 win saw Germany crowned world champions for a fourth time and Low said of Gotze: "He is a miracle boy, a boy wonder - he can play in any position. I know he is always able to decide a match and he's scored a great winner.
"I said to him, 'okay shown to the world that you are better than Messi and that you can decide the World Cup'.
"I had a good feeling about him."
Germany 1 Argentina 0 player ratings
Germany 1 Argentina 0 player ratings
1/23 Manuel Neuer

Performed with authority on ground and in the air - but was fortunate not to be punished when racing out to punch clear off the head of Higuain. 6/10

GETTY IMAGES

2/23 Philipp Lahm

Again started at right-back and still remained one of the main threats going forward for Germany. Solid in defence in commanding showing. 7

GETTY IMAGES

3/23 Jérôme Boateng

Cleared danger from underneath his own crossbar as Messi drove forward and made another vital interception as substitute Aguero closed in. 7

GETTY IMAGES

4/23 Mats Hummels

Troubled by pace and trickery of Messi in opening minutes but recovered composure to keep forwards at bay. Used strength to hold off Higuain. 6

GETTY IMAGES

5/23 Benedikt Höwedes

Carded before half-time for a late lunge on Zabaleta and powered header against Romero's post at end of first-half when should have scored. 6

GETTY IMAGES

6/23 Christoph Kramer

Brought in after Khedira's warm-up injury and was then hurt himself when caught by Garay. Attempted to stay on but taken off after half an hour. 6

GETTY IMAGES

7/23 Bastian Schweinsteiger

First player to go in the book after light challenge on Lavezzi. Got back to make crucial blocks on Messi and Perez and also influenced Germany's attacks. 8

GETTY IMAGES

8/23 Thomas Müller

Enjoyed running battle with most of the Argentine backline. Found space on right side to link up with Lahm and delivered dangerous balls into box. 6

GETTY IMAGES

9/23 Toni Kroos

Was impetus behind semi-final victory but fortunate not to cost side when heading straight to Higuain. Weak shot at Romero and sent another effort wide. 6

GETTY IMAGES

10/23 Mesut Özil

Arsenal man struggled to get on the ball in right places at start but his bearing on the match grew. Moved inside after introduction of Schürrle. 7

GETTY IMAGES

11/23 Miroslav Klose

Record finals scorer pulled out of early challenge as Romero charged out. Veteran looked a little off the pace, failing to trouble with header or shot. 5

GETTY IMAGES

12/23 Mario Gotze

Bayern Munich midfielder replaced record-breaker Miroslav Klose in the closing minutes of normal time and displayed marvellous composure to chest down André Schürrle's pass before volleying past Sergio Romero. 7

GETTY IMAGES

13/23 Sergio Romero

Last season's Monaco reserve keeper excelled again. Semi-final hero was not troubled by Kroos effort and displayed solid handling when called upon. 7/10

Getty Images

14/23 Pablo Zabaleta

Got forward well, making valuable headed clearances and combining to good effect with Biglia. Made important block on Klose and caught by Höwedes. 7

Getty Images

15/23 Martin Demichelis

Stood up well to sporadic German attacks but was let down by his own indecision as he was caught in possession badly by Klose. 7

Getty Images

16/23 Ezequiel Garay

Robust challenge on Kramer eventually forced young opponent off. Never hid from a challenge and gave Argentines a presence at set-pieces as well. 6

Getty Images

17/23 Marcos Rojo

Wing-back has enjoyed stellar tournament and went in strong on Müller. Kept occupied by pace and passing of Lahm though. 6

Getty Images

18/23 Javier Mascherano

Content to drop back when required and also helped engineer attacks. Surrendered ball to Klose before hacking him down to earn booking. 7

Getty Images

19/23 Lucas Biglia

Early shot was blocked by Höwedes and displayed good positional sense. Fine ball through to Messi came to nothing. Blocked off Lahm. 6

Getty Images

20/23 Enzo Perez

Unable to reach Messi cutback and struggled to make his mark, Swapped flanks in effort to have more impact but taken off near end of normal time. 6

Getty Images

21/23 Gonzalo Higuain

Shot across goal and sent effort wide when presented with Kroos header. Slotted home when offside and caught as Neuer charged out of the box. 7

Getty Images

22/23 Lionel Messi

Surged forward to create opportunities but was well policed. Drove past post early in second half and shot wide but again faded in influence. 7

Getty Images

23/23 Ezequiel Lavezzi

Put himself in place to be pushed over by Schweinsteiger and win free-kick. Pace gave Germany food for thought before early departure. 6

Getty Images
Gotze hailed the World Cup victory as "absolutely sensational".
Gotze, who had had a difficult season at Bayern Munich, said: "It is an unbelievable feeling, you just score that goal and you just don't really know what's happening.
"It's indescribable, you are having a party with the team, with the country, the dream has become a reality. It is absolutely sensational."
Video: Germany win fourth World Cup
Gotze, who began the World Cup in Germany's starting line-up before being dropped to the bench, added: "It hasn't been an easy year for me and it wasn't an easy tournament. I owe a lot to my family, my girlfriend, and my friends who have always believed in me.
"It was not been easy but I simply kept on training with the team and every single player deserves to be named - we deserved this trophy."
Low also expressed his pride at Germany becoming the first country to win a World Cup in north, central or south America.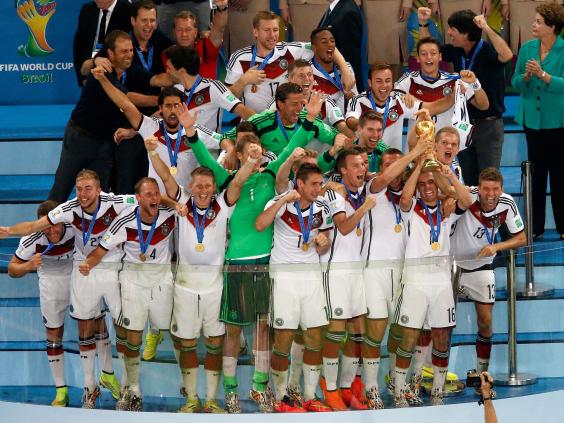 He added: "This is the result of many years' work beginning with Jurgen Klinsmann and we continued that.
"Over the years we have been able to improve our performance and it has been 10 years of tough preparation.
"The players have a marvellous technical ability and the will-power to carry it out.
"We are proud to win it here in Brazil, the footballing country par excellence, and to be the first European team to win in Latin America."
PA
Reuse content